Groups to launch clean-energy lobbying blitz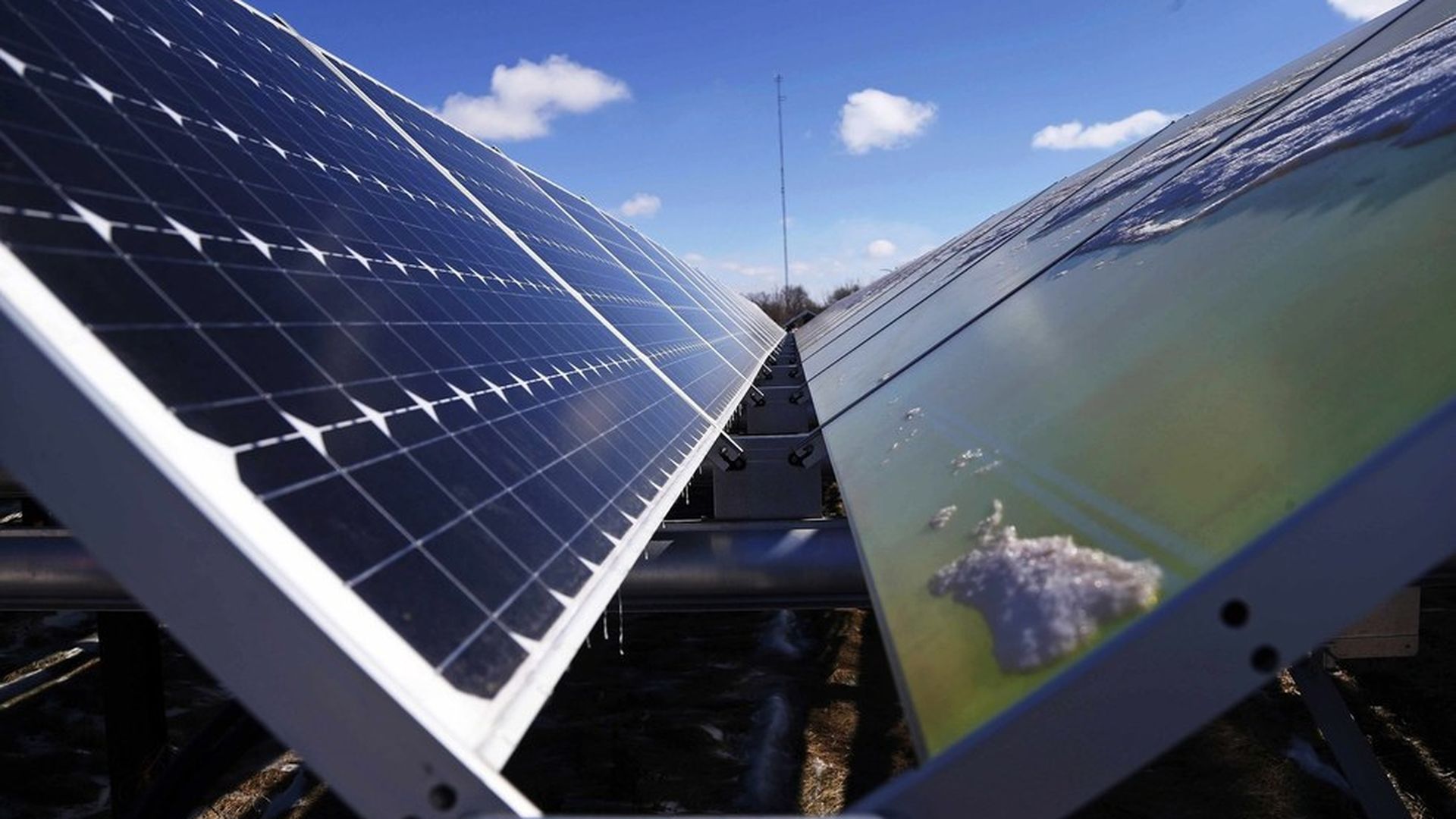 America's clean-energy crowd is looking to shed its climate reputation and appeal more to a Republican-controlled Washington.
An unusually broad and diverse coalition of 10 clean-energy associations are organizing a lobbying and advertising push next month to highlight how the industry is creating jobs and providing reliable electricity, with less focus on the sector's role combating climate change.
Why it matters: Clean energy technologies, particularly renewables like wind and solar, have long been known most for their role cutting carbon emissions. With a president who doesn't think climate change is a problem and both chambers controlled by Republicans, the industry is looking to highlight what else it has to offer on the economic and national security fronts.
The details: The coalition launched a website and is dubbing the week of Sept. 25 National Clean Energy Week.
The groups involved so far: Advanced Energy Economy, Nuclear Energy Institute, Biomass Power Association, American Wind Energy Association, Business Council for Sustainable Energy, Clean Energy Business Network, Solar Energy Industries Association, National Hydropower Association, the American Council on Renewable Energy and the Citizens for Responsible Energy Solutions Forum. At least two more are expected to sign on next week.
The groups are organizing the usual suite of Capitol Hill activities, like lobbying, events with lawmakers and receptions, but also a mini demo fair. At about $500,000, the budget for the week is relatively small. But money goes further with social media advertising and hosting free or lower cost events on and around Capitol Hill. The goal is to make it a yearly thing, say the organizers, which was led by the Citizens for Responsible Energy Solutions Forum, the non-profit arm of a conservative group pushing clean energy policies.
"We don't want this to be political," said Charles Hernick, director of the forum's policy and advocacy. "We obviously live in a very political world, but we need to be able to separate the technologies and the solutions from the politics of the day. We need to separate one administration from the next."
Between the lines: Politics of the day = climate change. The coalition wants to ensure its reputation does not remain inextricably linked to former President Obama (even though he jumpstarted the industry's existence). It's become common knowledge Trump wants to get rid of almost everything Obama has done on energy and environmental issues.
Hot topics to watch:
Tax policy. Wind and solar executives will work to ensure Congress doesn't repeal early a deal it struck in 2015 to extend for five years tax credits for both those industries. Early repeal of those has been floated as a possible way to pay for a tax overhaul if Congress actually pursues it (a big if). Other industries will also be talking about the need to preserve and/or renew tax policies relevant to them.
The power grid. By late September, the Energy Department will have likely released its long-awaited study on the reliability of the U.S. electric grid, so expect clean-energy industry officials to focus on defending and boasting their relevance to America's electricity mix.
Go deeper