GOP may have no choice but to try health care again after taxes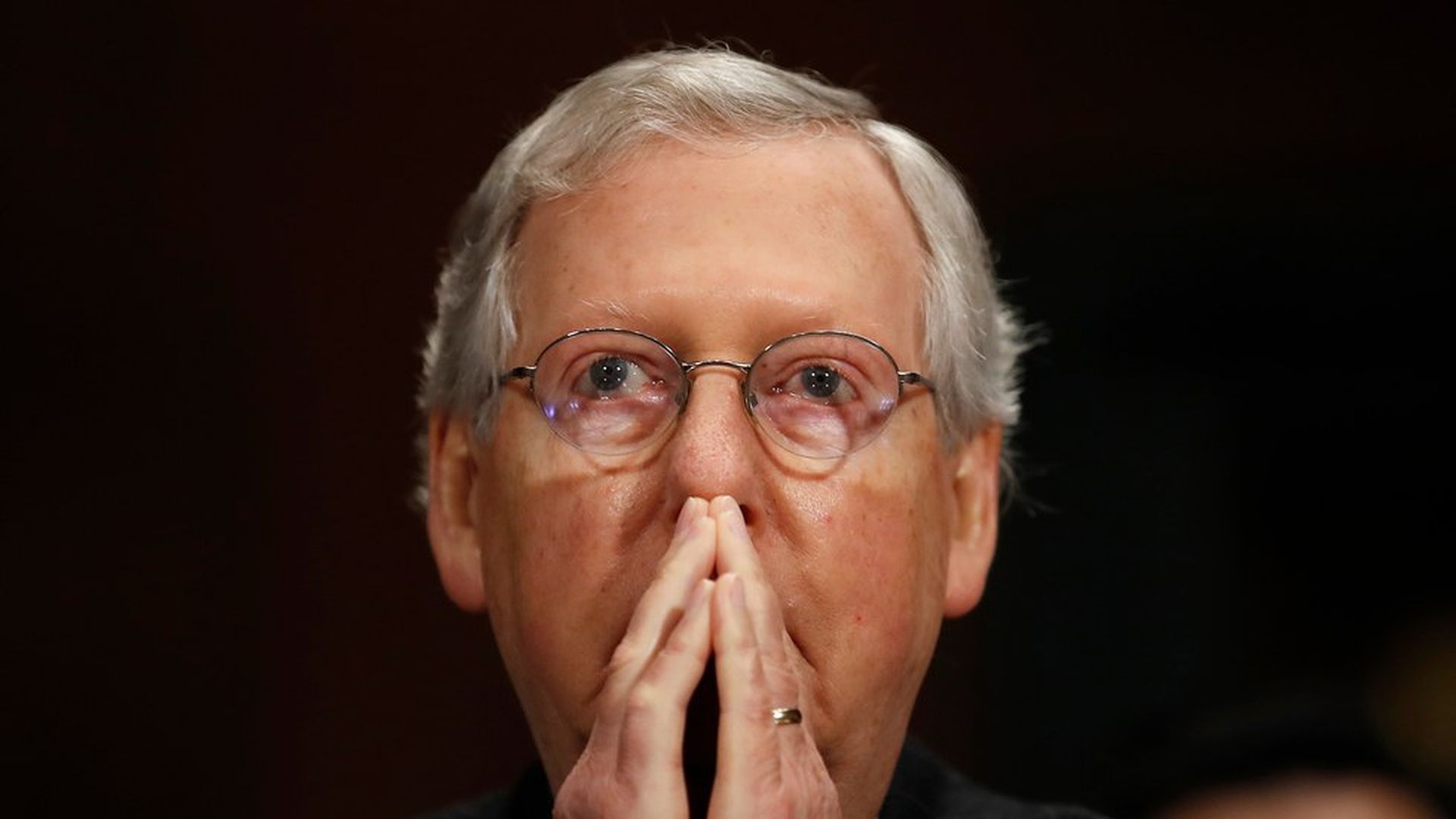 Republicans have been asking themselves what they'll turn to next, after their tax overhaul wraps up. If they repeal the Affordable Care Act's individual mandate, there's a good chance the answer will be health care — whether they like it or not.
What they're saying: President Trump has said several times that he wants to take another crack at repeal-and-replace after the tax bill. GOP leaders in the House and Senate have not echoed that plan. But if Republicans do end up repealing the individual mandate, Insurance markets will begin to feel the effects quickly, leading to almost immediate nationwide upheaval that will be impossible to ignore — especially in an election year.
This year saw a lot of chaos — insurers pulling out of markets, coming back in, changing their premiums at the last minute — due in large part to changes that would pale in comparison to something on the scale of repealing the individual mandate.
"I think next year will be even crazier" if the coverage requirement goes away, the Kaiser Family Foundation's Larry Levitt says.
The timing: The disruption caused by repealing the individual mandate would start early next year and intensify again just before next year's midterm elections.
The Senate's tax bill would eliminate the ACA's penalty for being uninsured, starting on Jan. 1, 2019. That might seem like a long way away, but it's not.
Insurers will start deciding this coming spring whether they want to participate in the exchanges in 2019 — and if so, where. Without the mandate, insurers would likely begin to pull back from state marketplaces early next year, likely leaving many parts of the country with no insurance plans to choose from.
Insurers will then have to finalize their 2019 premiums next fall. Those rates would likely be substantially higher (10% higher, on average, according to the Congressional Budget Office) without the mandate in place — and that news would hit just before next year's midterms.
The bottom line: All this fallout would be impossible to ignore, putting more pressure on Congress to return to health policy whether it wants to or not — and reopening all the same internal divisions that have stymied every other health care bill.
Flashback: "You can make an argument that Obamacare is falling of its own weight — until we repeal the individual mandate," Sen. Lindsey Graham said two weeks ago. "Then there is absolutely no excuse for us not to replace Obamacare because we changed a fundamental principle of Obamacare. So I hope every Republican knows that when you pass repeal of the individual mandate, it's no longer their problem, it becomes your problem."
Go deeper