Finding a method to the methane madness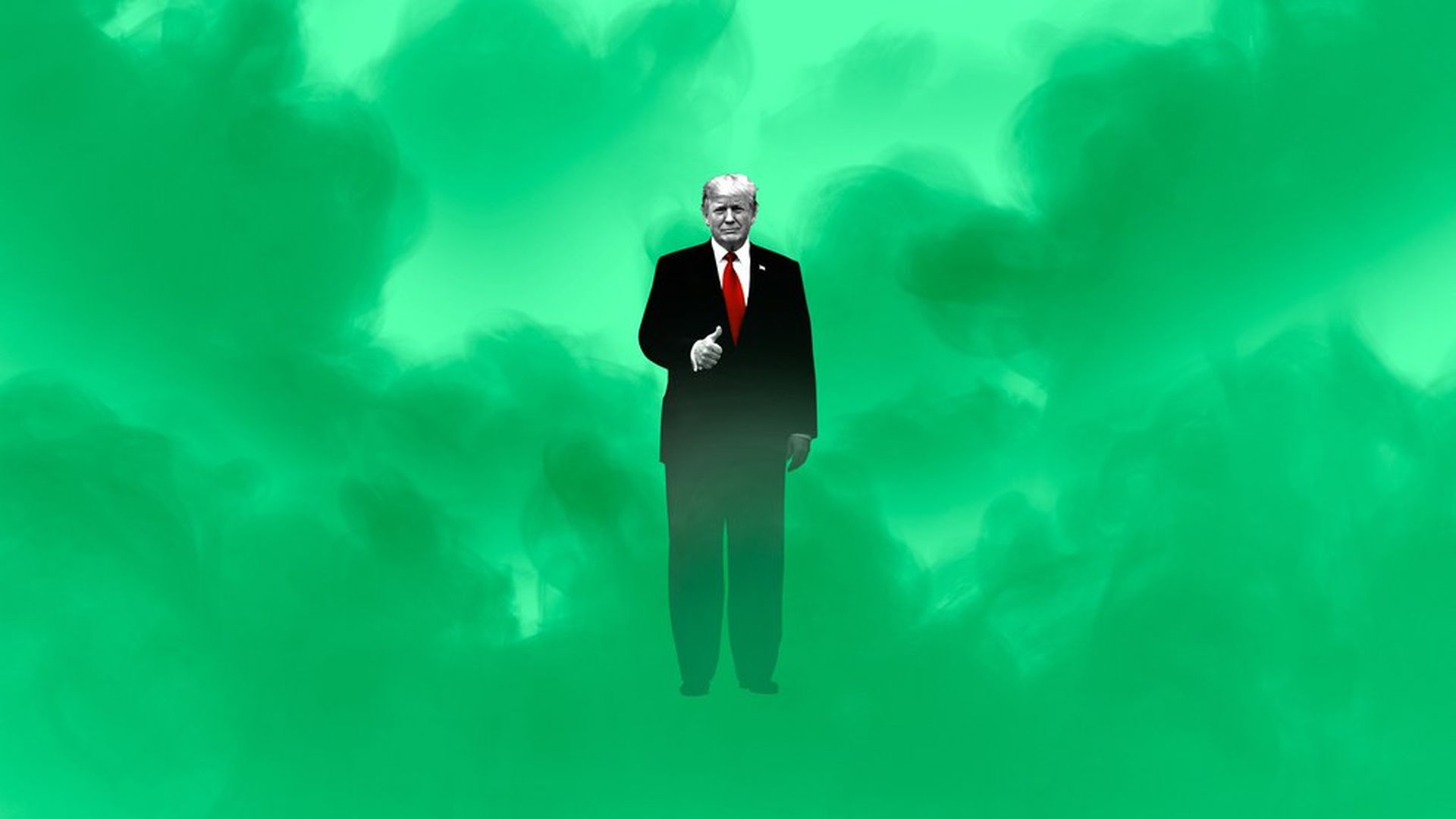 The Trump administration is fumbling its attempts to repeal President Obama's methane emissions limits. The oil and natural gas industry is, in turn, scrambling to respond to the resulting regulatory vacuum. The sector's main trade group is working to create a voluntary program aimed at addressing the issue, according to multiple executives in the oil industry whose companies are members of the group, the American Petroleum Institute.
Why it matters: These efforts to roll back Obama's methane rules offer a glimpse into how President Trump's deregulatory agenda is stoking industry uncertainty, and how the debate over climate change is influencing oil and gas companies operating in the United States.
Fast facts: Methane, a potent greenhouse gas, is the primary component of natural gas. It can be leaked, either purposefully or inadvertently, during the production and transmission of natural gas. It has a warming impact far greater than carbon dioxide, though it stays in the atmosphere for less time.
Oil and natural gas companies emit the most methane emissions in the U.S., recently surpassing the agriculture sector (including, yes, cow farts). Still, methane is just 10% of America's overall greenhouse gas emissions.
Regulatory slog
The Trump administration has so far tried and failed three times to repeal two methane regulations. One, at the Interior Department, affects existing wells on federal lands. The other, at the Environmental Protection Agency, affects new wells across the country.
The GOP-controlled Senate, with the administration's backing, failed to pass a measure repealing the Interior Department rule in May.
A federal appeals court in Washington ruled in July that the EPA couldn't immediately suspend its methane regulation.
A federal court in California ruled earlier this month that the Interior Department also could not suspend its methane rule.
The two agencies are now working to issue regulations delaying the old ones while they work to eventually issue new regulations that will either repeal or replace the old ones, according to officials at both agencies. The EPA is releasing as soon as this week a proposal explaining the legal rationale for why it's seeking a two-year delay, called a stay.
"The two-year delay is just meant to get us time," said a senior EPA official, acknowledging that their plan "hit a little bit of a snafu" with the federal court ruling. "It doesn't make sense for companies to expend resources to comply with elements of the rule that may well likely be changing."
At least one oil trade group, the Independent Petroleum Association of America, which represents mostly domestically focused oil companies, is advising its members to comply with both rules even though it's opposed to them because of the prolonged uncertainty the lawsuits and the subsequent regulatory actions have created.
"The methane issue is pretty complicated, but it's still a bit surprising that it's taking so long to finalize the stay," said Jeff Holmstead, a former top EPA official during the George W. Bush administration, and now a partner at the law firm Bracewell. "Ordinarily, this is something that could be done in two or three months."
EPA spokeswoman Liz Bowman said in an email the agency was "taking extra precautions to ensure we have as strong a case, supported by a robust record, given the high level of scrutiny our actions face."
Industry moves
The debate over what to do with the federal government's methane regulations reveals longstanding divisions across the oil and gas industry. The biggest companies with global footprints typically support more robust regulations because it provides certainty and a competitive edge over smaller companies. U.S.-based firms, often smaller ones, with operations on federally owned lands are more likely to prefer less regulation.
The lowest common denominator is prevailing. The American Petroleum Institute opposes a direct regulation on methane and instead is arguing that methane emissions can be lowered as a byproduct of another EPA regulation on the books since 2012, which limits other types of air pollution at oil and gas wells, according to Kyle Isakower, vice president for Regulatory and Economic Policy at API. EPA itself also touted the methane co-benefit when it released that rule five years ago.
Many companies want more, and some even want a direct regulation of methane on new and existing sources. But the companies that want less regulation want it more than the companies that want more regulation.
Voluntary moves
API is setting up a voluntary program made up of best practices its members could adopt to cut methane emissions, according to multiple oil executives who have been in meetings about it. "They are trying to put together a program the majority of the members could support," said one oil executive familiar with the deliberations. Isakower of API said the group has nothing to report right now.
First created in 2014, a group of about 10 companies with big natural-gas operations have worked with Obama's EPA to set up a voluntary program to cut methane emissions. "We would like to be able to continue the methane challenge program overall so that we can begin reporting in our results to EPA next year," said Richard Hyde, managing director of external affairs at Southern Company Gas, one of the group's members. The senior EPA official said no decision has been made about whether to continue it, but "the information I have seen is helpful and valuable."
Go deeper