Exit Interview with America's Chief Technology Officer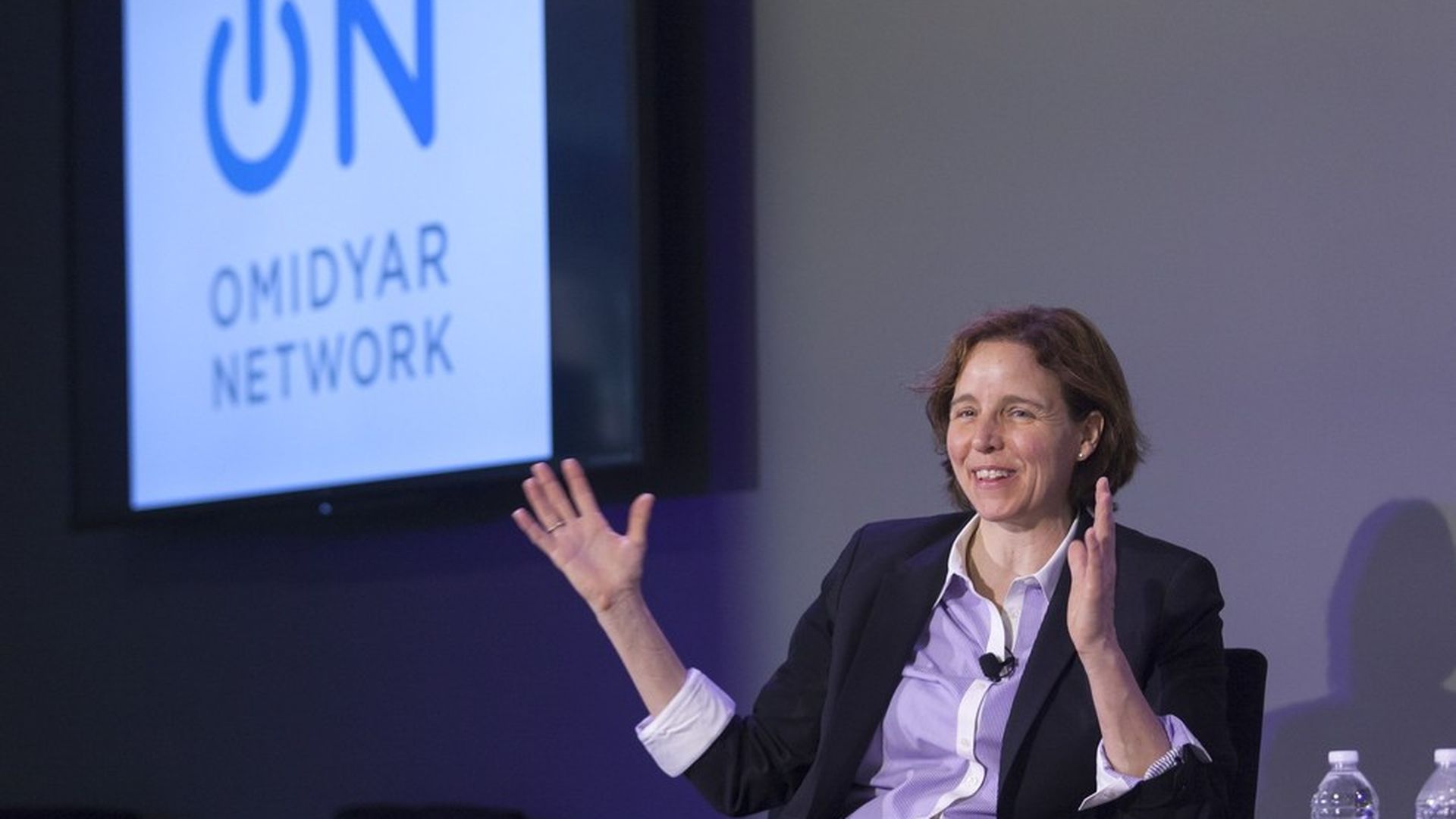 Megan Smith and Alex Macgillivray left Google and Twitter, respectively, in 2014 to help President Obama and the U.S. government better harness the power of data and technology. Smith as the nation's second chief technology officer, and Macgillivray as her deputy. The pair were charged with helping to bring a Silicon Valley mentality to D.C., focused on areas like collaboration (on tech topics and beyond), modernizing government and capacity-building in areas like tech hiring and computer science education expansion.
The relatively-new positions are expected to outlast both Smith and Macgillivray, although the incoming Trump Administration has yet to name any replacements for top jobs in the White House's Office of Science and Technology (where the CTO office resides).
They both spoke to Axios about their experiences, the future and why even anti-Trump techies should consider a role in D.C. Their answers are condensed for quicker reading.
On coming into government from the private sector:
Smith: "The CTO team was added by President Obama to bring the entrepreneur or disruptor way of thinking about things to government. Not instead of, but additional methods. The thing I was a little afraid of was that I wasn't a policy expert. What I found was that there is so much talent in government with people who know their stuff, but what was missing was a principal-level technologist in each of the rooms, outside of places like NASA and DARPA and the NIH.
Macgillivray: "I realized that all of the skills that are useful in the private sector are useful here. People who want a direct answer. People who have done the reading. Be kind, know your stuff. I also learned how amazing and important the different people with the title 'Chief of Staff' are. It's not something we have in Silicon Valley. It makes sense that Sheryl Sandberg was a chief of staff at Treasury before she went to Google."
On accomplishments:
Smith: "One big thing that's different than our time in Silicon Valley is that we weren't shipping product. Our job was to catalyze new capabilities that the government could have. For example, TechHire is now part of 70 communities, which means that short-course boot camps are now a real thing and people are graduating in places like Eastern Kentucky and Anchorage, Alaska. Companies are starving for people with these skills. We also had opportunities to work on things that weren't exactly in our lane, like how to improve internal and external communications in the White House, like by launching @POTUS."
Macgillivray: "For me it was our creation of a tech policy task force that really changed how the White House was able to do policy, plus working on open-source policy and kickstarting the AI strategy. And more simple things like making sure the White House had good access to the Internet."
WHAT?!?!
Macgillivray: "Well, it had access, but there was a firewall policy that restricted the type of sites you were going to see. It was important to get the White House access to the modern Internet."
On their place in history:
Smith: "With every administration, the world is moving. During the time of Lincoln, the Pony Express got disrupted by the telegraph. President Washington founded the Army Corps of Engineers before he was even in office. Kennedy had the Moonshot program. President Obama has done an extraordinary amount of work, including through us, around science and technology, including R&D. This is the beginning of digital, collaborative and data-driven government.
For example, we're part of an open government partnership that started with eight countries but is now over 70. I was recently in a palace in France with 300 digital tech folks from 70-plus countries uploading open-source and working collaboratively on this sector. This is just like 1996 or 1997, but not quite as visible."
On AI and automation:
Macgillivray: "The President has a great line where he talks about how Americans have never been afraid of the future, and that's a lot of what I think defines how we think about this."
Smith: "President Obama pushed hard that we have this conversation, because we all have to go through this change together. One thing we did was a series of town halls led by Ed Felton and Terah Lyons on AI and machine learning, through which something that emerged was what the World Bank refers to as digital dividends. In other words, make sure that you're not just doing high-tech data science on NASA and self-driving cars. But also on more intractable problems like ones faced by HUD and Labor, and being sure that they are modernizing their service delivery.
Another big piece of this is making sure that we improve the skills of all Americans, which is something the country did as it shifted from the agricultural age to the industrial age, and now must do as we shift to the age of creativity. The fastest way we've learned to work on this is to operate more like venture capitalists, who build cohorts by sharing best practices and networks. The same network we can use to help upgrade the Agriculture Department can be used to build maker spaces and can also apply to topics like learning and inclusion. The more we do next-generation high schools, the more people will be prepared to participate in the creative economy. The truth is that everybody has always been quite capable if they have access to learning new skills.
Tech takeaway:
Smith: "I now have much more impatience with the lack of diversity in tech, whether that be geo, race or gender. This team is very diverse and is at the top of its game. We'll be much better served if tech and other government teams become more diverse, because all of the research shows that diverse teams make better decisions."
On fears the Trump Administration won't continue their work:
Macgillivray: "I remember when I used my first smartphone. I wasn't an early adopter and couldn't understand why people like the thing. But it's not like I went back to a flip-phone. I think the same is true when it comes to technology in government. We aren't going to go backwards, and technology is really nonpartisan."
Smith: "Practice makes permanent. It can be hard to integrate some of this stuff but, when we're able to get into a department and help upgrade their work, they're delighted."
Should techies join government, even if they opposed Trump?
Smith: "We wrote a post we refer to as Techies Engage, because we really believe it. It doesn't matter if it's at the state or federal or tribal level. America needs the tech community, and now more than ever."
Go deeper