Exclusive: Trump plans pre-100th day executive order spree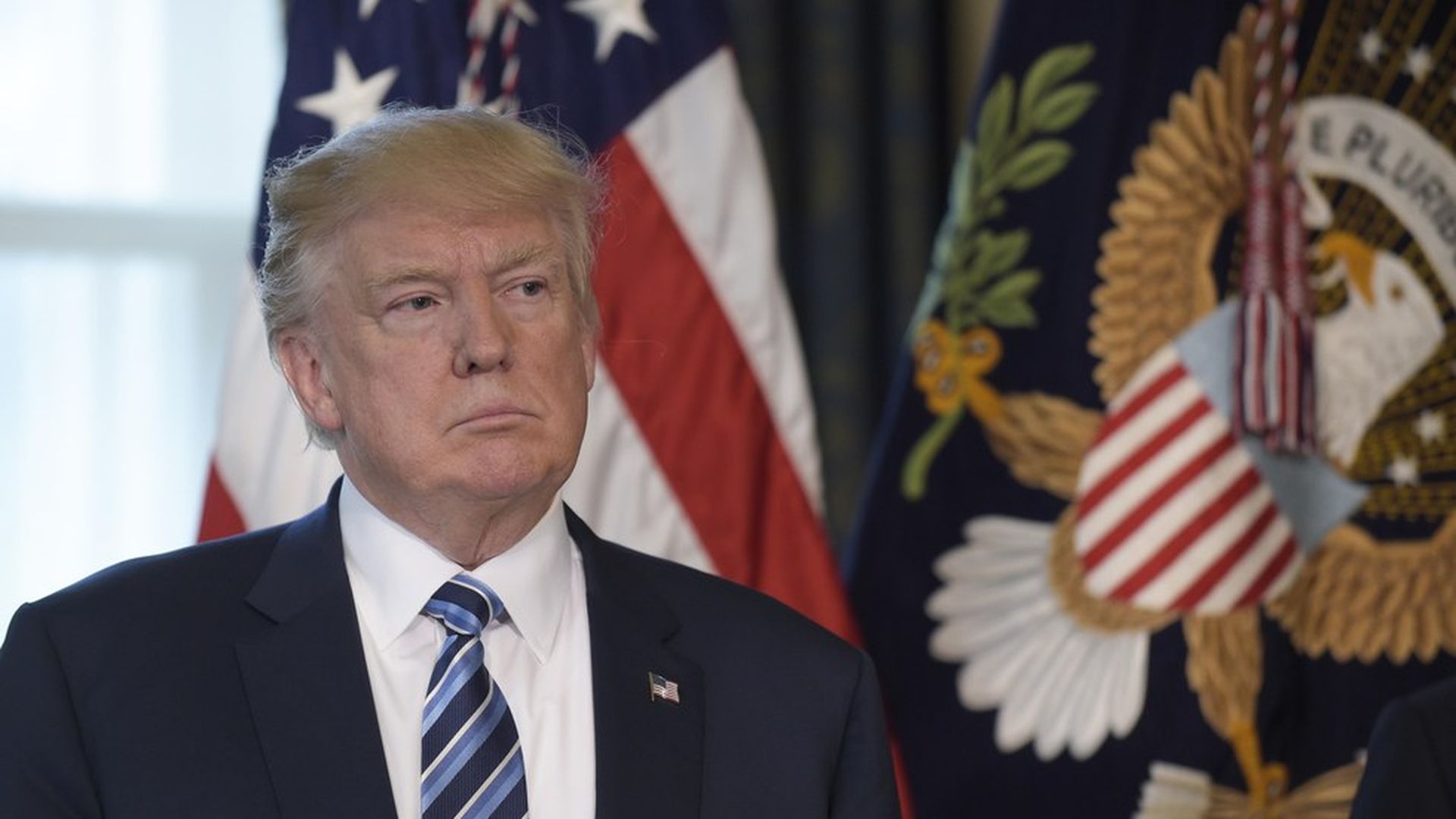 President Trump is going on an executive order frenzy in the final week of his first 100 days.
By Friday, Trump will have signed at least 32 executive orders — the most signed in the first 100 days of a new administration since World War II.
Behind-the-scenes: Trump, used to getting his own way in his business career, is frustrated that Congress won't bend to his will. And he isn't the only one who feels like that. Trump's filled his administration with guys like Gary Cohn and Wilbur Ross who are used to having their orders followed. They, like Trump, regard Washington and the folks who've spent their careers here as hacks. Team Trump is learning to love the executive order — the tool that gives them instant gratification.
Here are the executive orders coming this week, per a White House source with direct knowledge:
"Executive Order Improving Accountability and Whistleblower Protections at the Department of Veterans Affairs": "This Executive Order will establish, in the Department of Veterans Affairs, an Office of Accountability and Whistleblower Protection. The Office will help the Secretary of Veterans Affairs to discipline or terminate VA managers or employees who fail to carry out their duties in helping our veterans. The Office will also identify barriers to the Secretary's authority to put the well-being of our veterans first."
"Executive Order for a Review of Designations under the Antiquities Act": "The Antiquities Act of 1906 authorizes the president to declare federal lands of historic or scientific value to be 'National Monuments' and thereby restrict the types of uses to which those lands can be put...The Antiquities Act Executive Order directs the Department of the Interior to review prior monument designations and suggest legislative changes or modifications to the monument proclamations."
"Executive Order Implementing an America-First Offshore Energy Strategy": "Past administrations have been overly restrictive of off-shore energy exploration. The America First Energy Executive Order directs a review of the locations available for off-shore oil and gas exploration and of certain regulations governing off-shore oil and gas exploration."
"Executive Order Promoting Agriculture and Rural Prosperity in America": "The Agriculture and Rural Task Force Executive Order creates an interagency task force to examine the concerns of rural America and suggest legislative and regulatory changes to address them."
Go deeper