Exclusive: solar coalition launches to fight solar tariffs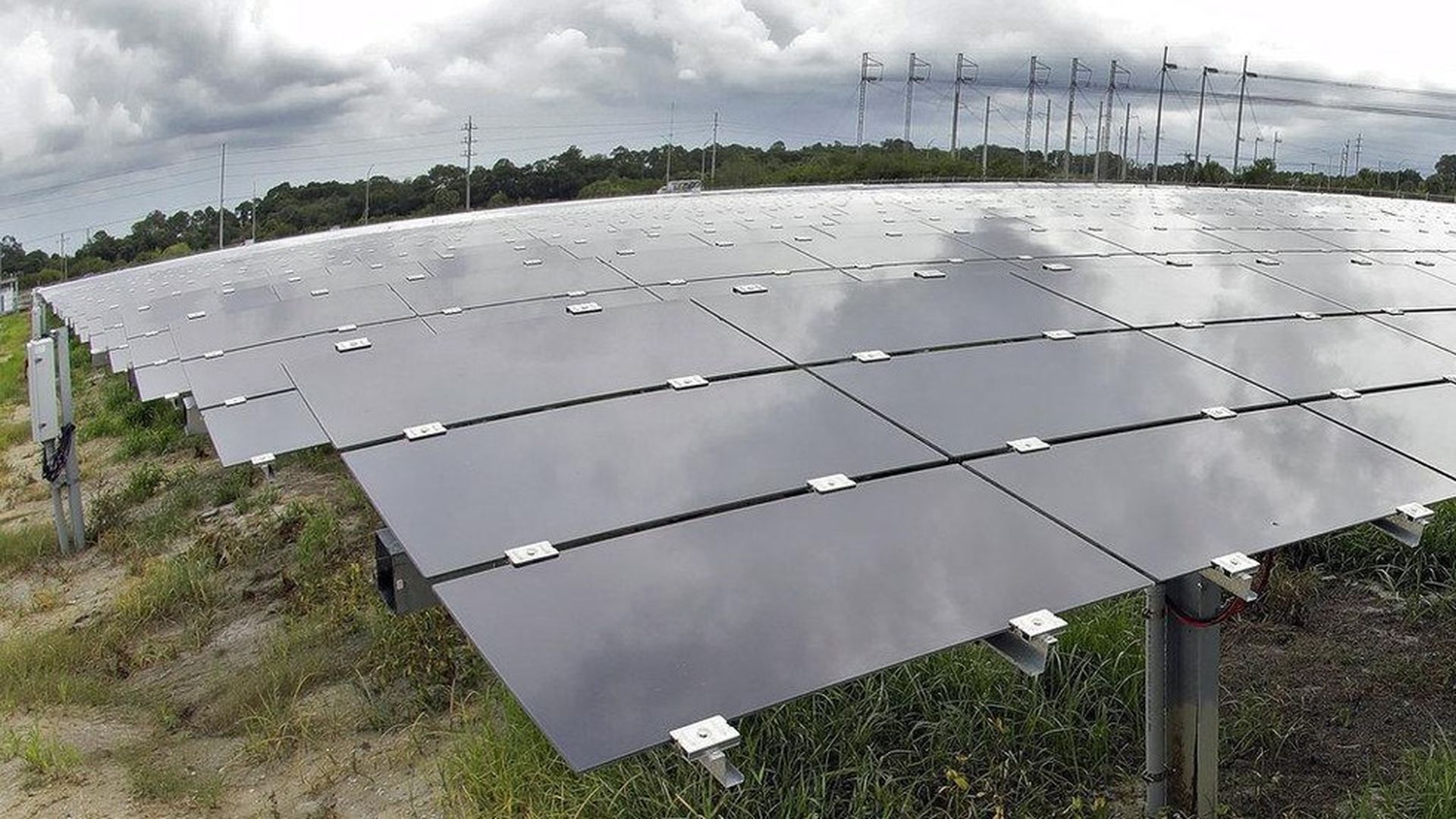 A new player is entering the fight over whether the U.S. government should impose tariffs on Chinese solar manufacturers, Axios has learned.
U.S. Made Solar, a coalition made up of several U.S.-based solar manufacturers, is launching today, and will have a new advertising campaign criticizing the two companies petitioning for trade protections under the Trump administration and emphasizing "all things American" (one of President Trump's favorite mantras.)
Why it matters: This new coalition, separate from another one with the same end goal (no tariffs) that formed in July, shows how this debate is escalating over what the Trump administration is going to do. Most outside forces are aligning against the two companies asking for the tariffs, but the administration itself is more inclined to be sympathetic to the views, given Trump's protectionist bent and his particular focus on China.
The coalition is made up of more than 10 American solar manufacturers, including RBI Solar, Nextracker, GameChange Solar, Terrasmart, Solar Flex Rack, and Panel Claw. The firm behind the coalition, S-3 Public Affairs, isn't disclosing the total amount, but the backers "believe we have the resources to convey our message to the administration." The ads, including digital and TV, are concentrated in the D.C. area.
The coalition is seeking to paint the two manufacturers — Suniva and SolarWorld — as Solyndra all over again (Solyndra, you'll probably recall, went bankrupt after receiving a half-million loan guarantee from the Obama administration). This is substantively different — tariffs aren't loan guarantees — but the coalition is painting any government interference as a bailout that would hurt American jobs.
The backstory:
In April the bankrupt manufacturer Suniva, later joined by SolarWorld, petitioned the U.S. International Trade Commission for new tariffs on cells and for a price floor on modules, arguing cheap foreign imports are throttling the domestic panel industry.
But the wider solar industry, via the Solar Energy Industries Association, and other critics say granting that petition would wreak havoc on the economics of U.S. solar projects by basically doubling the cost of key components, greatly slowing the addition of new installations.
What's next: The USITC, which is considering the petition now, will make a recommendation by Sept. 22 about whether it thinks tariffs should be imposed. If it does, it would send the final decision to the White House.
Go deeper