Energy regulator may "cast a lifeline" to coal and nuclear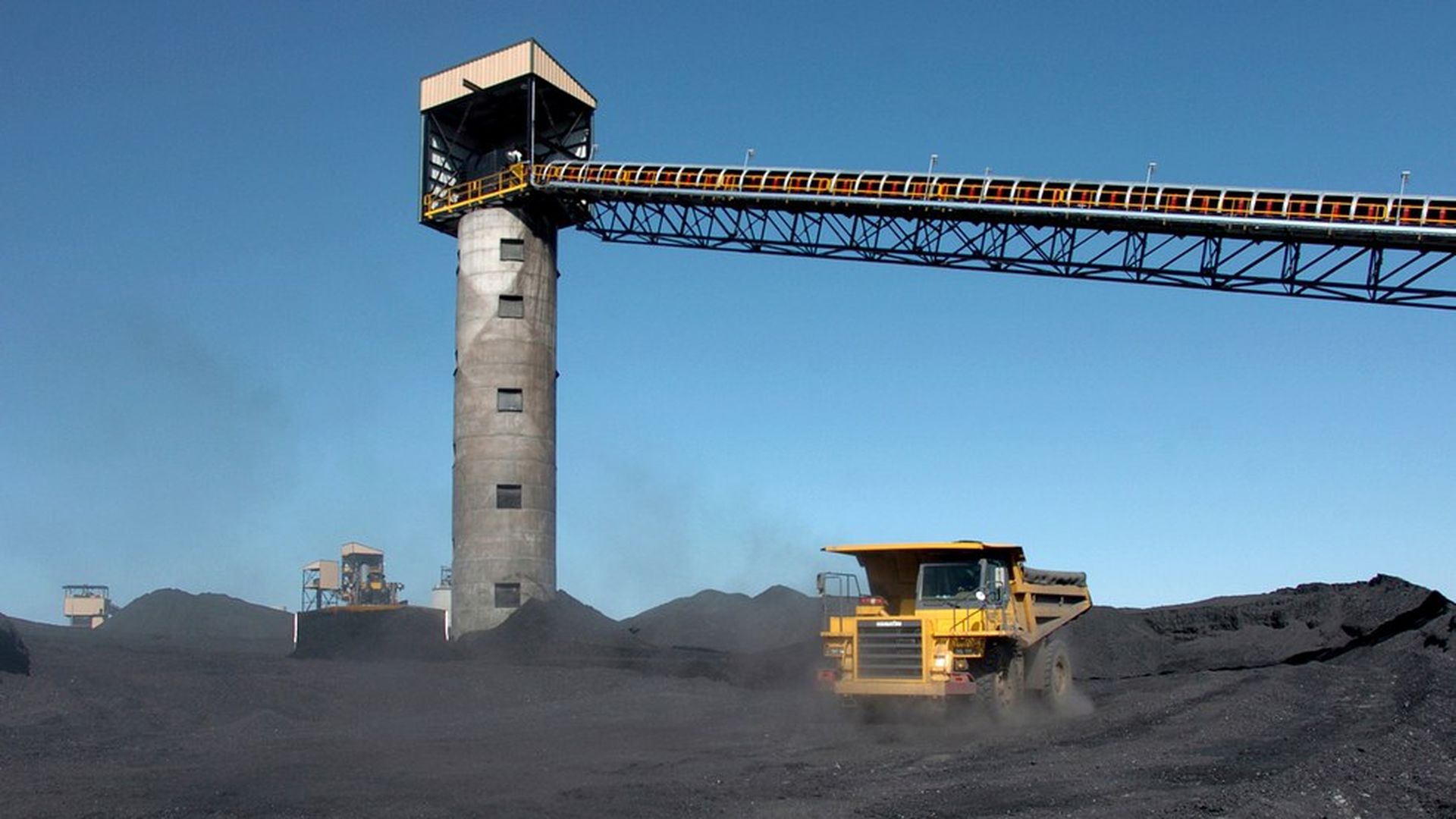 A top federal energy regulator said Wednesday the federal government may "cast a lifeline" to coal and nuclear power plants while the government conducts a longterm review of America's electricity grid.
"I just think it's prudent to potentially cast a lifeline to certain assets so they can stay afloat while we do this longer term analysis," said Neil Chatterjee, chairman of the Federal Energy Regulatory Commission, during a luncheon with dozens of energy industry executives. "I truly think there is a way to achieve that in a legally defensible manner that does not distort markets."
Chatterjee said he was worried that short-term market pressures would shut down coal and nuclear plants and then later on the U.S. would realize it needed that electricity. "That's an outcome that concerns me," Chatterjee said. "I want to have no regrets at the end of this process."
Why it matters: Chatterjee's remarks offer some of the most concrete evidence that FERC, at the request of Energy Secretary Rick Perry, may end up taking a specific action soon to help numerous financially struggling coal and nuclear power plants. Helping revive the coal and nuclear industries is a top energy priority for President Trump.
Backstory: Energy Secretary Rick Perry took the unusual step in September of asking FERC to issue a rule that would favor nuclear and coal plants, with the stated aim of ensuring the electric grid remains resilient. Perry's request has been widely criticized by most parts of the energy industry, including oil and natural gas and renewable companies.
Inside the lunch: The event was hosted by the National Energy Resources Organization, a nonpartisan group that brings together nearly all facets of the energy sector for regular events in Washington, D.C. While the crowd dined over chicken and mashed sweet potatoes in a basement ballroom of a hotel a few blocks from the Capitol, Chatterjee cracked jokes about his height and the number of people there. It was a familiar crowd for Chatterjee, a Capitol Hill and Washington veteran of energy issues.
"Can everyone see me OK?" Chatterjee said from the podium. "Just trying to keep myself humble. Biggest crowd ever at a NERO lunch."
He waited until toward the end of his approximately 20-minute remarks to bring up what was top of mind for the crowd: Perry's request. He sought to assure the divided industry that taking steps to help coal and nuclear wouldn't be at the detriment to other resources if FERC did its job right.
Reality check: Most independent analysts say that given America's stagnant electricity demand, such a rule would necessarily come at the detriment of other fuel sources.
Here's one extended passage from Chatterjee's remarks worth reading:
"I don't think there is going to be winners and losers at the end of this process if we at the commission do it correctly. To value resilience and reliability and security is not a zero sum game. To say that certain resources have attributes that need to be compensated does not mean that another resource needs to lose. I don't think that this is a fuel war. I don't think this is the commission trying to put their thumb on the scale and favor one generating source over another. I think this is all of us collectively looking what we can ensure long-term energy infrastructure and making sure we look at this right."
The audience included executives on all sides of the fight. Here's a snapshot of what people and companies were present:
FirstEnergy, Southern Company, NRG Energy, Murray Energy, Nuclear Energy Institute, Exelon and the American Petroleum Institute, whose senior director of government relations, Khary Cauthen, introduced Chatterjee. API was one of several trade groups to issue joint comments opposing Perry's electricity rule.
Andrew Wheeler, Trump's nominee to be deputy administrator at the Environmental Protection Agency, was also there. He is currently a principal with Faegre Baker Daniels Consulting, where he represents coal producers, among others.
What's next: FERC, which has the ultimate say in whether to follow through with Perry's request or do something else or nothing at all, is required to respond to the department's request by Dec. 11. That response likely doesn't mean a final rule, but instead the next step in what could end up being one of the most consequential energy regulatory moves in decades.
Go deeper