Drug companies flood Congress with lobbyists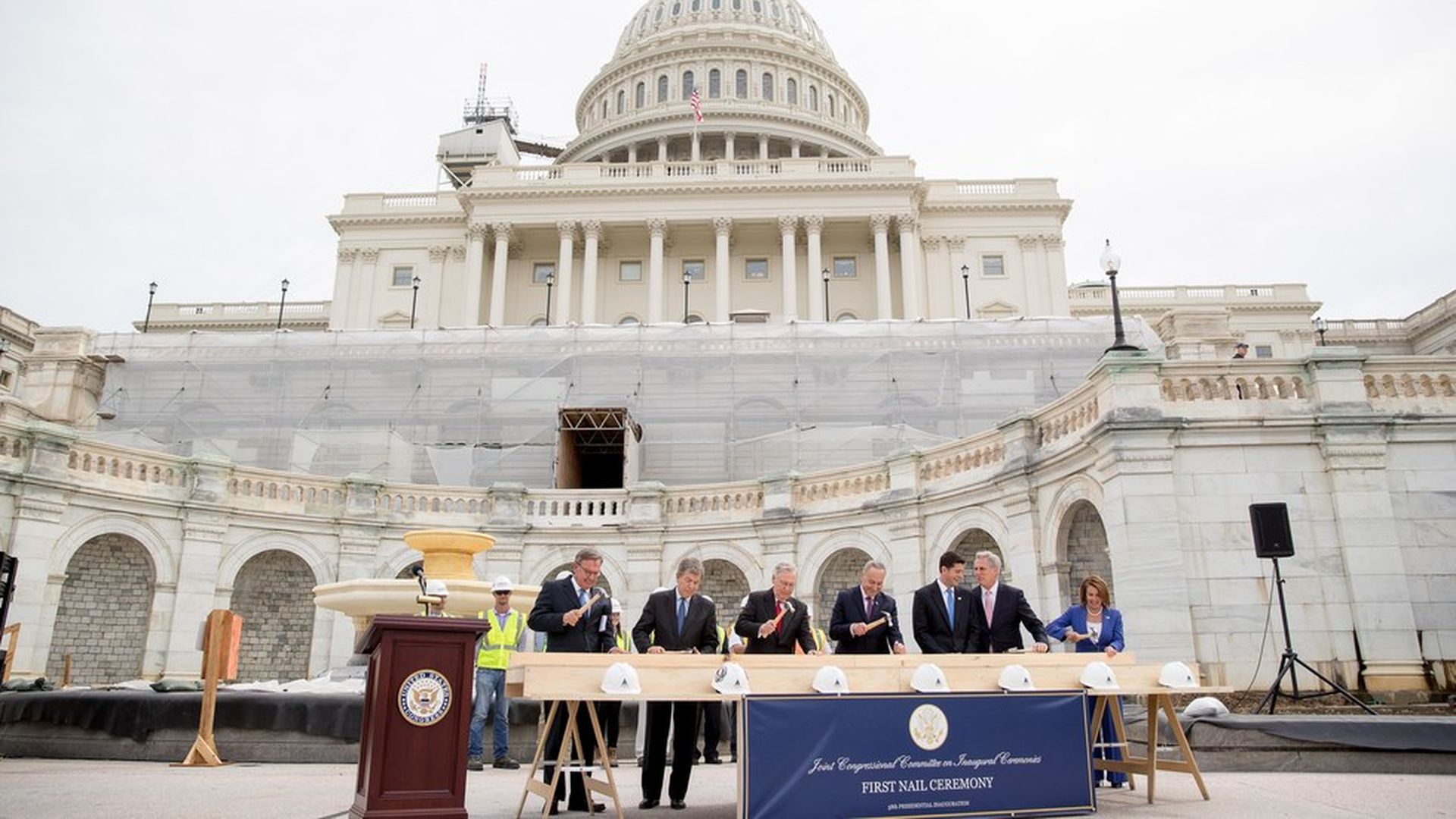 The pharmaceutical industry heavily increased how much it spent on lobbyists in the first quarter of 2017, just as President Trump entered office and skewered drug companies for their high prices. There's bipartisan support for tackling rising drug costs, but drug makers clearly want to maintain the status quo and have tried to turn attention to wholesalers and middlemen in the supply chain.
The details: Axios reviewed lobbying disclosures for 61 of the largest health care companies and trade groups. Those organizations spent more than $90.6 million on lobbying in the first three months of this year, a 20% jump from the $75.7 million in the first quarter of 2016. Twenty-five drug companies and groups — led by the Pharmaceutical Research and Manufacturers of America, Novartis, Pfizer, Amgen, Teva and Bayer — all significantly bumped up their lobbying expenses.
Here's how a handful of drug companies spent their lobbying dollars so far in 2017 compared with the same period in 2016.
PhRMA: $7.98 million vs. $5.95 million
Novartis: $4 million vs. $3.09 million
Pfizer: $3.74 million vs. $3.28 million
Amgen: $3.02 million vs. $1.75 million
Teva Pharmaceuticals: $2.67 million vs. $1.24 million
Bayer: $2.45 million vs. $2.13 million
Biotechnology Innovation Organization: $2.30 million vs. $2.26 million
Sanofi: $1.9 million vs. $1.01 million
GlaxoSmithKline: $1.64 million vs. $1.49 million
Mylan: $1.45 million vs. $610,000
Eli Lilly: $1.39 million vs. $1.25 million
PhRMA was the largest lobbying spender in the health care sector in the quarter, but the American Medical Association was close behind at $6.83 million. The American Hospital Association had a lobbying price tag of $4.56 million.
Several health insurance groups also reached deeper into their pockets to sway the new Congress. The Blue Cross and Blue Shield Association ($2.15 million), UnitedHealth Group ($1.65 million), Anthem ($1.64 million), Aetna ($1.38 million) and Cigna ($1.15 million) each boosted their lobbying expenses in the first quarter compared with the same period a year ago. Changes to the Obamacare marketplaces and repealing Obamacare's health insurance tax were at the tops of their wish lists.
However, American's Health Insurance Plans — the industry's main lobbying group that does not include Aetna or UnitedHealth as members — lowered its spending from $2.21 million to $1.65 million.
Go deeper