Divisions over climate change on display at Trump panel in Germany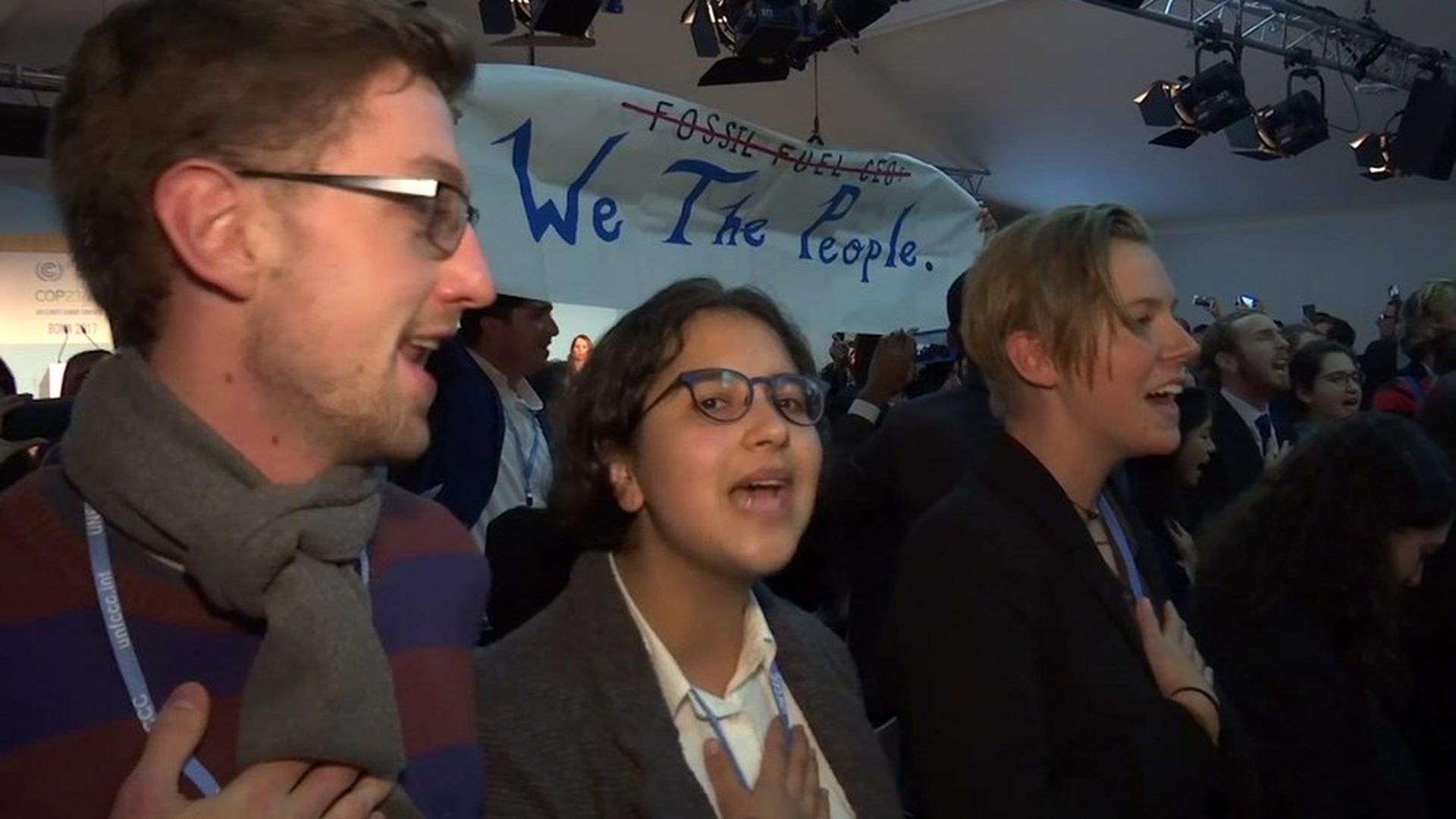 BONN, Germany — The question of whether cleaner fossil fuels and nuclear power should help the world combat climate change are highlighting stark divisions at a conference here.
Driving the news: Officials from the Trump White House and panelists invited to its only official event at this conference argued the two resources need support, while hundreds of rowdy protesters insisted coal is incompatible to addressing climate change, called out the administration for revoking environmental regulations and said renewable energy was the path forward.
Why it matters: Studies by some of the most well-respected and objective institutions, including the United Nations that is hosting the conference in Bonn and the International Energy Agency, say nuclear power and technology that captures carbon emissions from coal plants are essential to cutting emissions in a cost-effective way to the level scientists say we must. That's on top of huge advancements in renewable energy, energy efficiency and other technologies.
My thought bubble: The Trump administration should be given credit for breaking into the echo chamber that conferences like this often foster. At least three of the panelists invited emphasized that point, including a former Obama energy adviser, despite continued protests during the roughly 1.5 hour-event. Most of the protesters in the room focused on coal, though throughout the conference there were also anti-nuclear energy protests.
"There's no clean coal. That's bull s---," yelled one protester. "You can't fund clean coal because it doesn't exist."
Reality check: Technically, that protester is wrong. The technology is proven to work and it exists in a few places around the world, but it's too expensive to be commercially viable in most instances, making it an easy target to protest.
Gritty details:
"We believe there is a rational way forward that does not force countries to choose between climate mitigation, economic development and energy security," said White House adviser George David Banks.
That is one of the most pro-climate comments made by any official in the Trump administration, but it's not the official administration policy. it rang hollow to many attendees at this conference for a few reasons:
The administration is repealing almost every climate-related regulation issued by then-President Obama, and it's not clear whether they plan to actually issue replacements.
President Trump himself has not said anything publicly about whether he considers climate change a problem, let alone a priority.
The administration has also so far not put forth any significant policy supporting a more pragmatic climate agenda that includes more support for capture coal technology and nuclear power.
Environmental Protection Agency Administrator Scott Pruitt, who was one of the most vocal advocates for Trump to withdraw America from the Paris climate deal, sent a video message to a recent conference hosted by The Heartland Institute, which has been one of the leading groups sowing doubt about the scientific consensus that human activity is the primary driver of Earth's temperature rise over the last century.
Go deeper: Check out my latest Harder Line column on this topic and my highlights from Monday's event.
Go deeper