Death stalks the Senate's health care bill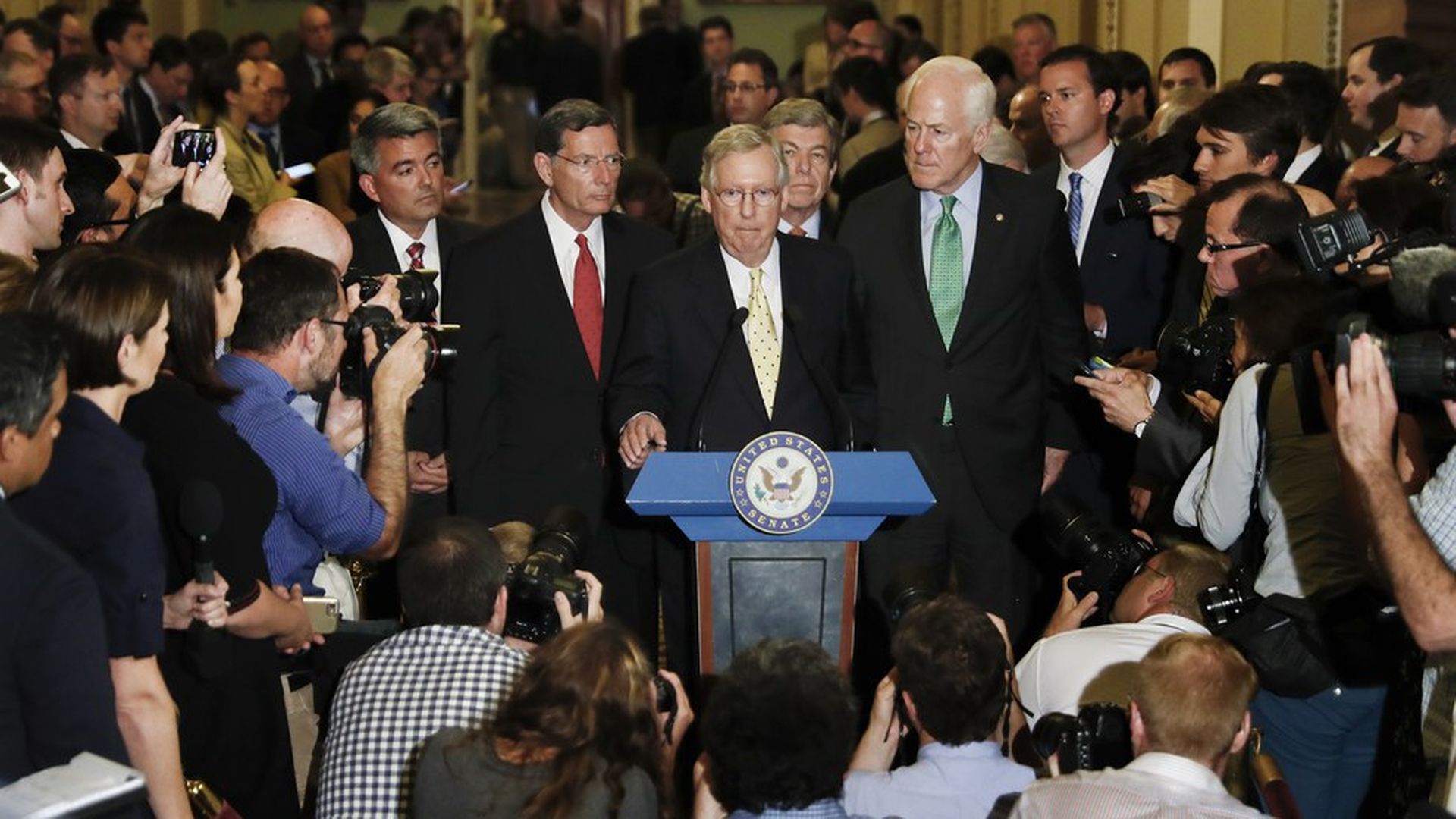 It ain't over until it's over, and there's still some chatter bouncing around Capitol Hill about last-minute shenanigans or a Hail Mary on the Senate floor. And President Trump is sure to put some serious pressure on the moderates this afternoon when all of the Republican senators lunch with him at the White House.
But unless something dramatic changes, Washington appears to be about done with the repeal-and-replace phase of the debate over the Affordable Care Act. The next phase, though, could be just as hard.
The Trump administration — including the president himself as well as the IRS and the Department of Health and Human Services — has some tough decisions to make about whether to torpedo the ACA (and, in the process, people's health care), or suck it up and try to make the law work.
Trump clearly prefers the former, but the career staff at HHS and the IRS have been doing this work for years now. It's not realistic to expect everything to grind to a halt.
Congress, too, will turn to a smaller-scale but still critically important debate over piecemeal efforts to stabilize states' insurance markets.
A handful of GOP senators sincerely want to offer some help — including Sen, Lamar Alexander, the chairman of the HELP Committee, who said yesterday he'll begin holding hearings on the health of the individual market, no matter how the Senate vote shakes out.
In the meantime:
The Senate will vote early next week on a procedural motion to begin debate on the health care bill, Majority Leader Mitch McConnell said yesterday.
At least three Republicans — Shelley Moore Capito, Susan Collins and Lisa Murkowski — have said they'd oppose the latest vehicle, a 2015 bill that would repeal most of the law but delay the effects of repeal for two years.
That means the vote — either on a procedural motion or the proposal itself — would fail even with Sen. John McCain in town.
It didn't take long for moderates to back away from the 2015 bill. Even though they voted for it before, it's now pretty clear that the Senate would have a hard time coming up with a replacement plan, even with another two years to think about it.
Flashback: Right after the election, Axios' Caitlin Owens talked to one senior GOP Senate aide who said, re: the 2015 repeal bill: "We're not going to use that package. We're not dumb."
Twitter remembered this quote better than we did, but we followed up on Tuesday to ask the same aide about Senate Republicans deciding to, in fact, vote on the 2015 repeal bill: "Repeal and 2015 are pathologically stupid and it's criminal for Trump and conservatives to put us in that position."
Go deeper