Comey's memo hangs over Trump's head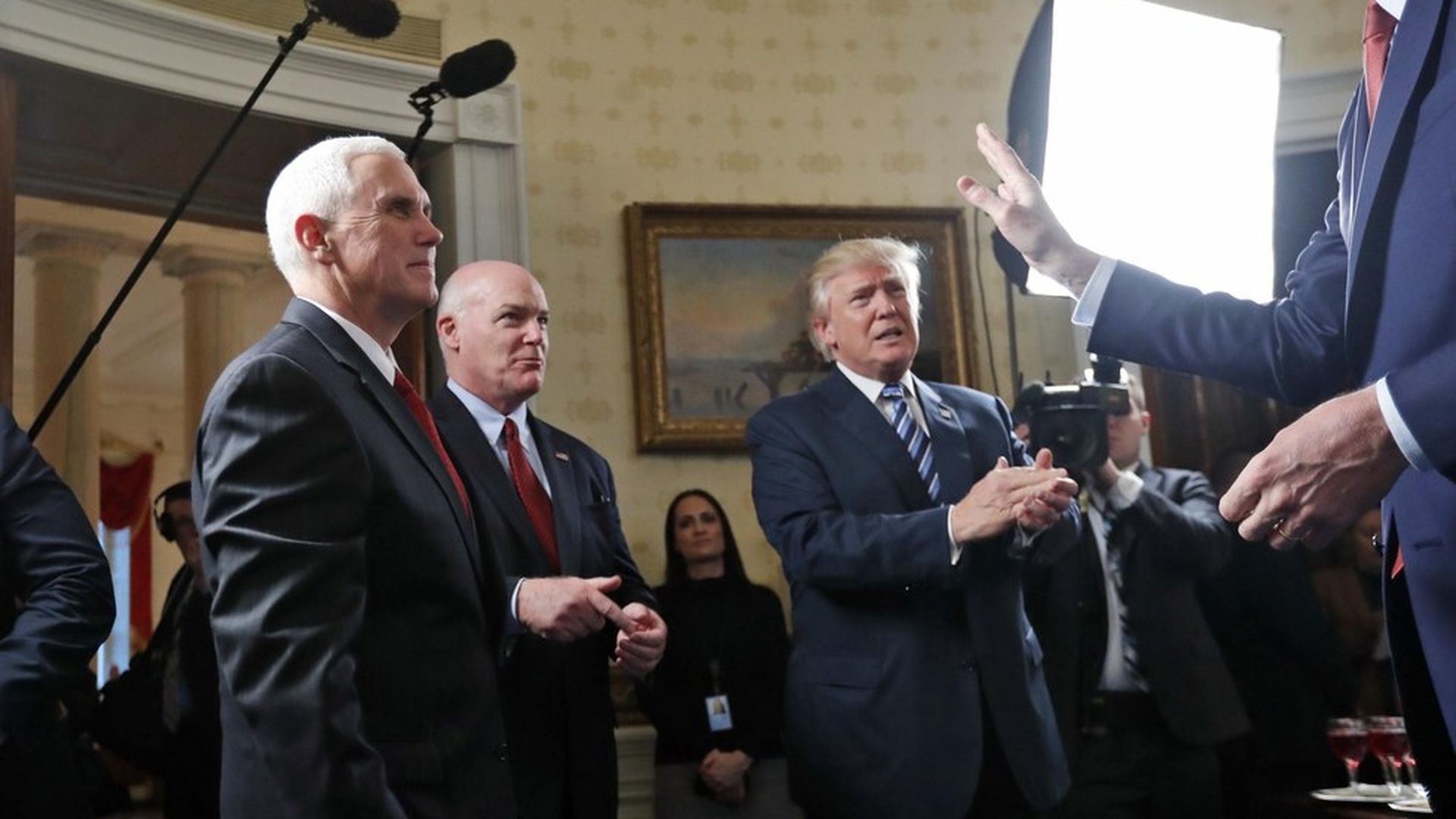 President Trump asked then-FBI Director Comey in February to stop investigating ousted national security advisor Michael Flynn, a request that Comey then recorded in a memo, the NY Times reports.
The quote, per Comey's memo: "I hope you can see your way clear to letting this go, to letting Flynn go. He is a good guy. I hope you can let this go."
What's next: Per the NYT, Comey has memos from all of his interactions with Trump. House Oversight Chair Jason Chaffetz has requested them from the FBI, and Democrats are claiming obstruction of justice.
Full coverage: Comey's revenge, Trump/Comey timeline , Chaffetz's letter, GOP wants to hear from Comey, Trump on imprisoning reporters.
White House response: "While the President has repeatedly expressed his view that General Flynn is a decent man who served and protected our country, the President has never asked Mr. Comey or anyone else to end any investigation."
Partial list of outlets confirming the NYT report: NBC, WaPo, CNN, CBS, ABC, Politico, FT, AP.
The next shoe…
Per the NYT, Comey wrote a memo after every interaction with the president, including some that remain classified. Such notes notes are widely deemed admissible in court proceedings.
Comey intends to "go public" about his interactions with Trump, according to NBC's Ken Dilanian.
Sen. Lindsey Graham has invited Comey to testify publicly.
The reactions...
John McCain: Trump scandals have hit "Watergate size and scale."
Paul Ryan: "We need to have all the facts, & it is appropriate for Oversight Committee to request this memo."
Nancy Pelosi: "At best, President Trump has committed a grave abuse of executive power. At worst, he has obstructed justice."
Chris Murphy: "Just leaving Senate floor. Lots of chatter from Ds and Rs about the exact definition of 'obstruction of justice.'"
Insights and observations...
Former Justice Department spokesman Matthew Miller five days BEFORE the news broke: "One thing I learned at DOJ about Comey: he leaves a protective paper trail whenever he deems something inappropriate happened. Stay tuned."
A Comey friend to CNN's Jake Tapper: "He was very sensitive to how difficult this was going to be to work with this president; he also thought he could do it."
CNN's K-File is keeping a list of Dems who are now talking impeachment.
Lawfare blog notes that the legal bar on obstruction of justice in a normal case is high. In this case, it's "does the pattern of conduct that is emerging, in the view of a majority of the House of Representatives and a two-thirds majority of the Senate, constitute an obstruction of justice of a type that is grounds for impeachment and removal?"
When it all happened...
Mon, 5pm: Washington Post reports that Trump disclosed classified intel to Russia
Tues, 1:30pm: NY Times reports that the intel came from Israel
Tues, 5:15pm: NY Times reports on Comey memo.
Trump and the Russians…
In case you missed it: Trump reportedly disclosed classified intelligence in a meeting last week with the Russian ambassador and foreign minister. That intel came from Israel, and was deemed highly sensitive, but the White House insists Trump's actions were "wholly appropriate." The latest headlines:
Campaign flashbacks...
NBC: "Feds Subpoena Records for $3.5M Mystery Mortgage on Manafort's Home"
CNN's Jim Acosta: "Corey Lewandowski in the house at WH tonight... we hear."
A wish that didn't come true…
Go deeper