Climate change is here to stay, so deal with it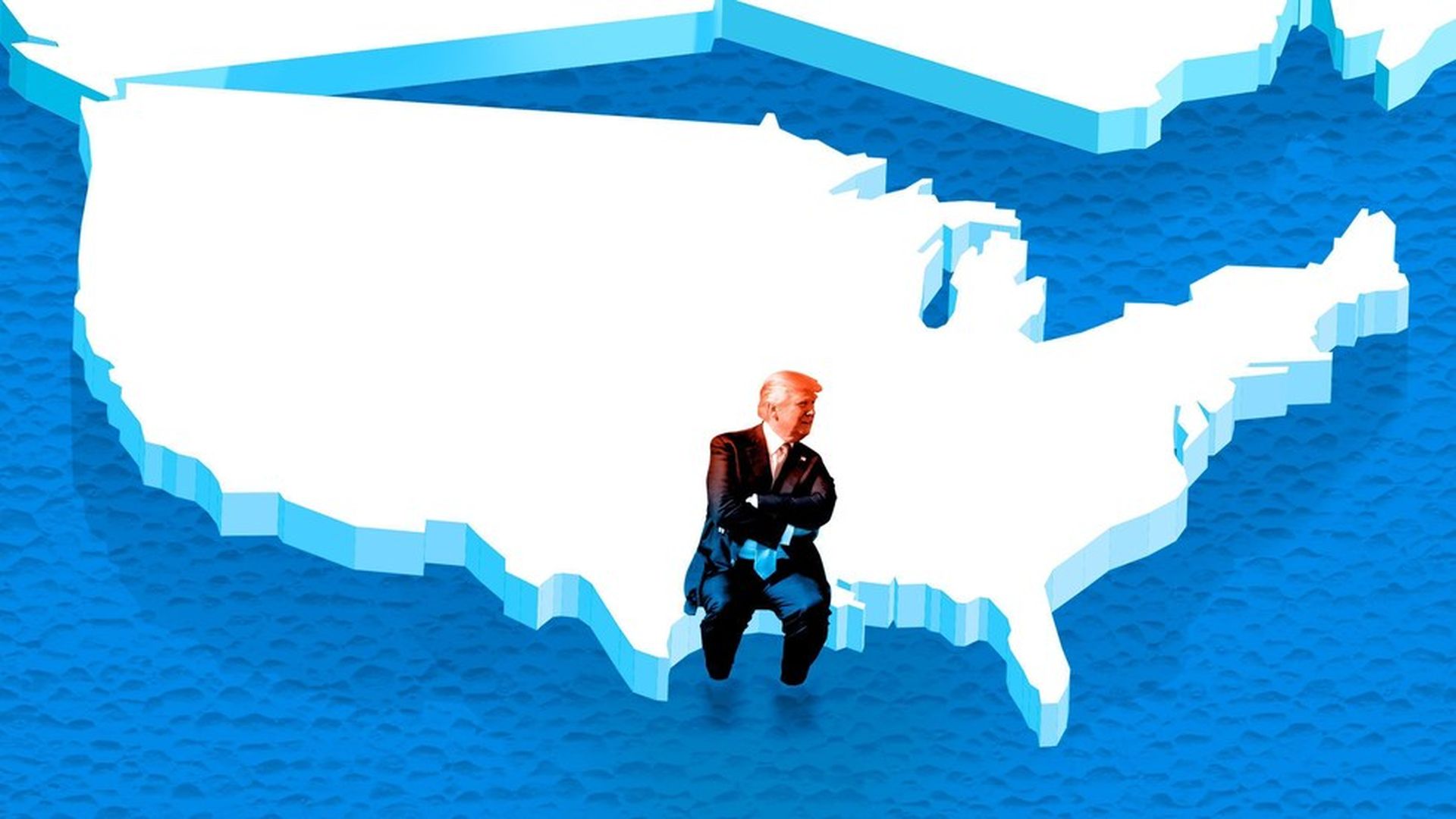 Everyone who wants to keep pushing climate policies in the vacuum of Washington leadership should start thinking more about how to adapt to a warmer world instead of focusing most political will on ways to stop it.
Why it matters: The chances of reversing climate change are slim regardless of U.S. involvement in the Paris agreement. Countries, companies, U.S. states and cities and non-governmental organizations pursuing policies to address climate change should refocus their high-level political efforts on ways to prepare for the impacts that are already here and those still to come.
"Adaptation has to become a more active part of the discussion," said Jason Grumet, president of the Bipartisan Policy Center, a centrist Washington think tank. "One thing is to recognize adaptation is not a question of defeat. Adaptation is the reality that is already taking place."
To be clear, in many areas of the U.S. and around the world, government and business leaders are considering or already pursuing policies to prepare for a warmer planet, particularly higher sea levels and more extreme storms. Many examples exist, and here are three:
New York City is considered a global leader on this front. In 2013, as mayor of the city, Michael Bloomberg announced a $20 billion plan to adapt to climate change. More recently, the U.S. Army Corps of Engineers, a federal agency, is looking at how it can use large gates to protect Jamaica Bay, near JFK airport, from flooding.
Norfolk, Va., and the many military bases near there, are preparing for rising sea levels.
Miami is adapting its urban planning to be ready for rising sea levels.
These efforts are taking a backseat to America's obsession with the binary fight over whether or not to curb greenhouse gas emissions of fossil fuels. Judging by the reaction to Trump's decision to withdraw from the Paris deal, one would think it was the only answer to solving climate change. But actually, nothing and nobody can solve climate change. Even if the world stopped burning fossil fuels tomorrow, "many aspects of climate change and associated impacts will continue for centuries," according to the United Nations.
This isn't to suggest abandoning efforts to slow the worst impacts of climate change. It should be an "and" proposition, not "either/or." Countries, companies and others should keep developing technologies and policies to use more renewable energy, nuclear power and cleaner burning fossil-fuel resources. The debate between whether to focus on stopping climate change versus adapting to it has persisted for years within the wonky climate policy world. It's suddenly relevant to more people now with Trump cutting the U.S. out of the Paris deal and deflating hopes of comprehensive global action to curb emissions.
"It's been one of the biggest challenges of climate advocacy over the past decade that there isn't a more robust conversation on what we need to do to adapt to the changing climate," said John Coequyt, director of the Sierra Club's federal and international climate campaigns.
Talking about adapting to climate change is easier said than done (and it's not even easy to talk about). That's for a few reasons:
Preparing for the impacts of climate change is an inherently local endeavor and the federal government's role is limited. What role the federal government does have, such as authorizing flood insurance, hasn't directly addressed the impacts of rising sea levels.
Most Republicans are comfortable talking about adapting to climate change — as long as you don't use those two "c" words.
It's expensive and unpopular. Bloomberg's 2013 plan had an initial price tag of $20 billion, but its overall cost, which wasn't disclosed, was projected to be far higher. Some efforts also face opposition from environmentalists, nearby residents and experts who worry about the impacts of such large structures like sea walls or gates.
Grumet and Coequyt both say talking more about adapting to climate change will help provide people with more information about an issue that's otherwise hard to grasp on an individual level. "Talking about adaptation helps people understand in a more tangible manner why we need to address this problem," Coequyt said.
One last ironic thing: A golf course in Ireland owned by one of Trump's companies applied for a sea wall application and specifically cited the consequences of global warming, Politico reported last year in a highly cited article. Proof, at least, that the president's willing to engage in activities to address climate change even if he isn't willing to admit it's a problem.
Go deeper