China plays all sides of solar fight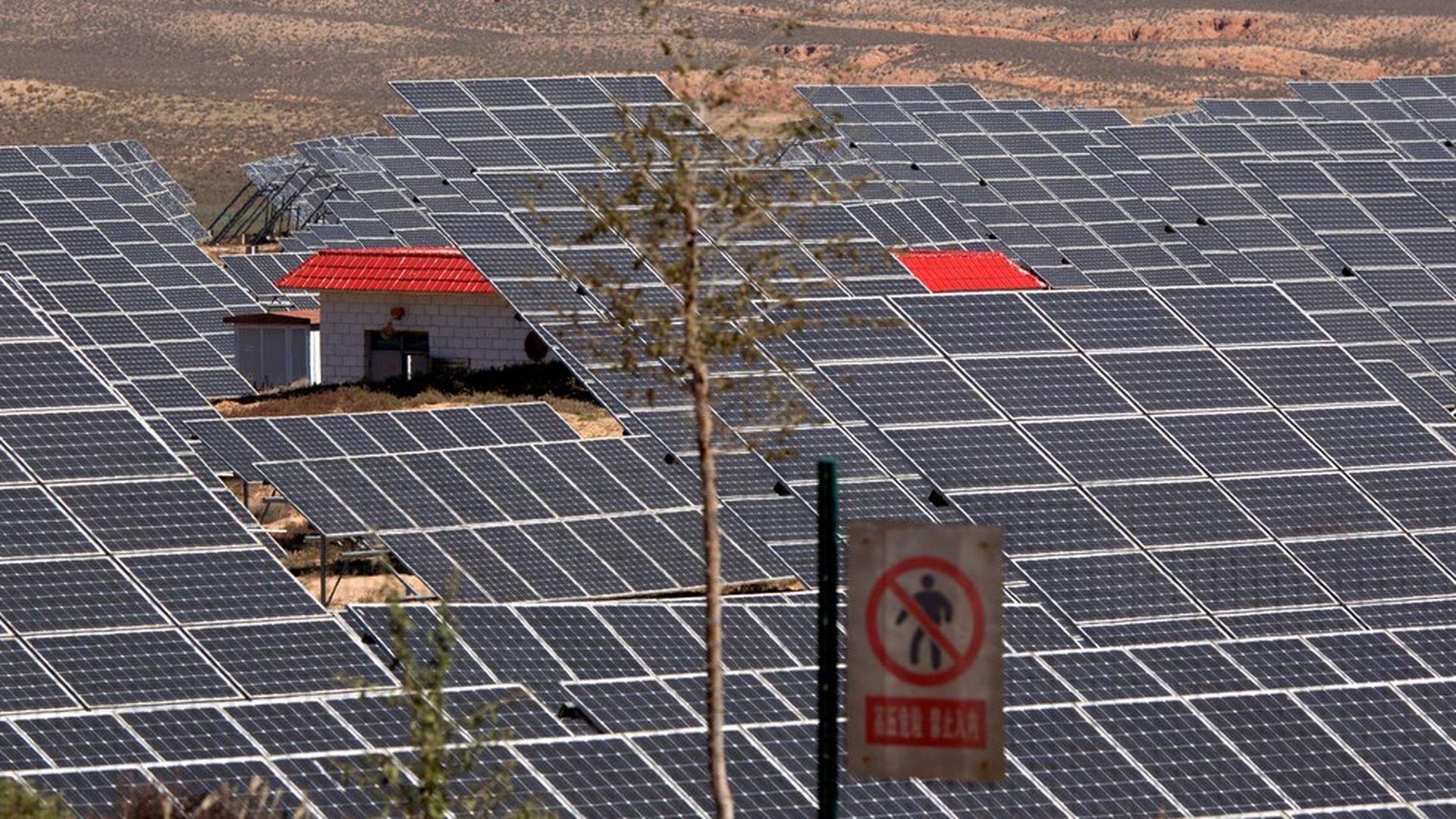 Chinese interests are coming up all over a fight playing out within America's solar industry about how the Trump administration should address a flood of cheap solar imports, coming mostly from China or Chinese-owned companies.
Why it matters: The dynamic reveals how widespread Chinese interests are in clean energy, and in particular solar manufacturing, a space it has dominated since at least 2010. President Trump has said he wants to reverse decades of open-trade policies to help protect American jobs and manufacturing. It would take huge policy changes and a lot of time to reduce China's dominance.
Driving the news: The International Trade Commission is considering what type of trade remedy to recommend President Trump employ to address the cheap solar imports. The independent federal agency unanimously voted in September that those imports have economically injured two U.S.-based but foreign-owned solar manufacturers. Trump will ultimately decide whether to impose tariffs or another kind of remedy, and most expect he will given his protectionist bent.
China on one side: One of the companies asking for trade protections, Suniva, is Georgia-based but is majority owned by a Chinese company. The company was trying to manufacture in the United States and recoup costs after filing for bankruptcy earlier this year. That's what fueled its decision to join the trade case brought by German-owned but Oregon-based SolarWorld Americas.
To make the situation even more complicated, the majority Chinese owner of the company, Shunfeng International Clean Energy Ltd., told the ITC it doesn't want the remedies, but the company itself is pushing hard for them.
China on the other side: A Chinese trade group, the China Chamber of Commerce for Import and Export of Machinery and Electronic Products, has issued briefs backing arguments against the trade remedies by the Solar Energy Industries Association, a U.S. trade group. SEIA opposes the two companies' push because the cheap imports have fueled a boom in most parts of the industry other than manufacturing, including engineering and installation jobs.
"Chinese solar panels are absolutely critical to the U.S. market and the overall U.S. solar industry," said Spencer Griffith, a lawyer at Akin Gump who represents the Chinese group in the case. "U.S. producers of cells and modules cannot come close to satisfying U.S. demand, and the draconian remedies the petitioners propose would cripple the U.S. market and U.S. demand."
Hypocrisy on both sides:
Mutual support between the U.S. and Chinese trade groups as well as advertising campaigns pushed by U.S. groups led a top executive at Suniva to publicly allege last week that SEIA was doing the bidding of China.
A SEIA spokesman said SEIA has close to a 1,000 member companies and only a dozen or so are China-based companies. "We proudly represent America's solar industry," said spokesman Dan Whitten. "The notion that we advocate primarily for Chinese interests is laughable and a stunning allegation from a company that itself is majority-owned by a Chinese company."
China on yet another side: The Justice Department in 2014 indicted Chinese military hackers for what DOJ said at the time was cyber espionage against U.S. corporations, including SolarWorld, for commercial advantage. A top SolarWorld Americas executive testified about that case earlier this month to the United States Trade Representative. That hearing was part of the Trump administration's investigation into alleged Chinese violations of intellectual property, so expect this issue to resurface.
Go deeper: Check out Amy's latest Harder Line column on this topic, and this E&E story for a deep dive into Suniva's ownership.
Go deeper