Cheddar ​streams $19 million in new funding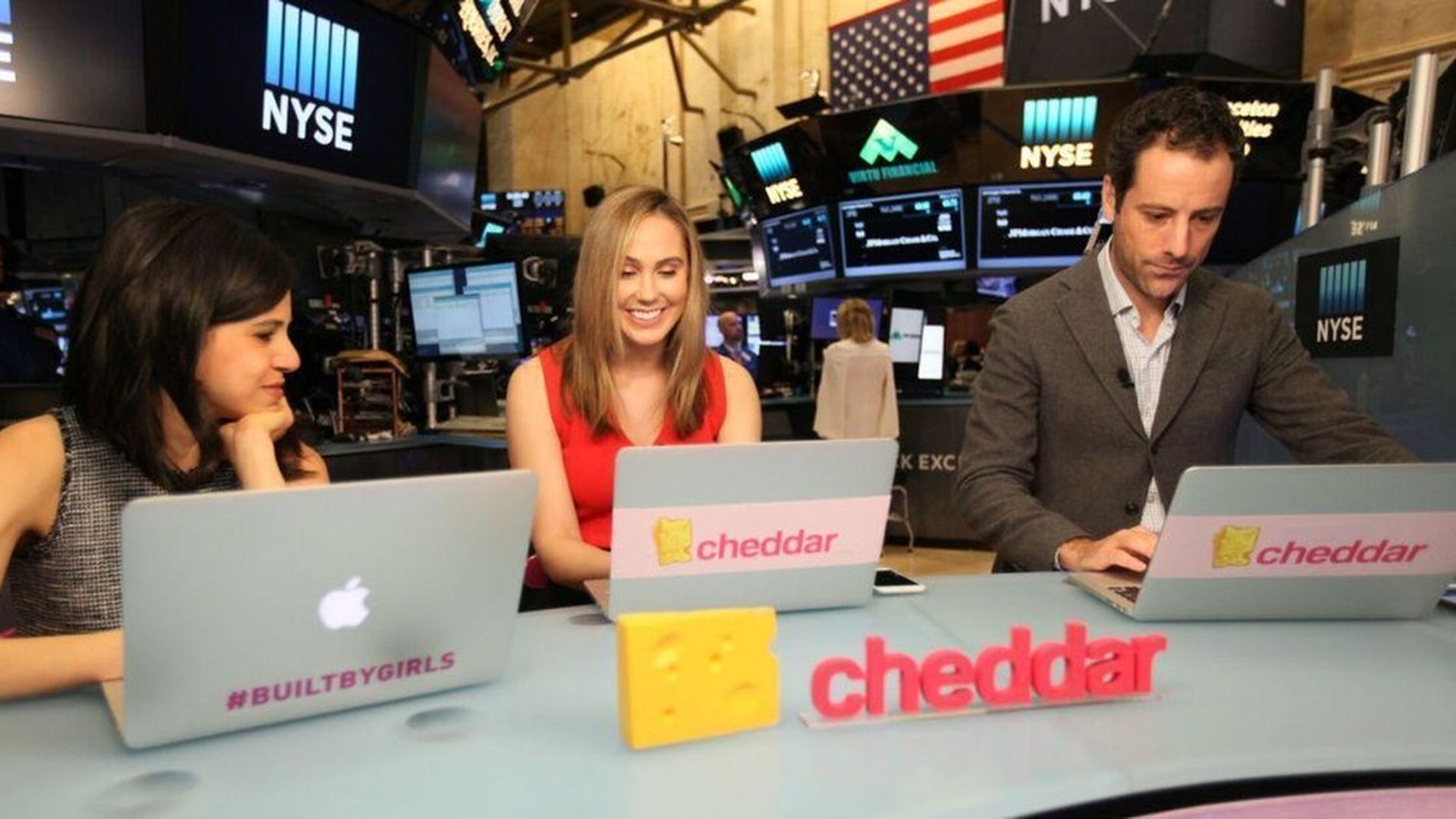 Cheddar, a live-streamed financial and tech video news site aimed at millennials, announced that it has raised $19 million in new VC funding at an $85 million post-money valuation. Axios spoke with company founder and CEO Jon Steinberg, who previously was president of BuzzFeed. What we learned:
Reach: Eight percent of all U.S. millennials have seen a piece of Cheddar content (90% of them within the past month), according to data compiled for the company by research firm Market Strategies International (which also does audience analytics for Cheddar rival CNBC). The figure was even higher in the 18-24 piece of that 18-34 year-old demographic, leading Steinberg to believe that the content is particularly penetrating on college campuses.
Take it as a compliment: Steinberg knows the criticism that financial news networks often are more "ambient television" than appointment viewing, but he doesn't see it as a negative. "That's what I aspire to be... we want people to look up and glance."
Distribution: Cheddar is available on all sorts of platforms, including Twitter, Facebook and its own apps, but Steinberg is partial to Sling, where his content sits next to CNN and Bloomberg TV. "We're positioned like a cable news network there... and those are our most engaged viewers." He also says that Cheddar ― which currently offers three of its eight daily hours for free ― either has signed contracts or is in discussions with every "skinny bundle" in the U.S., with expectations to launch in almost all of them by the end of Q1 2018.
Revenue: The company expects to do $1 million in June revenue, at which point it also would hit profitability. The new fundraising is basically about stockpiling cash, although there will be some new capital expenditures (each new studio costs between $700k-$900k). "It's not bad to have a bank balance."
Investors: Raine Ventures led the round, and was joined by AT&T, Amazon, Altice USA, the New York Stock Exchange, Broadway Video Ventures and return backers Lightspeed Venture Partners, Comcast Ventures and Ribbit Capital.
Go deeper