Breitbart aims to discredit Roy Moore's accusers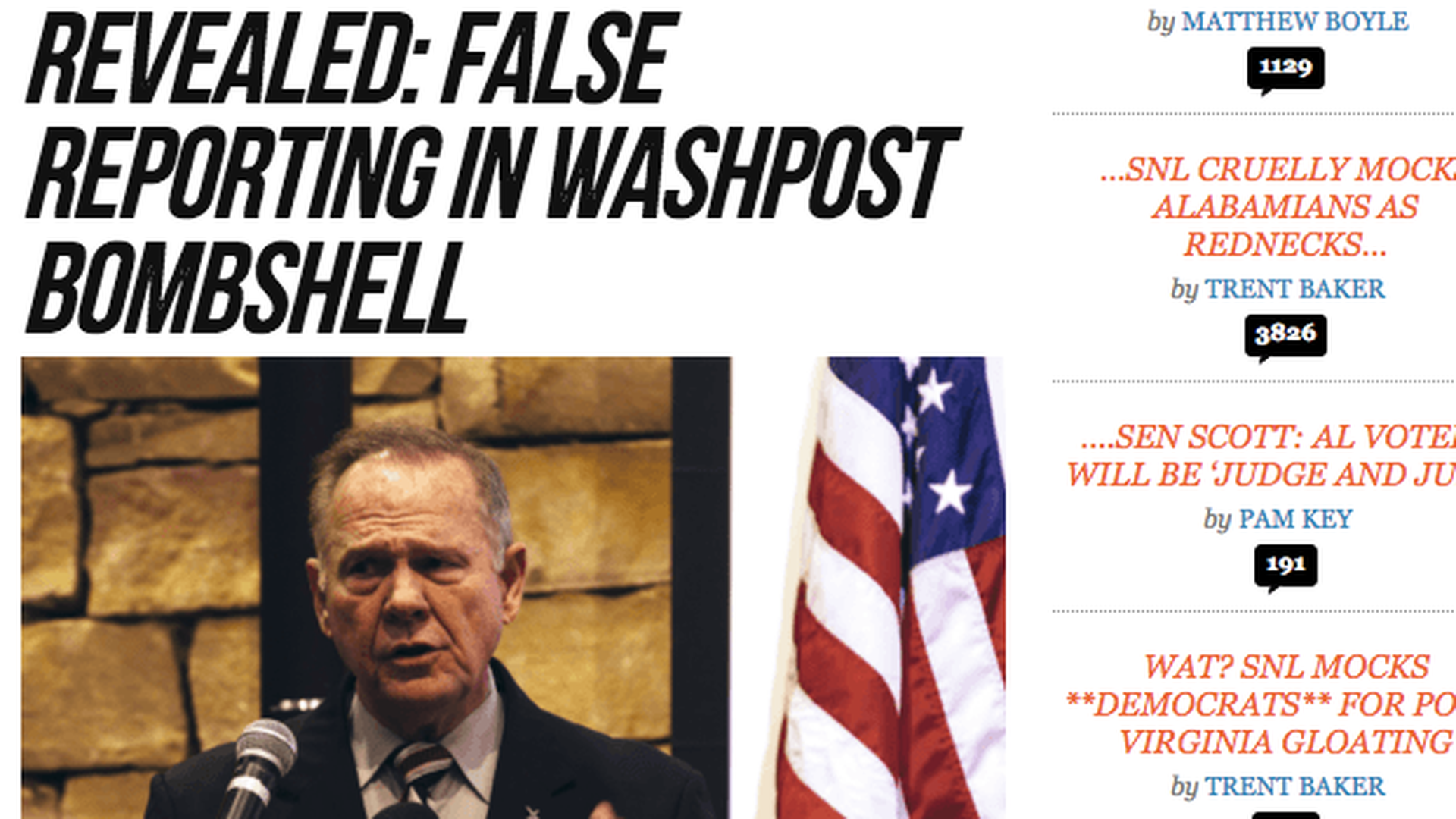 Steve Bannon has sent two of Breitbart News' top reporters, Matt Boyle and Aaron Klein, to Alabama. Their mission: to discredit the Washington Post's reporting on Roy Moore's alleged sexual misconduct with teenagers.
Bottom line: This story is about to get even uglier, if that's imaginable. I expect more counter-attacks will play out in Breitbart News and other outlets over the coming days.
A story that popped today — splashed over the Breitbart homepage — contains what the website claims is a major hole in the account of Leigh Corfman, who says Alabama Senate candidate, Moore, made sexual advances on her when she was 14 years old.
Klein reports from Birmingham, Alabama: "Speaking by phone to Breitbart News on Saturday, Corfman's mother, Nancy Wells, 71, says that her daughter did not have a phone in her bedroom during the period that Moore is reported to have allegedly called Corfman – purportedly on Corfman's bedroom phone – to arrange at least one encounter."
Why this matters: It's quite a head-scratcher as to why Breitbart thinks this bedroom phone detail matters. As Corfman's mother told Breitbart "the phone in the house could get through to her easily." Wells stands by her daughter's allegations. But the fact Breitbart is running stories like this shows the extremes to which it may go to discredit Moore's accusers.
Another hard truth: Many Alabama voters hold the mainstream media in such low regard that they've dismissed the Washington Post's reporting entirely.
For a dose of this reality, check out this man-on-the-street segment from an ABC Alabama affiliate. Political reporter Lauren Walsh said: "Out of all the voters we spoke with Friday in Columbiana, we didn't find one voter who believed the Washington Post report about Moore."
And, for more on this theme, read the quotes in this NBC News report from Prattville, Alabama. The most shocking quote: "Inside the store, a man who declined to give his name said, 'This is Republican town, man. (Moore) could have killed Obama, and we wouldn't care.'"
Go deeper