Bowe Bergdahl dishonorably discharged, avoids prison time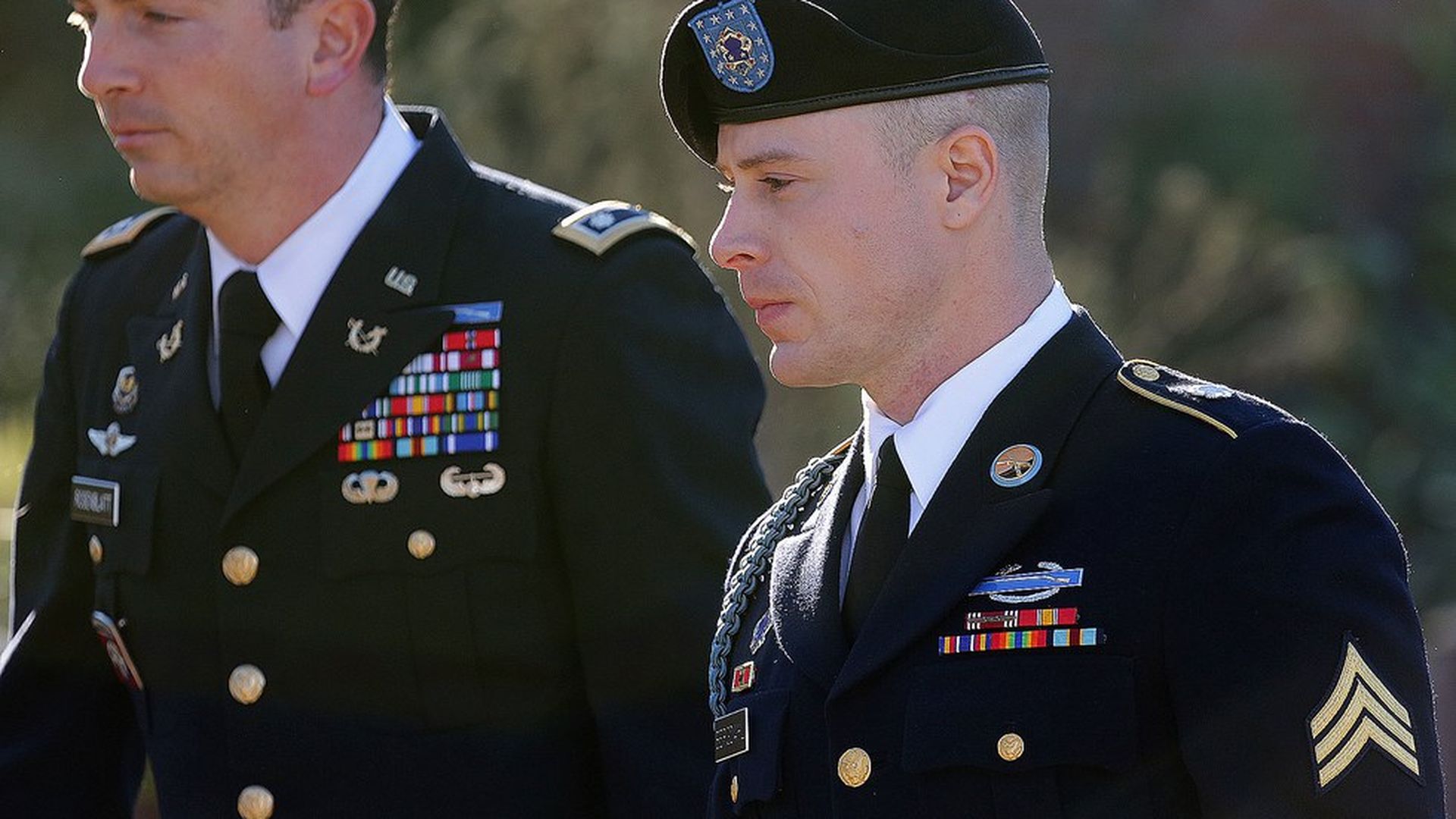 A judge has ruled that Army Sgt. Bowe Bergdahl, who walked off his outpost in Afghanistan, should serve no prison time. Bergdahl "was suffering from schizotypal personality disorder" at the time, according to psychiatrist Dr. Charles Morgan, who testified on Wednesday, the AP reports.
Why it matters: The Hailey, Idaho, native pleaded guilty to misbehavior before the enemy and desertion; the first charge could have resulted in a maximum sentence of life in prison, while the latter could have resulted in a five-year maximum sentence.
1. What happened in Afghanistan
In June 2009, Bergdahl walked off of his outpost in Afghanistan. He said, and a military investigation confirmed, he was trying to reach forward operating base Sharana miles away, to blow the whistle on mismanagement in his unit.
He was captured by the Taliban before he could get to Sharana, and held captive for five years, undergoing torture (chained to a bed for months on end, being locked in a cage). He later said he made at least a dozen escape attempts.
A division chief for the Joint Personnel Recovery Agency, Terrence Russell, said Bergdahl's experiences in captivity could be used for military survival training.
President Obama swapped Bergdahl for five Guantanamo Bay detainees in 2014.
2. The controversies around his captivity and release
Following his release, questions arose about the soldiers who searched for him during his captivity and whether there were deaths related to that mission. Officials said there was no evidence of deaths, but five soldiers involved in Bergdahl's search-and-rescue mission testified last Wednesday about injuries they sustained while looking for him.
President Obama did not notify Congress 30 days before transferring the five terrorists traded for Bergdahl, as required by law. National Security Adviser Susan Rice said that given Bergdahl's serious health conditions and Obama's responsibilities as president, it was determined necessary to follow through with the swap before giving notice.
3. How the trial unfolded
In August, Bergdahl chose to be tried by a military judge (Col. Jeffery Nance) instead of a jury.
He pleaded guilty in October to desertion and misbehavior before the enemy.
In 2015, Trump tweeted that Bergdahl "should face the death penalty for desertion," and later during the 2016 election said he should be executed via firing squad, or thrown out of a plane without a parachute. Bergdahl's defense cited these comments as reasons why the trial is impossible -- Trump is the military's commander in chief, and the judge in this case report to Trump. However, Nance said on Monday he was "completely unaffected" by Trump's comments.
The injuries of the soldiers who searched for Bergdahl are also under consideration for his sentencing. Bergdahl's commanding officer, Capt. John Billings, described the psychological toll soldiers experienced during their mission. Now-retired Navy SEAL James Hatch, who cried on the stand recounting his perspective, was shot in the leg while looking for Bergdahl and has had 18 surgeries since, effectively ending his career. Army Master Sergeant Mark Allen is now in a wheelchair and unable to speak after he was shot in the head during an ambush while on the mission.
Per the AP, Bergdahl told Nance: "I understand that leaving was against the law."
Two agents testified on Tuesday that Bergdahl was a "gold mine" of helpful intelligence, regarding "insurgents and how they imprison hostages," per the AP.
One agent said Bergdahl's time in captivity was psychologically damaging due to being kept in isolation for such a long period of time; "They simply shut the door. Long-term isolation...It was extreme neglect."
Go deeper