Bannon warns: "end of everything" if Trump supports gun controls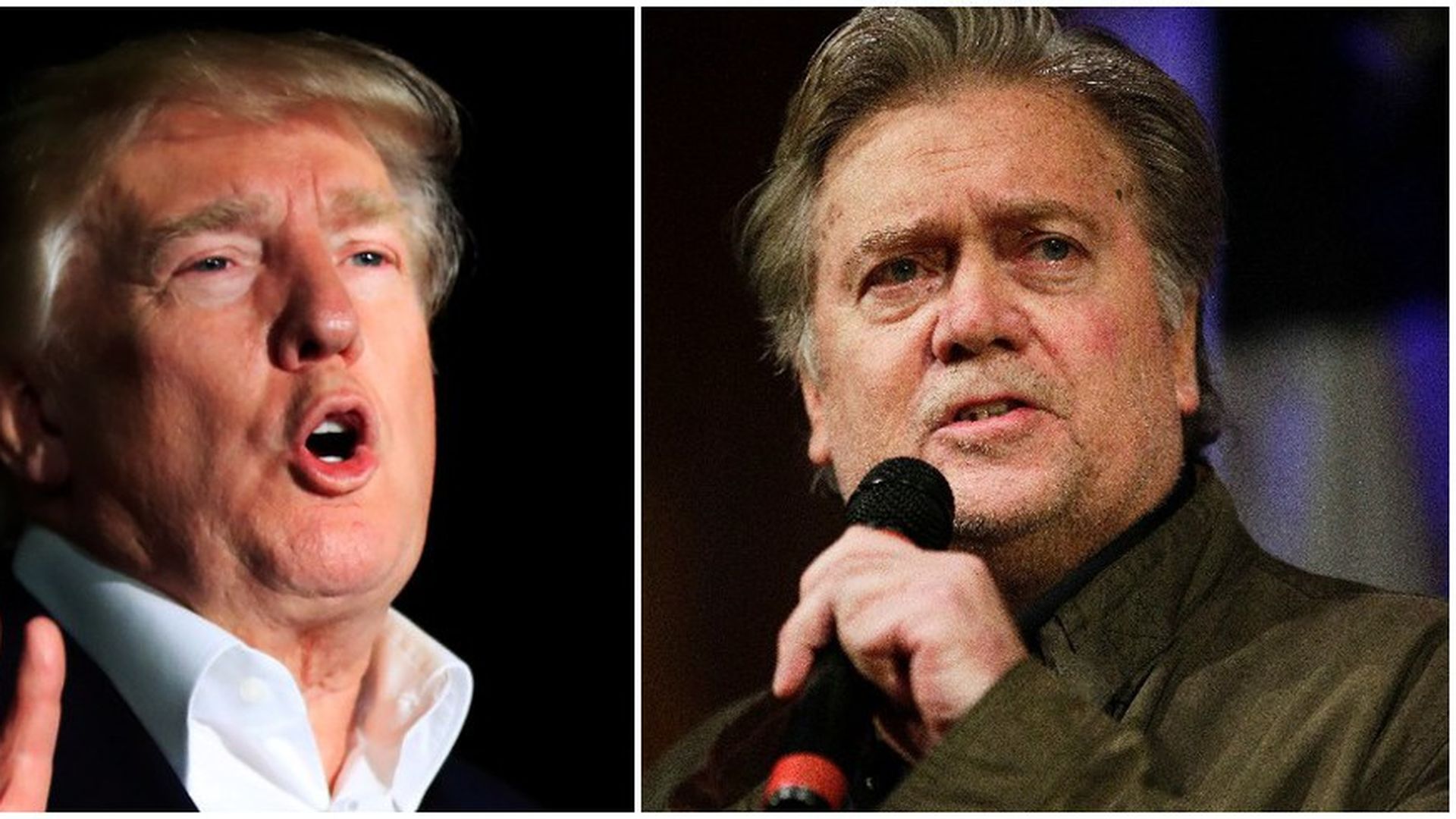 President Trump may say he's a defender of gun ownership rights, but with all the gun control pressure he'll be under after Las Vegas, how do we know he'll resist it — especially after the debt limit deal with Chuck Schumer and Nancy Pelosi, and his flirtation with a deal on DACA?
Bottom line: Trump's allies, both inside and out of the White House, are mostly sure he'll resist because he owes too much to the NRA and its supporters — but even some of them aren't 100 percent sure.
What they're saying: Since the Las Vegas shooting, we've spoken or texted with more than 20 sources inside and out of the White House — all people who've worked close enough to Trump to have something useful to say about his likely next moves. Most say they can't imagine him doing a Chuck-and-Nancy deal on gun control.
They say that while he bathed in the glowing media coverage after his surprise debt ceiling deal with the Democrats; he'll be very reluctant to do anything like that on guns:
He feels closer to the NRA than just about any outside group.
He believes his un-nuanced support for the Second Amendment was crucial to his election victory.
He's been instinctively allergic to Democrats who argue for gun control in the immediate aftermath of mass shootings.
Besides, as former Trump adviser Roger Stone told me: "Base would go insane and he knows it."
I asked Steve Bannon whether he could imagine Trump pivoting to the left on guns after the Las Vegas massacre. "Impossible: will be the end of everything," Bannon texted. When asked whether Trump's base would react worse to this than they would if he supported an immigration amnesty bill, Bannon replied: "as hard as it is to believe actually worse."
Why sources close to Trump think it's unlikely he'll pivot — in any substantial way — to gun control:
The NRA relationship: "POTUS (correctly) believes he doesn't owe anything to most traditional Republican outside groups, because they didn't lift a finger to help him in the election," said a Trump administration source. "NRA is very much the exception. They stayed loyal through it all and kept spending." We're told Trump feels a personal connection to the NRA and is close to the NRA's top lobbyist, Chris Cox.
People he talks to haven't heard old views surfacing: "In the past Donald was very pro-gun control on automatic rifles, but I doubt he's going to make an issue out of it this time and pick a fight with the NRA," said a New York-based conservative operative who has advised Trump. "Perhaps down the road."
His base might leave him: As Steve Bannon and other conservatives close to Trump argue, gun owners are even more passionate about their issue than immigration hardliners. And, as a senior GOP aide pointed out, DACA has at least has a chance of passage. "Most agree something needs to be done," the source said. "Can't say the same for gun control — at least in Congress."
His sons: A number of sources close to Trump cited the strong pro-Second Amendment views of his sons Don Jr. and Eric. Don Jr. made much of his passions for shooting and hunting on the campaign and is closely affiliated with the NRA.
Yes, but: Almost everybody we spoke to hesitated when predicting Trump's next move on guns. Some mentioned his taste for bipartisan deal-making, and one source who has worked closely with Trump thought a deal with the Democrats on guns wasn't out of the question — especially as an emotional reaction to the carnage.
"On top of the immense political pressure, the visuals Trump will see, hundreds of severely injured young people, could provoke him to act," this source said. "The rational route to take would be to let the investigation play out to see if any new laws could've prevented this. I'm 100 percent Second Amendment but … people who had their brains blown out is enough to make anyone with a heart consider anything to prevent this."
One possible path: Trump could make a modest concession to gun control advocates by opposing a controversial bill, backed by the NRA, to relax restrictions on the purchasing of gun silencers. Politico reported, citing GOP sources, that the bill "won't be reaching the House floor anytime soon after a horrific mass shooting in Las Vegas."
Trump could get out in front of it, get a slap from the NRA on an issue that's not nearly so radioactive as gun ownership, and move on without considering more substantial gun control actions.
Go deeper