Backing e-commerce startups in the age of Amazon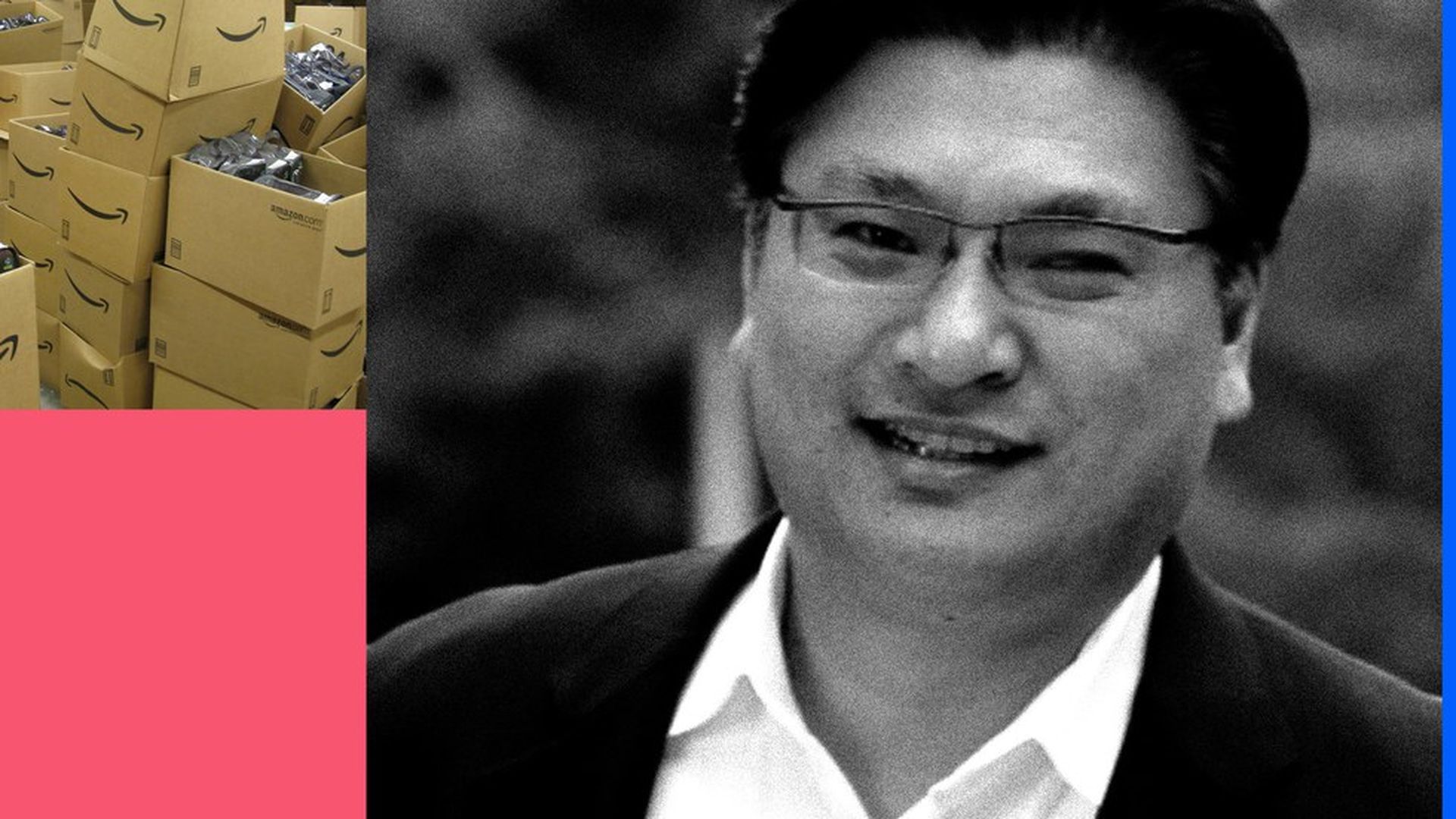 Venture capitalist Hans Tung knows the conventional wisdom about how Amazon is eating retail, destroying legacy businesses and scaring away new rivals. But he and his firm, GGV Capital, continue to back new e-commerce companies. He tells Axios that while none might become official Amazon rivals, he still believes there is space to build very successful businesses.
Tung's deals include (or have included) GrubMarket, OfferUp, Peloton, Poshmark, Slack, Wish and Xiaomi.
The quick read:
Competing with Amazon means being different than Amazon, such as by offering expert-curated content. If your value prop is efficiency, then don't bother.
Internationalization is key.
Young brands on Amazon run the risk of being private-labeled.
E-commerce is not too popular among today's entrepreneurs.
He wants Walmart to hold its own vs. Amazon, but doesn't sound optimistic.
Chinese parallel:
Alibaba is by far the dominant e-commerce company in China with 80% market share, but there is still enough vibrancy for other companies like JD.com and VIPshop to also do well. Commerce is not a game where winner takes all… There's a purpose to different sorts of companies and platforms.
Think different:
How can you do something different from Amazon, like having professionally-generated content? Houzz is a perfect example, offering expert-curated products and help for people looking to remodel part of their home. Amazon just isn't geared to build that sort of community. Or a company like Poshmark, where you have lots of users sharing and selling what's in their closet. A lot of them have become influencers because other users like their style. It's what Pinterest should have done with commerce but didn't. Amazon sells clothes, but it sells them like it sells a PC or a phone. Fashion is about having different parts that go well together, which means curation. [Ed note: Both Houzz and Poshmark are GGV portfolio companies]
Won't Amazon still ape the best ones?
Google tried to do Facebook, but learned that social has different DNA than search. Amazon's DNA is about absolute efficiency and speed. Whatever you order, they want to make sure you get it as quickly as possible, and are very focused on Prime users. And they can do that faster and cheaper than anybody else. But most of the products that do well on Amazon are in commoditized product categories. That's why we're interested in something like Houzz, because its product category isn't very commoditized.
Or go back to the Poshmark influencers. How do you work with them to get them to want to stay on your platform to build followings? It's something Amazon's been trying to do but not really proven able to replicate. And it's not surprising, given its DNA. Even look at Alibaba in China. With all of its might, it's never been very good at social, because doing something that requires social networking is a different skillset than doing commerce.
If you just buy something from me, I don't care if we're friends. That's commerce. It helps if you like and trust me, but it's not required. And it definitely doesn't require you to tell me what you need so I'll build it for you. It's just not essential. The transaction is commoditized and doesn't require a lot of social interaction. Whereas if I am trying to sell a piece of clothing and I'm a social influencer, you follow me because you're inspired by my style. That's a very different relationship.
Buying into new brands:
Amazon has done very well in private label. They look at what's selling well on Amazon and then go to suppliers in China and private label it. That makes Amazon a threat, directly or indirectly, to a lot of brands that aren't already well known. So we look at young brands that we think can do a good job of building a following on social media, particularly if the price-point is mass market and we believe we can help them scale it globally... A big key is not just focusing on the U.S., particularly since there are lots of international markets where Amazon hasn't yet focused too much, so it's easier to go toe-to-toe.
Will Amazon make another big acquisition like Whole Foods?
Not for a while. I think they will focus on digesting Whole Foods. Grocery is the hardest one to crack for any e-commerce company. If you go to that Amazon store in Seattle it's an amazing experience, but it will take time to figure out how to scale that and integrate it into Whole Foods stores.
Walmart's future market share:
As a stakeholder in the e-commerce ecosystem, we definitely want Walmart to be a major player. What I worry about is that you have a team at Amazon that will work themselves until eight or ten at night making things better, and a Walmart team that goes home at 5 or 6. So I don't know. History tends to show that the team that's the hungriest and can sustain their drive the longest tend to win out.
E-commerce startup pipeline:
I think commerce is not currently a big problem that most founders in the Bay Area wake up thinking they want to solve. More of them are moving to AI, machine learning and pure tech stuff.
Go deeper