Antitrust gets the John Oliver treatment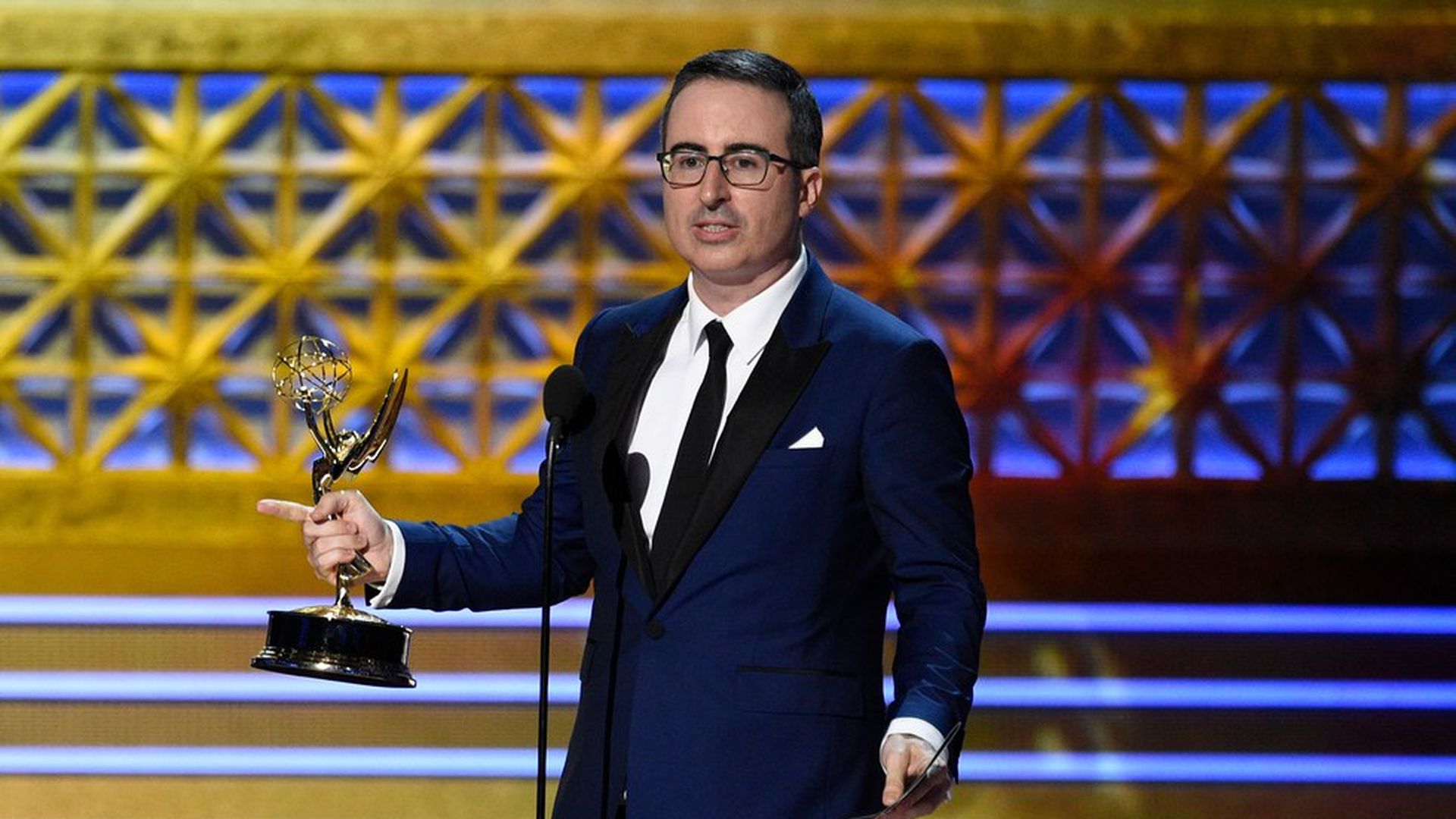 Comedian John Oliver made the push for tougher antitrust enforcement his latest cause Sunday night. "The point is we have laws to prevent the worst effects of consolidation, and it may well be time to more aggressively use them to impose stricter standards and to empower the FTC and the DOJ's antitrust divisions," Oliver said in the feature segment of his HBO show, Last Week Tonight.
Why it matters: Oliver's blend of deep research and humor has been successful in the past at introducing complicated policy debates into the mainstream.
What he said:
Oliver took aim at consolidation is sectors as varied as airlines (where four companies dominate) and eyeglasses, where Luxottica owns many of the major retailers.
Though it's particularly fashionable to focus on consolidation in the internet space right now, Oliver limited his comments to this joke: "And online search engines are of course, as we all know, dominated by one major player, that's right, say it with me, 'Bing!' That's right, Bing, 'The best way to Google something.'"
He also had barbs for AT&T, the telecom giant that is planning to acquire Time Warner — which owns HBO (the network that airs Oliver's show). He took aim at Ma Bell during a segment on "infuriating" bag charges imposed by the airlines. "After all, if I wanted exorbitant fees that keep getting raised all the time despite [crappy] service I'd become a customer of AT&T. Yeah, f*** you AT&T. Even if you take over, you'll never be my real dad!" He also played footage of the show blowing up a cable set-top box, which he said was a market where consumers had suffered thanks to consolidation.
The bigger picture: Oliver's concerns track closely with a growing group worried about increased corporate power. That includes Congressional Democrats, who have made increased antitrust enforcement a part of their "Better Deal" platform. Oliver namechecked every industry — other than food — that Democrats included in the summer rollout of their position as he said that lawmakers should support stronger antitrust enforcement.
Go deeper