America's Chinese solar dilemma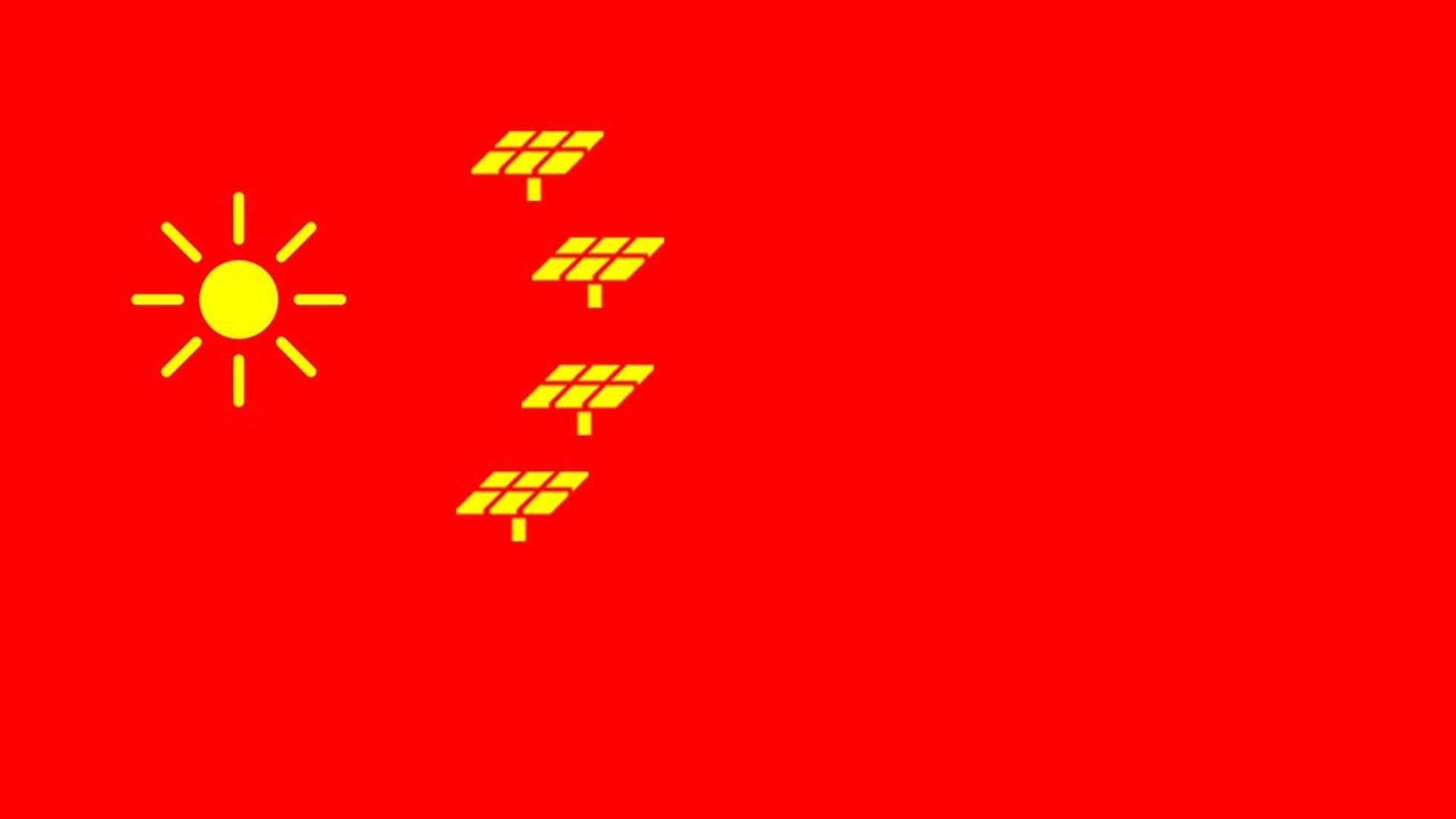 America has built a booming solar industry thanks largely to cheap Chinese solar panels, helping to create jobs and cleaner energy. But one part of the sector -- U.S.-based manufacturers -- has been decimated by the overseas competition.
Why it matters: That conflicting dynamic reflects America's open-trade policies that President Trump has said he wants to reverse. It's also at the heart of an effort by two solar manufacturers urging Trump to issue tariffs or other remedies against a flood of cheap imports, a move he's likely to take. The protectionist measures by themselves are unlikely to alter what are decades-long policies pushed by politicians from both parties that have driven manufacturing of all kinds out of the United States.
"You could argue the whole world has benefited from China's over-exuberance in building out manufacturing capacity for photovoltaic solar," said Ethan Zindler, head of Americas for Bloomberg New Energy Finance. "On the flip side, the actual manufacturing capacity and the jobs that come with it have accrued disproportionately in China. So while in the U.S. many people want to rebuild a manufacturing economy, that doesn't sit right and I get that."
Driving the news: The International Trade Commission is considering what type of trade remedy to recommend Trump employ to address the cheap imports. The independent federal agency unanimously voted in September that those imports have economically injured two U.S.-based but foreign-owned solar manufacturers. Trump will ultimately decide whether to impose tariffs or another kind of remedy, and most expect he will given his protectionist bent.
How China has helped American solar deployers
China has dominated the crystalline silicon photovoltaic manufacturing industry, the world's most common solar technology, since at least 2010. It has employed the same low-cost labor and technology strategy here as it has with other products ranging from iPhones to DVDs. It has also propped up its solar companies with subsidies.
That model has worked for the U.S. solar industry by three metrics: Cost, deployment and jobs, according to data from the Solar Energy Industries Association, a U.S. trade group.
The cost to install solar has dropped by more than 70% since 2010.
The U.S. solar market nearly doubled the amount of capacity it added in 2016 compared to the prior year.
Nearly 260,000 Americans work in solar, double the number in 2012.
The solar group opposes the trade remedy request. A spokesman did not address questions by Axios about how China's cheap solar panels affect the U.S. industry.
"SEIA believes that we should maintain and grow the 260,000 jobs we have in this country that are installing and engineering solar," said Jigar Shah, co-founder of Generate Capital, which finances clean-energy technologies including solar. "Getting affordable solar panels from China is the way we do that."
How China has hurt American solar makers
In a report issued as part of its proceedings, the ITC found that nearly 30 U.S.-based manufacturers of photovoltaic solar panels have gone out of business since 2012.
One of the companies asking for trade protections, Suniva, filed for bankruptcy protection in April. This Georgia-based company is, ironically, majority owned by a Chinese company, but it was nonetheless trying to manufacture in the United States. The other firm is SolarWorld Americas, an Oregon-based but German-owned company that has won two narrower trade protections against cheap Chinese panels.
"For a while, these trade cases stabilized the market, but Chinese-owned companies simply built even more capacity in other countries around the world, primarily in Asia," said Tim Brightbill, trade counsel for SolarWorld Americas.
Last week the CEO of one of the largest U.S.-based solar manufacturers, First Solar, broke its silence in the case, and sided with the pair of companies. First Solar makes a different kind of panel that wouldn't be affected by the remedies and could stand to benefit.
"The Commission should reject the notion that the US CSPV industry must be left to die so that the downstream solar industry may live," First Solar CEO Mark Widmar wrote to the ITC.
Suniva and SolarWorld are asking the U.S. government for a mix of trade remedies against photovoltaic panel imports. These include tariffs, quotas and price floors. Any action would be temporary based on the 1974 law that sets the remedies.
"Will this one set of remedies over the next four years change the entire American solar manufacturing industry forever?" said Matt Card, executive vice president of Suniva's commercial operations. He was implying that the answer was no — but he suggested that these remedies should be the starting point to a longer process. "It's one battle at a time," Card said.
The remedies would "have some price effects," Card said, adding that they would have a minimal short-term effect on demand over the next few years because it would entice manufacturing to the United States.
Others say that could happen.
"We have heard from some manufacturers that they are quietly considering moving some capacity onto U.S. soil and these are Asian companies," Zindler said. But even if that happens, he said, "it's not going to create an enormous number of jobs because of the automated nature of manufacturing."
Making it work
California-based but foreign-owned SunPower is an example of how a manufacturer has made America's current policy and economic system work -- by making its panels abroad, including in Malaysia and the Philippines.
These regions are known for making low-cost manufactured goods at scale, said CEO Tom Werner. He said the United States is best for its higher-paid white collar jobs, which represent about 15% of its more than 7,000 employees.
Werner is bullish on solar power, but he added: "It's just not making solar cells in America."
Go deeper