Airbnb's magazine promotes home-sharing lifestyle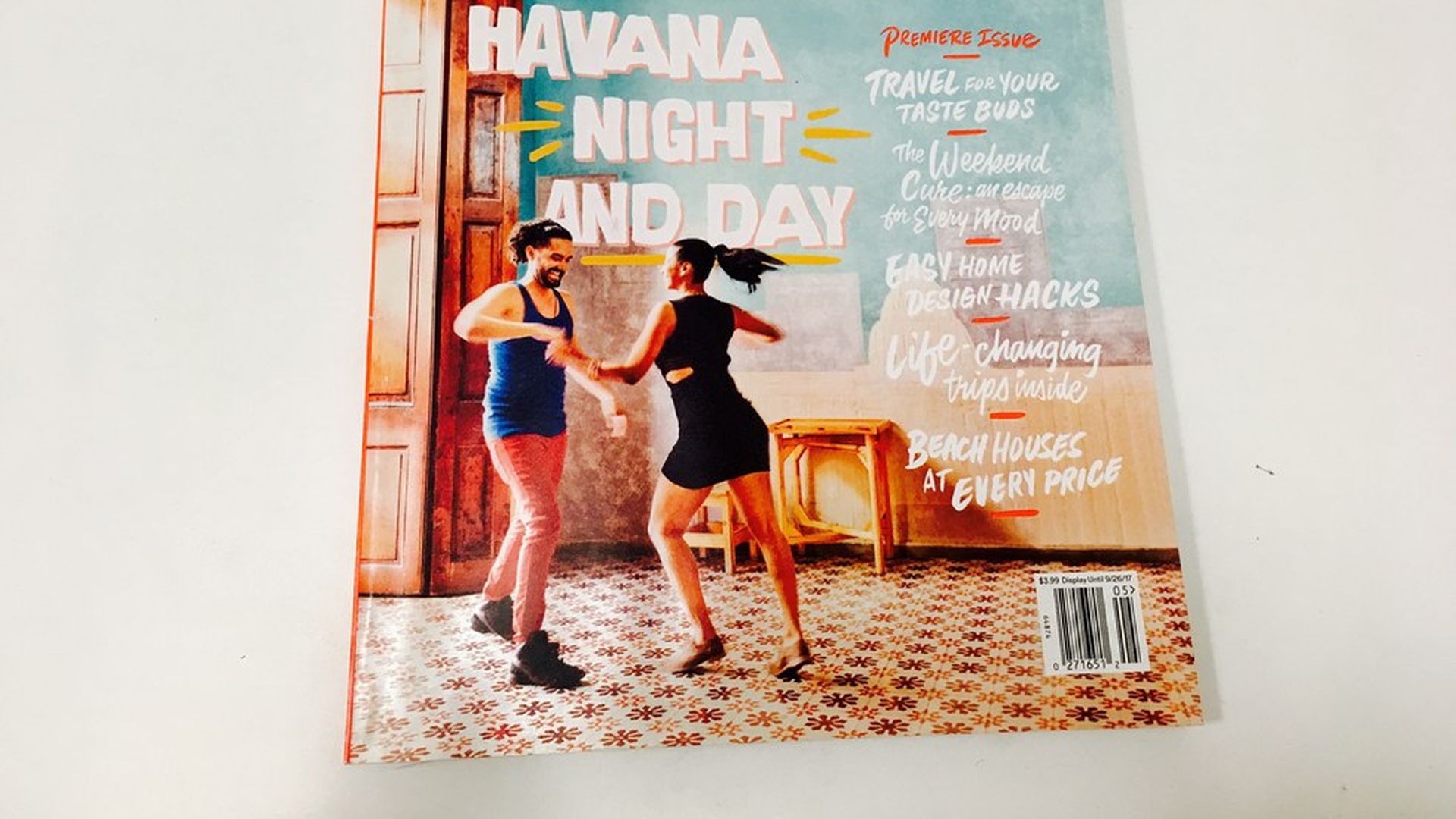 Six months after Airbnb announced it would produce a travel magazine with Hearst, the first issue of Airbnbmag is on newsstands.
Goals: Airbnbmag is a promotional tool for Airbnb's particular brand of travel, which involves hanging out (and staying) with locals and visiting lesser-known local gems. In a letter to readers, Airbnb co-founder and CEO Brian Chesky lists two reasons for the magazine: filling a void left by other travel magazines by emphasizing people, and creating a tangible product people can hold in their hands. (It's also available online.) The next issue will come out in September.
Why it matters: The magazine is another way for Airbnb to evangelize the home-sharing phenomenon and the live-like-the-locals way of life that's crucial to its success. It's the company's own spin on content marketing — its own version of the coffee table magazines you often find in hotel rooms — to sell its experiences to travelers and showcase its community of hosts.
The content: It's not only travel-focused, but also aligns well with Airbnb's own services—home sharing and activities organized by locals.
Many articles highlight a particular place like Cuba or Los Angeles (presumably with Airbnb-friendly regulations), often filled with tips by actual Airbnb hosts.
Offbeat stories, such as one about what cooking tools a traveler should bring when staying in someone's home (home-sharing alert!) and a list of summer festivals authored by former Airbnb exec Chip Conley, founder of Joie de Vivre Hotels.
It takes a millennial-friendly tone to appeal to its core audience.
And of course, there are plenty of actual Airbnb listings, beautifully photographed and tagged with their online IDs.
The ads: Overall, I counted about 30 ads throughout the magazine. Most of them were for travel destinations (Bermuda, Switzerland, Philadelphia), airline companies (Delta, Lufthansa, JetBlue), Credit Cards (Chase Sapphire, American Express), cosmetics (Maybelline, Clinique), apparel (Betabrand, Kate Spade), and travel and home brands (Nest, Container Store, Tumi).
Second try: This isn't Airbnb's first print magazine. In 2014, it debuted a thick quarterly magazine, "Pineapple," that focused on three cities per issue. It only published one issue, however, before tabling the project.
Go deeper