17 dead from California wildfires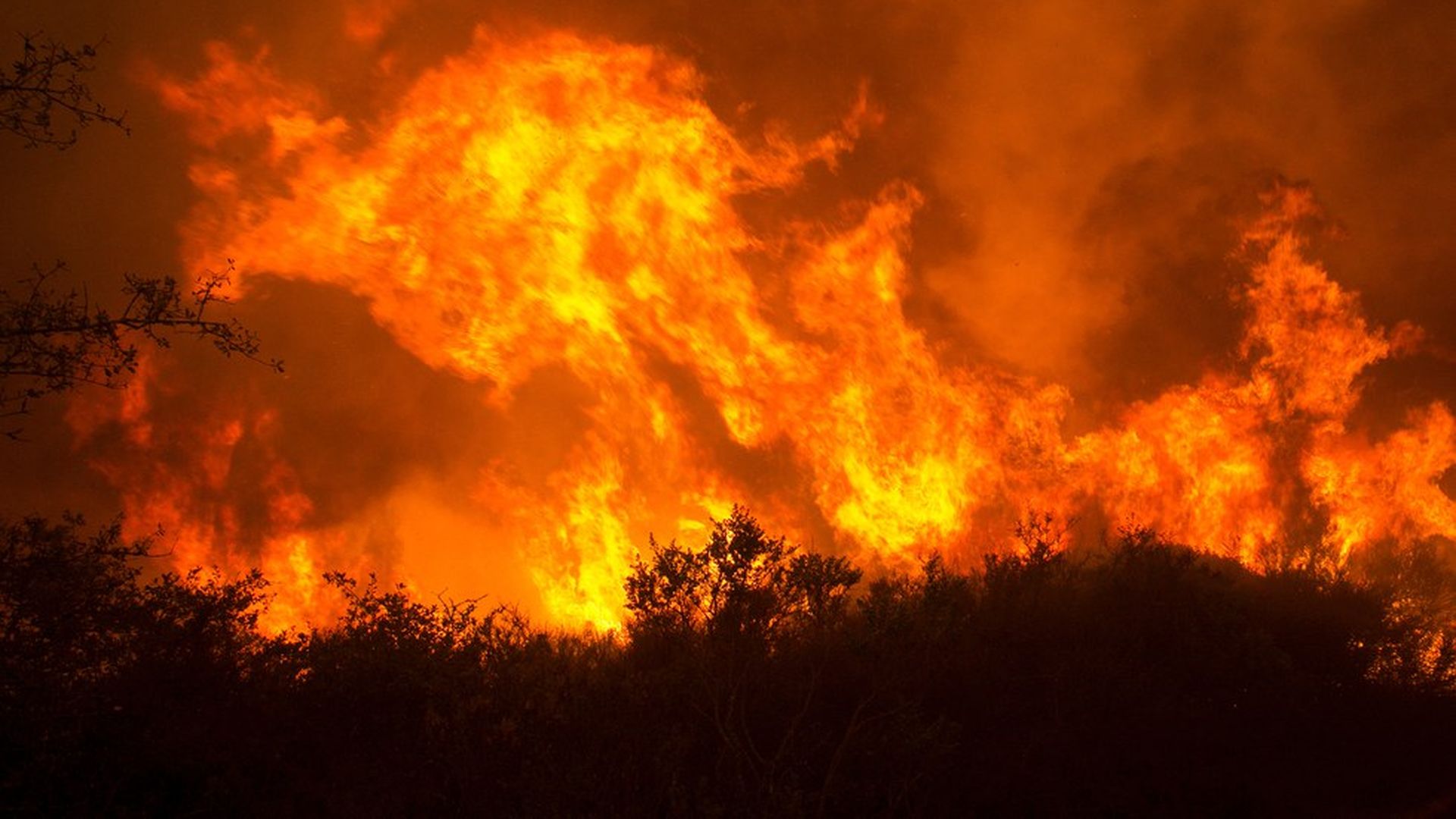 The California wildfires have so far scorched over 170,000 acres of land and forced evacuations of more than 25,000 as of Tuesday night. A California fire official said 3,500 homes and businesses have been destroyed, the AP reports.
The big picture: This is "one of the worst disasters in California history," as California Highway Patrol Capt. Mike Palacio called it.
Of the two largest fires, Tubbs is not contained and Atlas is just 3% contained, per the LA Times. For up -to-date information, check Cal Fire on fire conditions.
At least 17 people have been killed, 11 of which were in Sonoma County, per CNN.
More than 100 are being treated in Napa-area and Sonoma-area hospitals, per CNN.
300 are reported missing and 110 are reported safe, the LA Times reports, although about 80 cell towers have been destroyed or damaged, making contact between friends and family members difficult, per The Washington Post.
Local officials ordered fresh evacuations in Sonoma County, and officials said Tuesday it might take weeks before residents are able to return, per The Washington Post.
Local curfews are still in place for Santa Rosa.
Residents near the fires are encouraged to pack bags ready to go with personal documents in medicine in case they need to flee, per CNN.
More than a dozen schools are closed in 7 counties, per The Washington Post.
Resources from both California and Nevada are being deployed to fight the blazes, per The Washington Post.
Red flag conditions, with wind gusts of up to 40mph, are expected to remain and even pick up until Thursday in the North Bay Area, per the National Weather Service. No rain is forecast this week.
More than 8 million acres have been incinerated in California this year with some 7,500 fires blazing.
Santa Rosa is advising donations be sent to the Salvation Army or unitedwinecountry.org.
Trump has approved California Gov. Jerry Brown's request for federal assistance.
One scenario to consider, from The Washington Post: "One couple had to jump into their pool as flames rushed across their land, taking occasional gasps for air as flames lapped at their backs."
A look forward on economic impacts: The cost of lost crops could near $100 million as part of California's $58 billion wine industry, per Bloomberg.
Go deeper: Where northern California's wildfires are raging with Axios' Lazaro Gamio
Go deeper