2016's record heat not possible without climate change, says report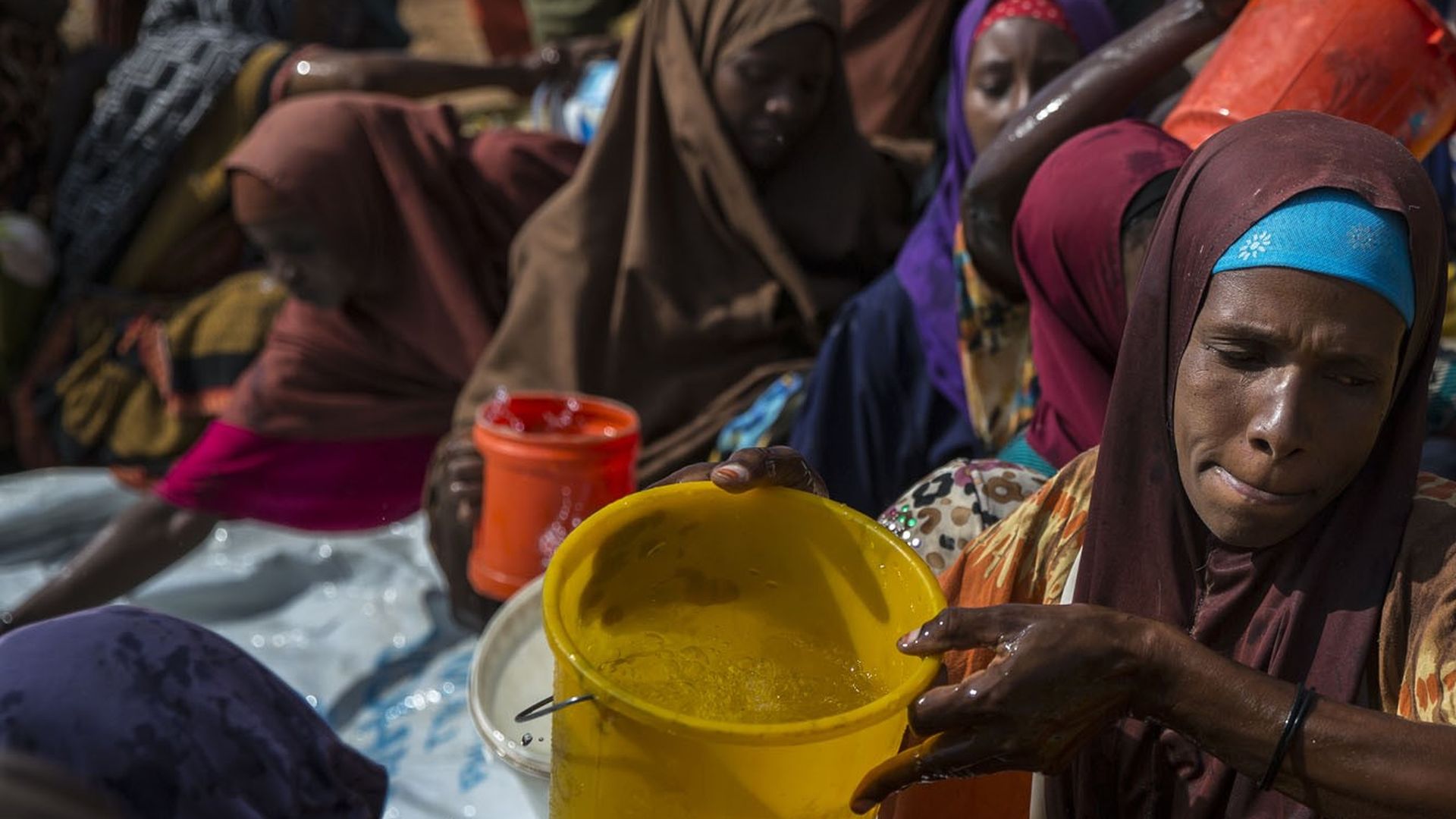 At least three instances of extreme weather would not have happened without climate change, according to the American Meterological Society's annual report on extreme weather and climate change. Past reports found certain weather events were 'influenced' or made more frequent by climate change, but the tools researchers used weren't powerful enough to measure just how much climate change played a role. This is the first time the report has definitively pointed the finger at global warming.
Why it matters: These weather anomalies are becoming more common, say the report authors, and they can have massive health and economic impacts. If the role climate change played in causing them can be pinpointed, researchers may be able to better predict how climate change might impact our future. For example, by understanding how marine heat waves change weather, scientists were able to predict the 2016/2017 Somalian drought, and mitigate some of the loss of life.
What they did: Researchers create models of the world's weather with and without the influence of human-caused climate change. Then, they quantify the likelihood of the differences between the two occurring by chance. Models like this have been used to effectively predict the impacts of climate events like El Nino and La Nina.
They found three major weather events "could not have happened without climate change:
2016 was the hottest year on record. The authors of the paper say this heat record "was only possible" because of the 100 years of human influence of the climate.
The record heat wave over Asia "would not have been possible" without climate change.
"The Blob", a mass of extremely warm water that was primarily concentrated in the Bering Sea, but changed sea temperatures along most of the West Coast, "could not be explained without" climate change.
The impact: The global heat record and heatwave in Asia caused deaths, fires and crop loss, and the Blob caused fish stocks to crash, harmed seabird populations and led to harmful algal blooms that closed fisheries along the length West Coast.
"We've known for a long time that climate change can alter the risk of some of these extremes," says Stephanie Herring, an author on the report and scientist with NOAA, but "it always fell in the realm of possibility that they could have happened without climate change."
There were also several weather events identified in the report that were made worse by climate change. Herring highlighted:
The extreme warming in the Arctic. One paper said this "most likely" couldn't have happened without climate change, but stopped short of speaking with certainty.
The Great Barrier Reef bleaching event was made more extreme by stress from ocean warming, which was caused by humans.
Yes, but: Not all extreme weather was related to climate change — snow storm Jonas, for example, did not appear to be linked to global warming. Over 130 papers have been published since the report was first created, and over half failed to find an association between climate change and the event they were examining.
The report does not set out to prove that climate change is influencing extreme weather. Instead, it aims to hold such claims to high standards of scientific rigor, and help improve the methodology used to pinpoint the specific impacts of climate change.
Looking forward: We're entering a new era of how we talk about extreme weather, according to Jeff Rosenfeld, editor and chief of the bulletin of the American Meteorolgical Society. "We can no longer be shy talking about the connection between human-caused climate change and extreme weather."
Chris Funk, a researcher with the USGS who was also involved in the report, adds that now "culturally and scientifically, we need to expect the unexpected" and learn how to deal with our extreme weather as the new normal.
The bottom line: Scientists are now saying that they're 'virtually certain' specific extreme weather events would not happen without climate change. "I've never seen that sort of language until now," says Rosenfeld. "'Virtually certain' is almost unheard of."
Go deeper