Moore, Bannon go after establishment, media, accusers on election eve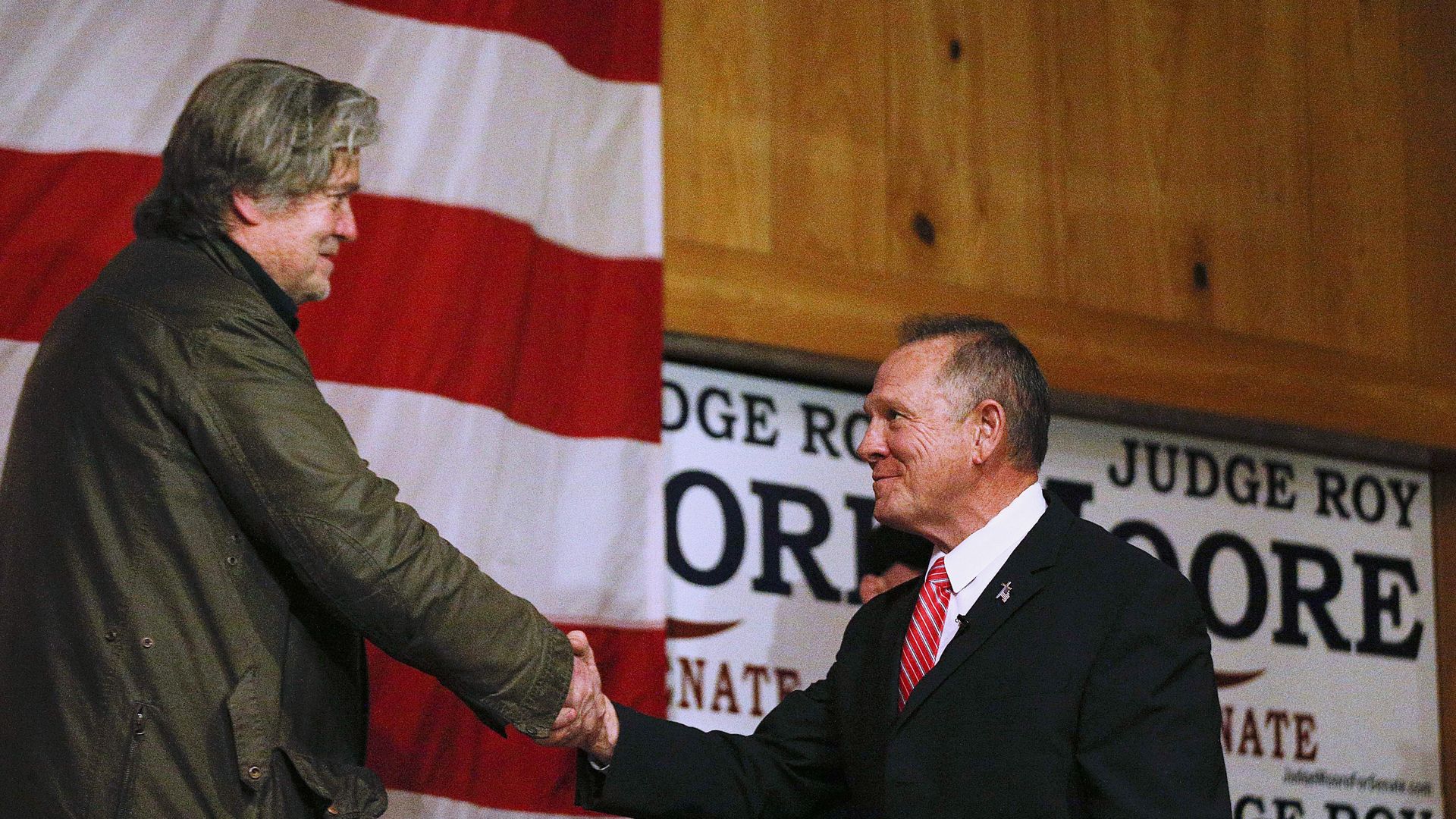 Roy Moore told Alabama voters "if you don't believe in my character, don't vote for me" in an election eve rally that featured Steve Bannon, and in which the participants repeatedly challenged the credibility and motives of the women who have accused Moore of sexually harassing or assaulting them when they were teens.
Why it matters: Moore emerged Monday night after hardly appearing publicly in recent weeks with a group of anti-establishment surrogates and a closing argument — the women accusing me are lying, the media is conspiring against me and I'll represent your voice and Trump's agenda in the "swamp" of Washington.
Both Moore and Bannon took swipes at the "establishment," including Richard Shelby, Alabama's senior senator who has publicly opposed Moore. Bannon even indirectly mocked Ivanka Trump — alluding to her quote that "there's a special place in hell for people who prey on children" — while heaping praise upon her father.
Bannon said the GOP establishment was only using Trump to get a corporate tax cut, and would quickly abandon him afterward. He told voters that the message they should take from recent events is that if you try to challenge the status quo like Trump and Moore, "they're going to try and destroy you and your family."
Moore was introduced by his wife, who portrayed her husband as the victim of a coordinated character assassination attempt by the media and said, "our sails are torn, but our anchor holds."
Moore criticized his opponent Doug Jones for supporting "transgender rights," gay marriage and legal abortion.
Controversial moments:
Seeking to discount claims of prejudice, Moore's wife Kayla said "one of our attorneys is a Jew," along with some friends.
As Jonathan Allen of NBC News points out, Bannon mocked MSNBC's Joe Scarborough for not getting into as prestigious a college as he did — but Scarborough went to the University of Alabama.
In an apparent reference to the allegations of child sexual abuse against him, Moore said his wife "has closer contacts to kids than I do."
A man who served with Moore in Vietnam spoke, testifying to Moore's character. He mentioned a time another officer led them to a "private club" that turned out to be a brothel, in which some of the prostitutes were "very young," and Moore immediately said they should leave.
Go deeper