Jimmy Kimmel brings his son on set to advocate for CHIP renewal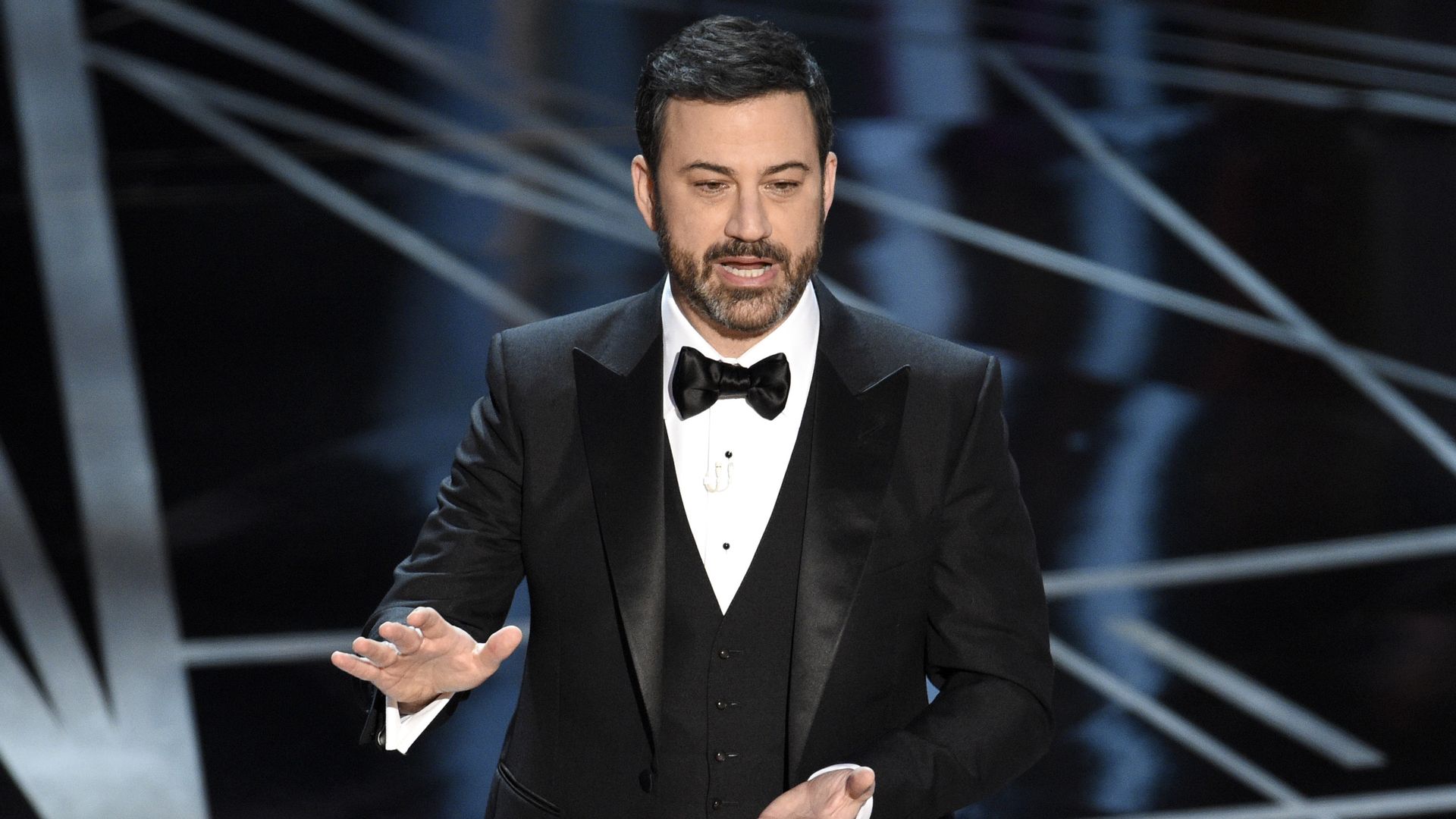 Congress probably won't be able to restore federal funding for the Children's Health Insurance Program by the end of the year, House GOP leadership aides told Axios' Caitlin Owens yesterday, and Jimmy Kimmel brought his son, who just had his second heart surgery, on his late-night show Monday to advocate for CHIP's funding renewal.
"CHIP has become a bargaining chip. It's on the back burner while they work out their new tax plans, which means parents of children with cancer, diabetes and heart problems are about to get letters saying their coverage could be cut off next month. Merry Christmas, right?" Via WashPost's Emily Yahr:
Why it matters: Kimmel's on-air conversation about the Graham-Cassidy bill this September led Sen. Bill Cassidy to create the "Jimmy Kimmel test"; "Would the child born with a congenital heart disease be able to get everything she or he would need in that first year of life...even if they go over a certain amount?"
What happened: Federal CHIP funding expired Sept. 30. Lawmakers initially said they would have a deal before it expired; then, no more than a few weeks after it expired; then, by the end of the year; now, in January.
Impact: Virginia will begin notifying families today that CHIP coverage will end on Jan. 31 if Congress doesn't act. It's the third state to begin sending such notices, following Colorado and Utah.
Where it stands: The Centers for Medicare & Medicaid Services is providing states with stopgap funding, drawn from a reserve of leftover money from past years. That pot started off with roughly $3 billion; CMS has now paid out about $1.2 billion in grants to 21 states and territories.
Demand for that money will likely grow, as more states begin to run out of money in the first quarter of next year.
The other side: Even though House leadership aides said the bill will likely slip into January, Senate Finance Committee Chairman Orrin Hatch says he's still optimistic about getting something done in the next three weeks.
"This continues to be a top priority for Chairman Hatch … The chairman is continuing to make progress in his discussions on how best to address this issue on the Senate floor and remains confident this will be resolved before the year's end," a committee spokeswoman said.
The Jimmy Kimmel factor, via WashPost: "Jimmy Kimmel was absent from his ABC late-night show last week while his 8-month-old son, Billy, recovered from his second heart surgery...Last night, Kimmel returned to the stage with his son in his arms. ... Kimmel segued into an emotional monologue about CHIP, the Children's Health Insurance Program, which expired in October":
"So this happened because Congress, about 72 days ago, failed to approve funding for CHIP since the first time it was created two decades ago."
"And imagine getting that letter, literally not knowing how you will afford to save your child's life. This is not a hypothetical. About 2 million CHIP kids have serious chronic conditions."
"If these were potato chips they were taking away from us, we would be marching on Washington with pitchforks and spears right now."
Go deeper