April 27, 2023
Good afternoon. The House is out next week, but we're sure the Senate will keep us pretty busy.
📣 ICYMI: We just released new content pages for each Axios Pro vertical, making it easier than ever to access and revisit coverage for Tech Policy. Explore here.
1 big thing: Judiciary Committee punts kids' online safety bills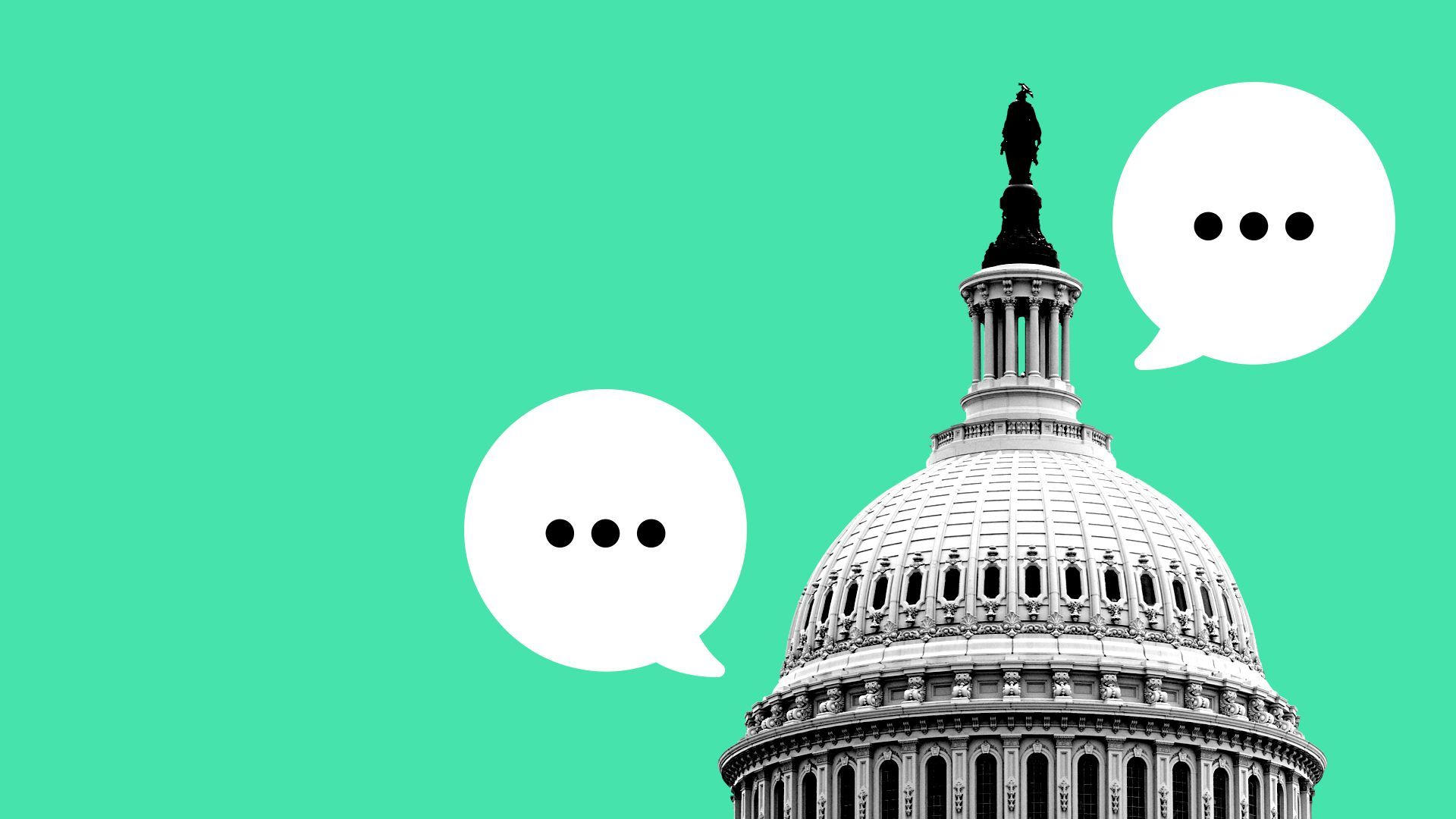 The Senate Judiciary Committee on Thursday delayed taking up three bills to protect minors online, slowing down a legislative push on kids' privacy that Senate Majority Leader Chuck Schumer is keen to get done this year, Maria and Ashley report.
Why it matters: What many advocates view as the lowest-hanging fruit in tech policy may not be so easy to get over the finish line after all.
What's happening: The committee did not follow through with plans to mark up the STOP CSAM Act, the Cooper Davis Act and the EARN IT Act, though Chair Dick Durbin said they would take up the bills next week.
A lot of tech and civil society groups still have issues with the STOP CSAM and EARN IT bills, especially EARN IT, one tech lobbyist told Axios, and more work on the text needs to be done so they can pass on the Senate floor.
What we're watching: A bipartisan group of senators this week introduced the Protecting Kids on Social Media Act, which would require parental consent for anyone 13-17 years old trying to create a social media account.
The bill also would require social media companies to implement "rigorous" age verification measures while prohibiting the use of that data for any other purpose.
Sponsors — including Brian Schatz, Tom Cotton, Chris Murphy and Katie Britt — all hold wildly different ideologies, which they said shows how much common ground there is on the issue of protecting kids online and this specific approach.
The other side: One outside group official told Axios the parental consent language is extreme and said bill sponsors did not collaborate with major advocacy groups.
"Everyone was shocked; every organization partner I've worked with and none of the parent survivors that have come to D.C. saw it coming," the official said.
One youth-led coalition that's been involved in the kids' online safety debate, Design It For Us, said the mandatory age verification bill from Schatz and others "misses the mark."
"It is impossible for American parents to keep up with the flood of ever-changing products which are intentionally designed to engage and addict our kids for corporate profit," Kristin Bride, an advocate whose son died in 2020 after experiencing cyberbullying, told Axios.
What they're saying: Asked what consultation took place in the drafting of his bill, Schatz said, "We were very ... private about it because we understood the sensitivity of this issue."
"And we've seen, especially in the tech policy space, that they have an army of lobbyists, that they have many former congressional staffers, that they have a lot of people online to poke holes, that they have allies. So we wanted to get our ducks in a row first."
Cotton called age verification concerns a red herring, noting the only pieces of information that would be collected are a person's birthday and the parent-child relationship, which is already held by all sorts of government agencies.
Meanwhile, Sens. Richard Blumenthal and Marsha Blackburn are gearing up to reintroduce their Kids Online Safety Act.
KOSA continues to face pushback from certain groups because of language they say would empower attorneys general with certain ideologies to block content on LGBTQ+ or abortion rights resources, for example.
Blumenthal said "there may be" changes to the duty of care language but declined to specify further.
"They're basically to address some of the fears and apprehensions that were raised," he added.
On the Protecting Kids on Social Media Act, Blumenthal said he takes issue with the idea of parental consent because it shifts the responsibility from tech companies to parents, and he cautioned against the "gold mine" of data needed for age verification.
View archive