March 29, 2023
Good afternoon. We're halfway through launch week and one day away from our kickoff happy hour featuring Sen. Ed Markey. Hope to see you tomorrow at 6pm at Hawk 'n' Dove!
📮 Have a tip? Some feedback? Recess plans? We want to hear from you — just reply to this email.
1 big thing: Kids' online privacy will take center stage after recess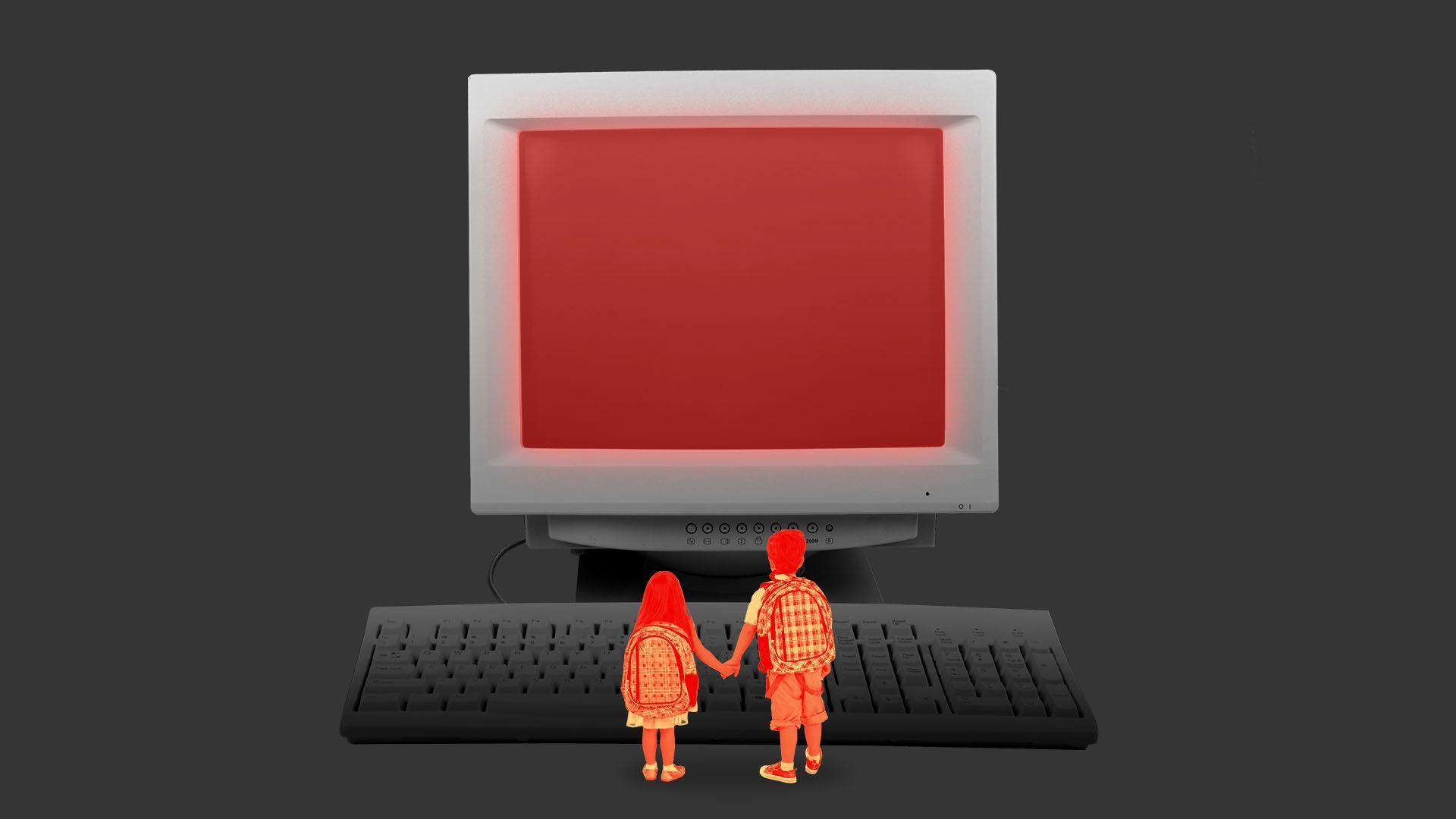 Congress is under pressure to reintroduce and pass bills to bolster children's online safety as states approve increasingly aggressive laws, Maria and Ashley report.
Why it matters: Social media's impact on young Americans' mental health is one of the rare issues that has bipartisan interest on the Hill to get a law on the books, backing from the White House, and buy-in from companies that dread a patchwork of state regulations.
Driving the news: Sens. Richard Blumenthal and Marsha Blackburn are looking to reintroduce their Kids Online Safety Act in mid- or late April, sources familiar with the discussions told Axios.
They're eyeing the weeks of April 17 or April 24, which would give the Senate time to hold a markup in the spring and a floor vote by the summer.
Last week, Utah Gov. Spencer Cox signed two bills into law that aim to limit the online activity of people less than 18 years old, Axios previously reported; one law requires a curfew for minors online and requires companies to give a parent or guardian access to their child's accounts.
That is a bridge too far even for groups like Common Sense Media and Fairplay, which commonly advocate for bills that would place restrictions on Big Tech companies.
What they're saying: The law in question, SB 152, "would deprive kids of the online privacy protections we advocate for [and] requires age verification and parental consent for minors to create a social media account," said Jim Steyer, founder and CEO of Common Sense Media.
Steyer said the law "doesn't get to the root of the problem — kids and teens will still be exposed to companies' harmful data collection and design practices once they are on the platform."
Rep. Kathy Castor, who plans to introduce KOSA in the House, said she thinks SB 152 likely goes too far.
"I hope it's a wake-up call for members of Congress that we need to act urgently. With inaction by Congress, we have states with different laws, and time is of the essence. I think the No. 1 priority is to act on a privacy law, then a design code for kids," Castor told Axios.
Castor also plans to reintroduce her Kids PRIVCY Act, which would strengthen the Children's Online Privacy Protection Act and adopt elements of the U.K.'s Age-Appropriate Design Code.
Meanwhile, last week's contentious hearing with TikTok CEO Shou Zi Chew prompted widespread criticism among lawmakers of the app's influence on kids' mental health as well as renewed calls for a federal privacy law that would protect Americans of all ages.
Yes, but: State-level online privacy efforts were supposed to prompt Congress to get it together and pass a federal law. That hasn't happened, despite many new states moving forward with privacy proposals for kids and Americans of all ages.
Other states including Arkansas, Texas, Ohio and Louisiana are considering similar bills, AP reports.
What we're watching: Look out for pushes to include preemption language in a kids' measure.
Disagreement over preemption is what has repeatedly killed efforts to pass a comprehensive privacy bill.
Kid-specific measures are seen as lower-hanging fruit in large part because they avoid the issue of preemption. But Castor told Axios that if a federal bill has the strongest possible protections for children online, that bill should also have a preemptive provision.
Any preemption language would immediately get the attention of California's powerful congressional delegation, which fiercely protects its state comprehensive and kids online privacy laws.
A preemption provision in KOSA or any federal kids privacy bill could supersede the restrictive aspects of Utah's law only if it includes language that is in direct conflict with the state measure.
Flashback: Late last year, then-Senate Commerce Committee ranking member Roger Wicker's push to include preemption in KOSA was a big reason it failed.
The bottom line: Widespread support for protecting kids online will not guarantee congressional action. Challenges persist, most notably the view among key lawmakers (think Energy and Commerce Chair Cathy McMorris Rodgers) that Congress should instead focus on a comprehensive privacy measure.
View archive