March 23, 2023
Happy Thursday! It's been a busy day in tech, but we're here to help break down what really matters from today's TikTok hearing.
We officially launch Monday, so be sure to share this link with anyone you know who needs to sign up for our newsletter.
And we'll see you in one week for the kickoff happy hour at 6pm at the Hawk 'n' Dove featuring Sen. Ed Markey. Register here!
1 big thing: Congress plots next steps post-TikTok hearing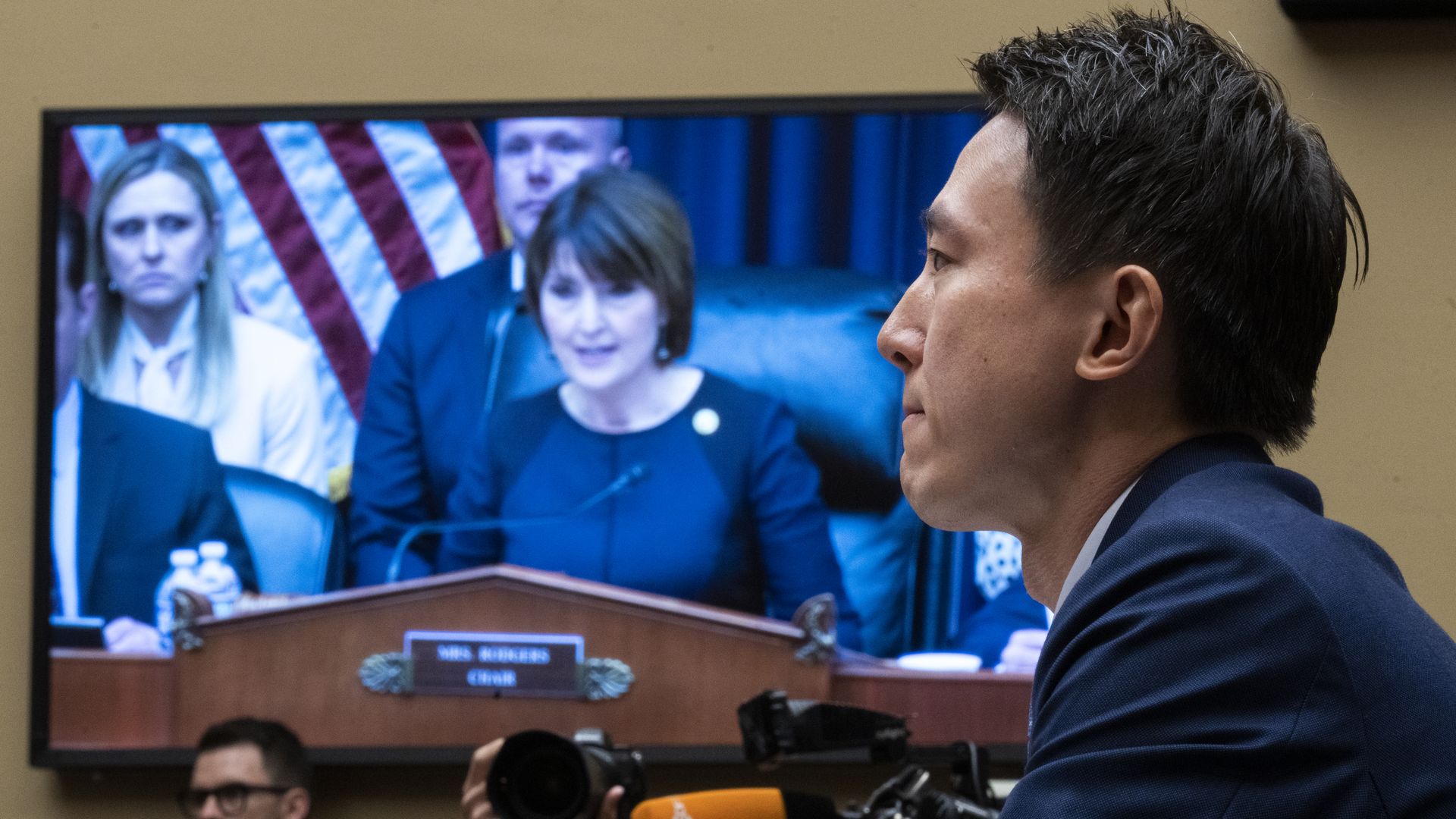 There was pretty much nothing Shou Zi Chew could have said to convince lawmakers that TikTok is safe. But Thursday's highly anticipated hearing with the TikTok CEO served another purpose: thrusting bipartisan legislative proposals into the limelight, Maria and Ashley report.
Why it matters: Companies and consumers alike have been begging for a national privacy standard since long before the TikTok controversy. But the alarm surrounding the hugely popular app is creating new impetus to pass a bill, namely the American Data Privacy and Protection Act.
While an outright ban on the app is seen as a targeted approach to a more immediate national security threat, lawmakers recognize that a long-term solution to the risks all apps run is more meaningful.
The ADPPA, once reintroduced, will be the starting point for bipartisan privacy negotiations that hit promising momentum in the last Congress.
Bill proponents say language on data transfers, algorithmic transparency and kids' protections would address issues related not only to TikTok but also to other U.S. apps that are vulnerable to foreign adversaries.
The big picture: Although E&C leaders agree TikTok is concerning, Chair Cathy McMorris Rodgers is more bullish on a two-pronged approach that includes an outright ban and comprehensive privacy legislation.
Ranking member Frank Pallone is open to a ban but is more focused on how a privacy law can address the issues that plague all social media platforms.
What they're saying: Chew told lawmakers he supports updating the Children's Online Privacy Protection Act, an idea being pursued by Sen. Ed Markey in his COPPA 2.0.
Efforts to pass online protections for kids last year failed in large part because the two chambers could not agree on passing kid-specific bills like COPPA 2.0 or a comprehensive approach like the ADPPA.
Chew's assertion to lawmakers that he supports a comprehensive privacy bill was also met with skepticism as lawmakers view it as mere posturing. Even if the ADPPA were enacted, some lawmakers would still be pursuing a ban on the app, a committee aide said.
Rep. Yvette Clarke told Maria she would reintroduce her Algorithmic Accountability Act in June. The bill, which she touted during the hearing, would address content moderation concerns, including programming bias that perpetuates race-based discrimination.
The ADPPA has language on civil rights and algorithms, but Clarke said it's only a "good start."
Clarke said she's waiting until June to account for rapidly developing technology: "We realize that the technology is evolving really quickly, especially around AI, and we want to make sure the implications around discrimination are not dated."
State of play: McMorris Rodgers is strategizing with House Speaker Kevin McCarthy and Senate leaders to pass a federal privacy bill, according to a committee aide.
Regarding a targeted ban on the app, McMorris Rodgers has not backed any particular bill but does not want to leave too much discretion to any administration.
Sen. Mark Warner's bipartisan RESTRICT Act would empower the Commerce Department to deal with tech products that foreign adversaries have an interest in.
Rep. Bob Latta and others brought up Section 230 protection of platforms like TikTok, and suggested it should be amended to not cover algorithmic suggestion of content.
The bottom line: Although Chew's appearance sparked a rare show of bipartisanship on the Hill, the ADPPA still faces an uphill battle.
The same sticking points from last year remain, namely California lawmakers. Rep. Anna Eshoo told Axios she still has issues with the bill, as California concerns with a federal law weakening their state measure remain.
View archive