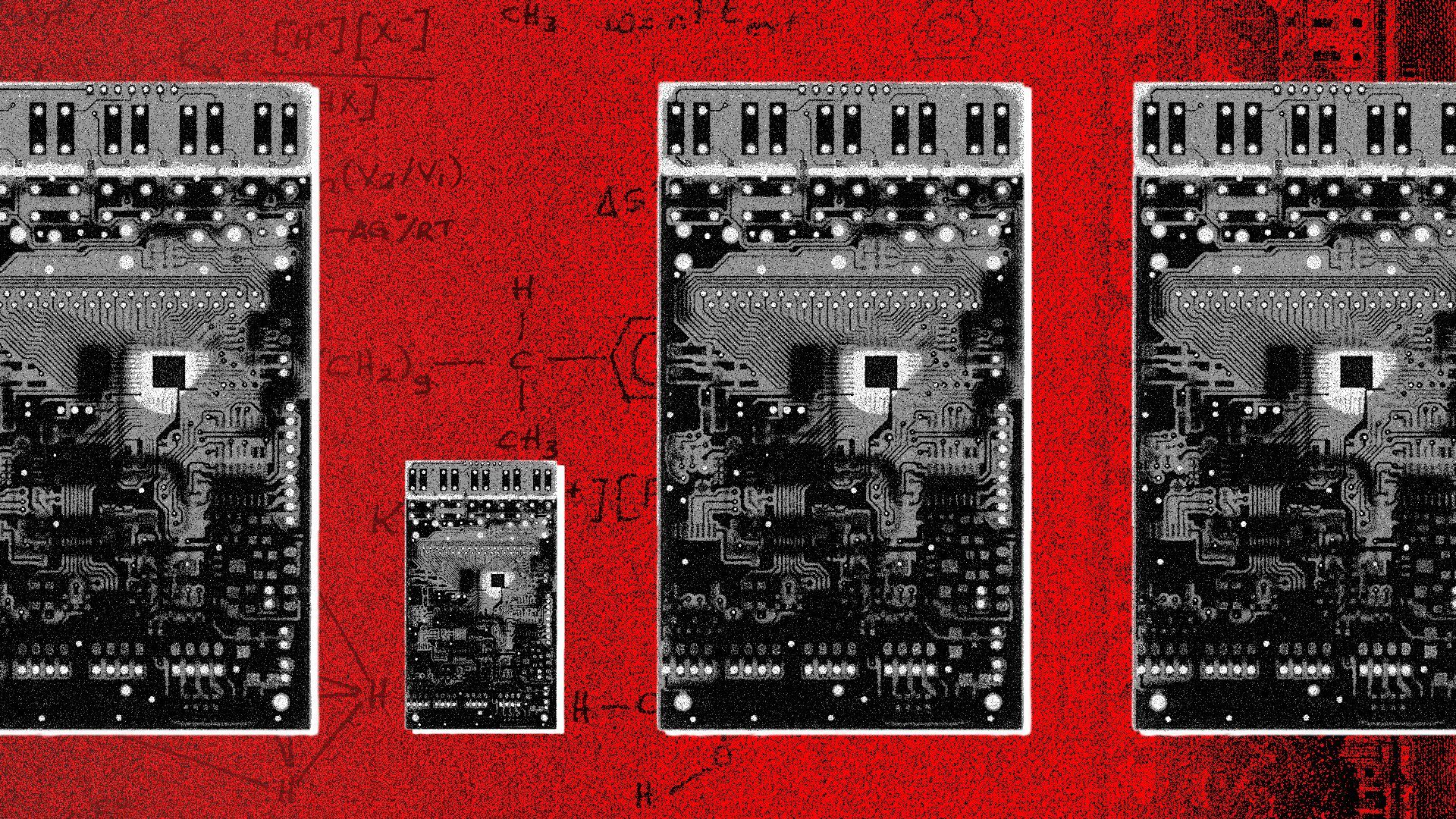 Lawmakers this year are unlikely to meet CHIPS and Science Act ambitions for the National Science Foundation, the agency at the heart of technology research and STEM workforce development.
Why it matters: Funding long-term basic research in key technologies, such as artificial intelligence and quantum computing, falls squarely on the government because a lack of immediate use-cases makes it less attractive for the private sector.
NSF has partnerships with companies and philanthropies but by and large depends on the government.
Catch up fast: NSF is regarded as the agency around which the science part of the CHIPS and Science Act was built.
The law authorizes a doubling of the agency's budget over five years, funneling money into early stage research, research infrastructure, international collaborations, new and existing STEM education programs, and a research security office.
It dedicates $20 billion to the Technology, Innovation and Partnerships Directorate, including the flagship Regional Innovation Engines program.
That program will bring together researchers, companies and nonprofits in regions across the country to come up with solutions for society's biggest problems and, in that process, train and develop the local workforce.
"In North Dakota, they're looking at autonomous systems and wireless connected drones. We have projects in the South that are looking at energy approaches and solar," TIP assistant director Erwin Gianchandani told Axios in his office at NSF's Virginia headquarters.
"We expect these engines over time to really be the harbingers, the seedlings of new jobs that will be coming down the pike."
Yes, but: That's going to require money.
Meanwhile, China leads the world in 37 of 44 technologies in various fields, including AI and quantum computing, according to an Australian Strategic Policy Institute report published in March.
What they're saying: Sen. Todd Young plans to keep advocating for additional funds for TIP and the regional engines program through the regular appropriations process, his communications director Matt Lahr said.
Those two initiatives deserve priority "when it comes to the difficult funding decisions Congress will need to make in the fall," Lahr added.
NSF Graduate Education Division Program director Vinod Lohani: "We know that so many, very creative ideas are still left on the table because of the constraints we have with funding."
Daniel Denecke, lead director for NSF's Research Traineeship and Innovations in Graduate Education programs: "The focus on graduate education is a longer-term focus. It's saying, in order to actually innovate in semiconductors, in order to innovate in advanced materials, that's where the yield curve of graduate education is in: long-term competitiveness."
Of note: NSF has been moving into a model where it's supporting more use-inspired fundamental research, said Pascal Van Hentenryck, whose program has a partnership with Intel and other private sector players.
Van Hentenryck is the director of the NSF AI Institute for Advances in Optimization, which is tackling challenges in energy, supply chains, sustainability, and chip design and manufacturing.
"There's a direct impact on the bottom line of some of these companies, and I can tell you they have massive problems to solve," he said, adding additional funding is needed.
Crucially, Van Hentenryck said, the program allows professionals to break out of their silos and work together in a diverse team with a variety of expertise from AI to optimization to manufacturing.
Threat level: Congress is in for a fight when lawmakers get back from recess in September, and it could lead to a government shutdown.
There's relative bipartisanship on funding tech and science research, but House Republicans' mission to cut government spending overall is bound to affect an agency like NSF.
The House appropriations bill would prohibit funding for the NSF's Global Change Research Program, Clean Energy Technology program, Advancing Informal STEM Learning Program, Alliances for Graduate Education and the Professoriate Program, and the Office of Equity and Civil Rights.
A provision in the House bill prohibiting funding to carry out an Office of Science and Technology Policy memorandum to ensure free, immediate and equitable access to federally funded research would also hit NSF.
What we're watching: While there's a long way to go, some senators are exploring supplemental legislation to bolster Defense Department spending, which could include a second China competition package with additional funds for an agency like NSF or the National Artificial Intelligence Research Resource, one source told Axios.
A bipartisan, bicameral group of lawmakers recently introduced the CREATE AI Act to establish NAIRR, which would boost the research community and has NSF backing.
NSF is working on reports required by the CHIPS and Science Act detailing the need for AI workers and the capacity of U.S. institutions to educate those workers.
The results of those studies could lead to a recommendation to Congress to fund a new program.
Go deeper