FCC spectrum lapse looms over NTIA head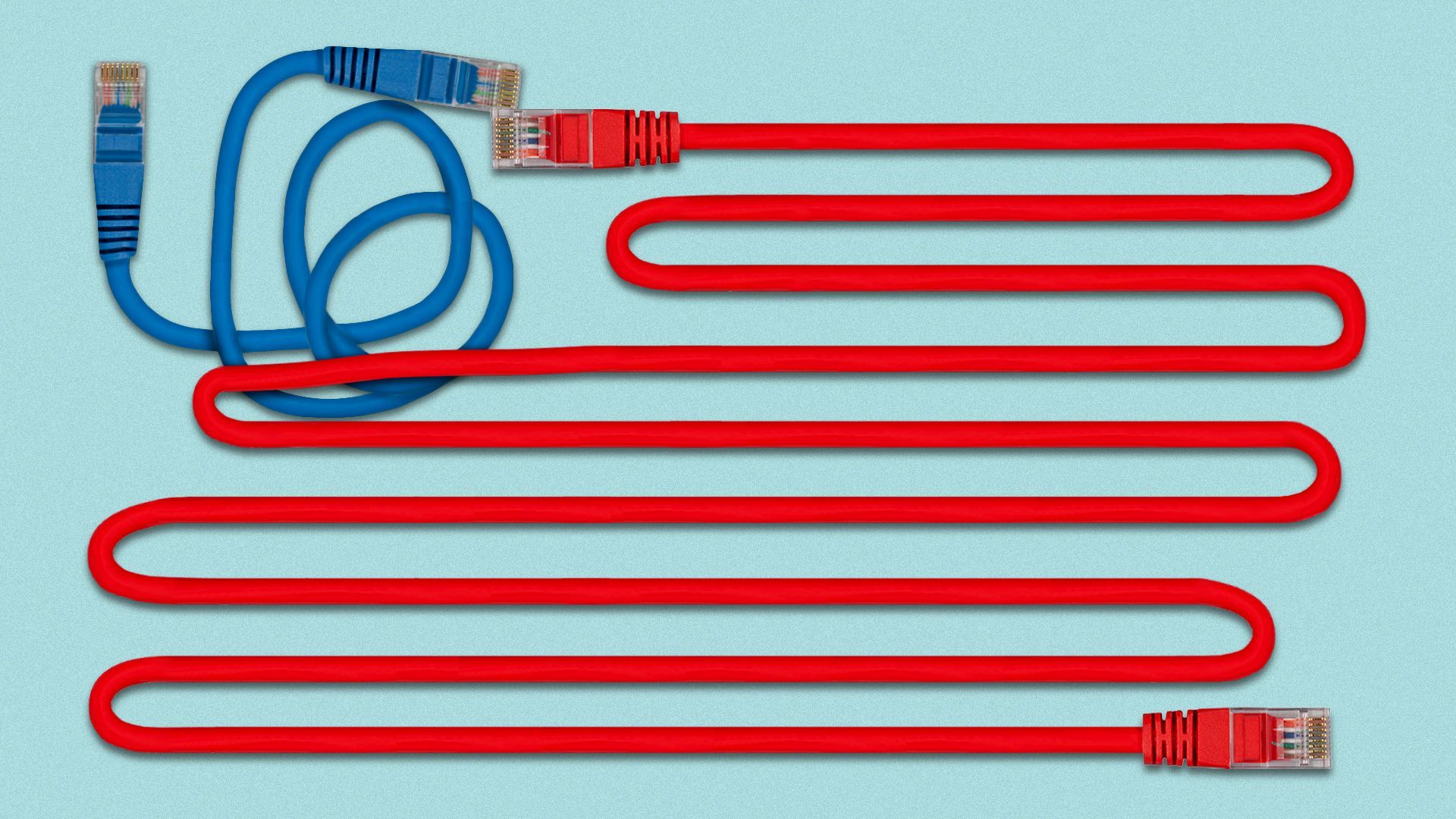 The U.S.'s inability to tap into more spectrum was in the spotlight as NTIA chief Alan Davidson testified Tuesday on the race to connect all Americans to the internet.
What's happening: Congress in the Infrastructure Investment and Jobs Act allocated $48.2 billion for NTIA to help ensure that everyone in the U.S. has affordable, high-speed internet access.
But commercial use of spectrum — the finite resource needed to support wireless internet connections — is being held up, in part because of lawmakers' failure to reauthorize the FCC's auction power for the first time in its 30-year history.
The issue came up repeatedly during the House Energy and Commerce Communication and Technology panel hearing.
State of play: NTIA has so far awarded more than $2.6 billion in broadband grants. Although its Broadband Equity, Access, and Deployment Program is widely viewed as favoring fiber, the agency acknowledges that for some parts of the country that are difficult to reach, wireless is necessary.
FCC's Affordable Connectivity Program serves more than 18 million low-income households, many of which are on a wireless connection.
Meanwhile, NTIA is also working on finalizing a national spectrum strategy, which involves identifying 1,500 megahertz of spectrum to study for potential repurposing.
Davidson said one of the biggest challenges he faces is "the need for partnership with other agencies to make sure we're implementing our spectrum work well."
E&C Chair Cathy McMorris Rodgers asked Davidson whether the FCC's spectrum auction authority lapse would disadvantage NTIA at the World Radiocommunication Conference this year.
The conference is "incredibly important" because it's where the U.S. can push back on its competitors and promote its vision of how the spectrum pipeline should operate, Davidson responded.
"We're going to make it work with or without spectrum authority, but boy do we believe that spectrum auction authority is something that will help us."
What they're saying: In a May 23 letter to the Senate Commerce Committee and E&C chairs and ranking members, a bipartisan slew of former FCC leaders urged Congress to reauthorize the FCC's spectrum authority.
"Although our policy priorities at times differed, we share an understanding that central to Americans' wireless success is the FCC's spectrum auction authority."
"That authority helped herald an unprecedented and thriving U.S. wireless ecosystem, enabling wireless providers to deliver mobile connectivity throughout the country, changing how Americans work, live, and play, and establishing the U.S. as a focal point for innovation and mobile commerce."
Signatories include former FCC chairs Ajit Pai and Tom Wheeler.
What's next: The full committee on Wednesday will markup the bipartisan Spectrum Auction Reauthorization Act, which would give back the FCC's power through the end of 2026 and instruct it to look into the lower 3Ghz band currently under the Defense Department's control.
The bill is likely to clear the committee but hit a wall in the Senate, where Mike Rounds takes issue with opening up the Pentagon's spectrum for commercial use.
Editor's note: This story has been corrected to state the Affordable Connectivity Program is an FCC program, not an NTIA program.
Go deeper