March 08, 2022
Good morning, Media Deals subscribers!
🗣️ Quote of the day: "I heard from more people when we acquired Wordle than when my son was born, so certainly hit something there," NYT president and CEO Meredith Kopit Levien said at the Morgan Stanley TMT conference yesterday.
1 big thing: Ad tech for podcasts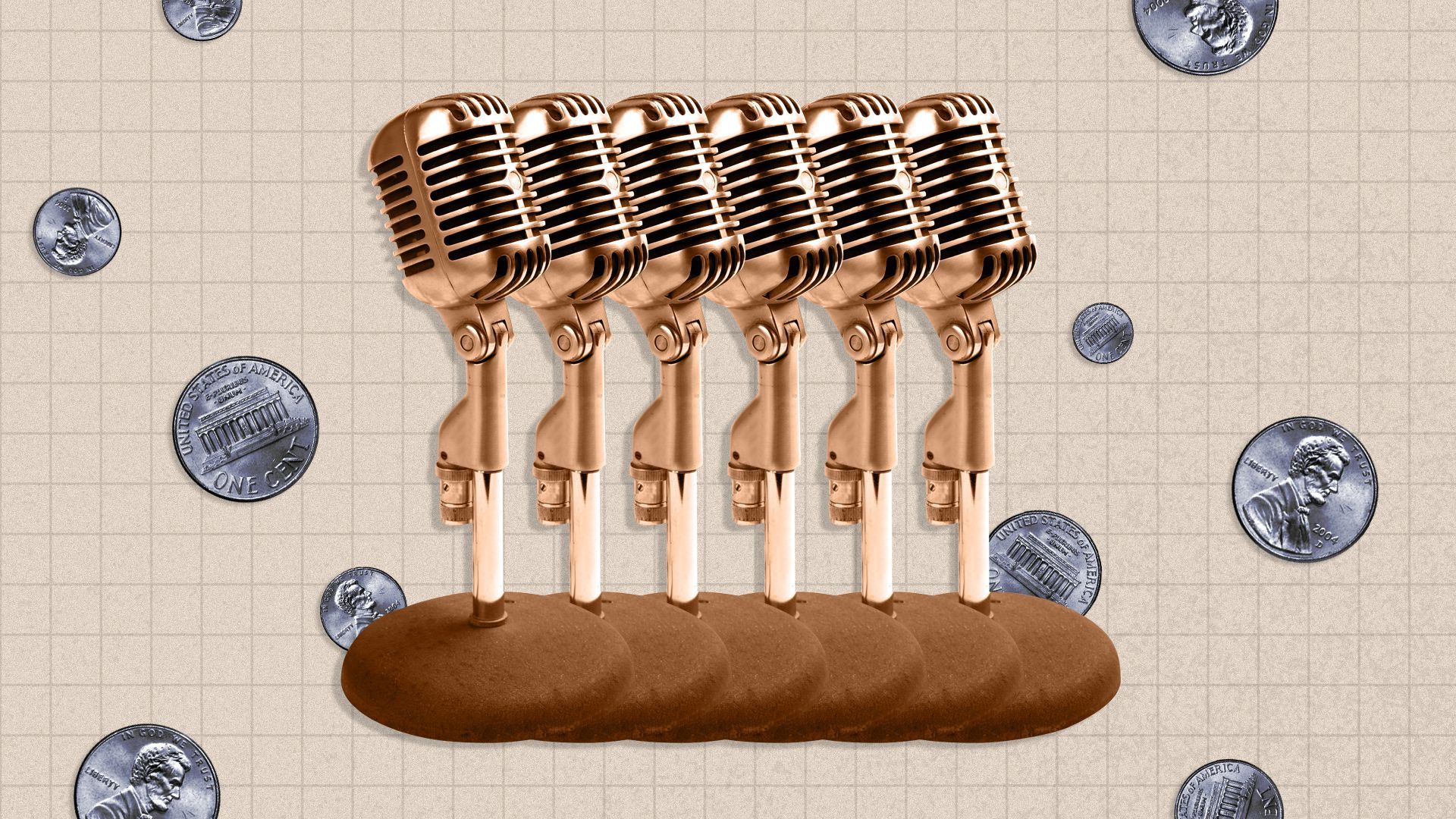 Gumball, a self-serve ad platform specializing in host-read ads for podcasts, has raised $10 million in a series A funding round led by Union Square Ventures and Good Friends, CEO Marty Michael tells Kerry.
Why it matters: The ad tech startup says it helps podcast creators and brands more easily collaborate, bringing more revenue into the rapidly growing media business.
Podcast ad revenue reached $842 million in 2020, up from $708 million the year prior, and host-read ads represented more than half, according to the IAB 2020 U.S. Podcast Advertising Revenue Report.
"The preferred ad unit by both creators and brands is the host-read ad, so the real opportunity in my eyes is to figure ... to scale it the same way that programmatic allows you to scale," Michael says.
Details: Michael declined to disclose annual revenue but said Gumball's revenue for January 2022 surpassed its total revenue for 2021 and that 2022 revenue is expected to triple 2021's total.
This brings Gumball's total funding to $12 million, after its $2 million seed round in 2020 from USV and CollegeHumor co-founder Josh Abramson.
Craft Ventures, Vertical Venture Partners, Animal Capital, Calm Ventures, Gaingels and Riverside Ventures also participated in the series A.
Tech executives joining the series A included SiriusXM's Brad Smith, CRED's Kunal Shah, TCG's Eric Johnson, Momentive's Zander Lurie and SoundCloud's Kerry Trainor.
In addition, creators Nick Wiger, Mike Mitchell, Jon Gabrus, Mano Agapion, Geoffrey James, Reilly Anspaugh, Streeter Seidell, Sarah Schneider and Casey Neistat participated.
How it works: Michael says booking host-read ads used to take three to four weeks, but Gumball can take "about 30 seconds."
Gumball's self-serve product allows brands to search for available ad inventory based on timing and desired audience.
More than 500 brands — including Casper, CBS and Netflix — have used the platform.
Yes, but: All Gumball's ads are host-read, but there's a mix of dynamically inserted and "baked-in" ads. As Conal Byrne, CEO of iHeartMedia Digital Audio Group, recently told Digiday, those latter ads have "tons of limitations" since they cannot be changed or targeted to individuals.
Context: Gumball was launched in 2015 within Headgum — a podcast network co-founded by Amir Blumenfeld, Jake Hurwitz and Michael, who all worked at CollegeHumor.
Former Vimeo CTO Andrew Pile joined as Headgum's technical co-founder and CTO in 2017.
Amir Cohen, also formerly of CollegeHumor, joined as COO in 2020.
What's next: The funding will be put toward hiring and marketing.
The company recently hired vice president of marketing Kayla Moriarty from ViacomCBS. Plans call for 30 employees by year-end, up from 14 before fundraising began.
The platform will soon incorporate YouTube impressions into podcasts' audience sizes.
"Brands are going to get more reach, and creators are going to be able to sell their spots for a lot more money," Michael says. "For us, it's anywhere between [a] 20 and 50% increase based on the listening coming from YouTube."
View archive