Axios Pro Media Deals Live: WWE, Nelson Peltz vs. Disney and RSNs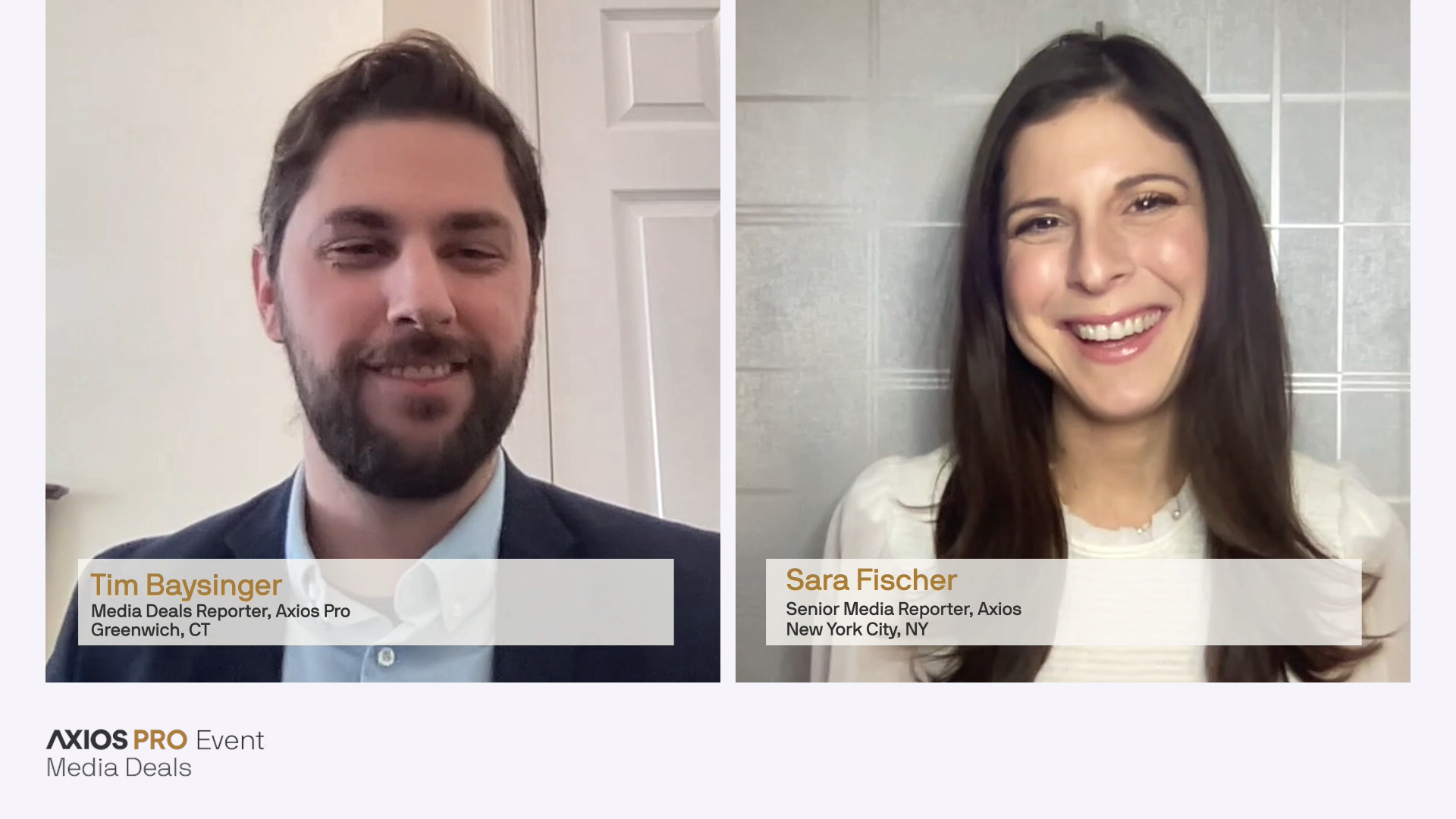 Only a month into 2023, the media dealmaking landscape has had some dramatic developments. For an Axios Pro live event last week, Tim and Sara Fischer chatted about the year's biggest deals stories so far.
They include Vince McMahon's return to WWE, Nelson Peltz's proxy fight with Disney and the precarious state of regional sports networks such as Diamond Sports. Below are highlights of the conversation. Watch the video for more.
Go deeper (2 min. read)
WWE exploring sale
Sara noted that one key factor for potential buyers is that WWE doesn't rely on ads.
"They make a lot of money from subscriptions [and] from licensing, and so, as a result, this is not a company that's being impacted by the huge macroeconomic advertising slowdown."
Potential buyers include Netflix, Apple, Comcast, Disney, Fox and Endeavor. Sara added that Comcast would be a "natural buyer" given the streaming deal between Peacock and WWE and suggested a sale to Saudi Arabia Public Investment Fund, as rumored, would be unlikely.
Sara: "My gut says that the WWE would be more interested in selling to a U.S. domestic tech or streaming behemoth rather than a fund like that."
Catch up quick: Vince McMahon returned to WWE last month following his disgraced exit last year. As the controlling shareholder, McMahon elected himself chairman, appointed new board members and launched a sale process.
Peltz vs. Disney
Tim and Sara surmised that the standoff between Disney and Trian Partners co-founder Nelson Peltz will come to an end when Disney figures out what happens with Hulu. Peltz himself said on CNBC a few weeks ago that Disney should buy out the stake or "get out of the streaming game."
But a decision on Hulu has to happen regardless of Peltz's pressure, given the structure of the original deal, Tim said. It's a classic case of an activist pushing on an open door, with Sara comparing it to ValueAct and The New York Times.
Tim offered a view from a source who suggested one option for Disney is to make Hulu a free, ad-supported service. "Everybody should have a FAST streaming service," Tim said. "That's the new broadcast TV basically."
Catch up quick: Peltz has launched a proxy fight against Disney, and he's pushing for Michael Froman's ouster from the board.
Future of RSNs
Tim's view is that there's a real possibility that the RSN business shrinks, fades or even collapses completely.
"We're going to figure out when some of these renegotiations happen at the end of the year with Diamond for carriage agreements, and that'll set the tone for what distributors are willing to pay for regional sports networks," Sara noted. "And it could be, to your point, nothing."
Amid the decline of RSNs, some local broadcasters have aimed to bring local sports back to their networks. That includes E.W. Scripps.
Sara thinks the RSN model will continue to live on in the streaming and digital world. "But what exactly it looks like, it's pretty unclear right now."
Catch up quick: Sinclair Broadcast Group's Diamond Sports, which operates regional Bally Sports networks, has been preparing for Chapter 11 bankruptcy, Bloomberg reported last month. It recently named a new CEO, former NBC Sports executive David Preschlack.
Go deeper