Roe reversal fuels women's health deal market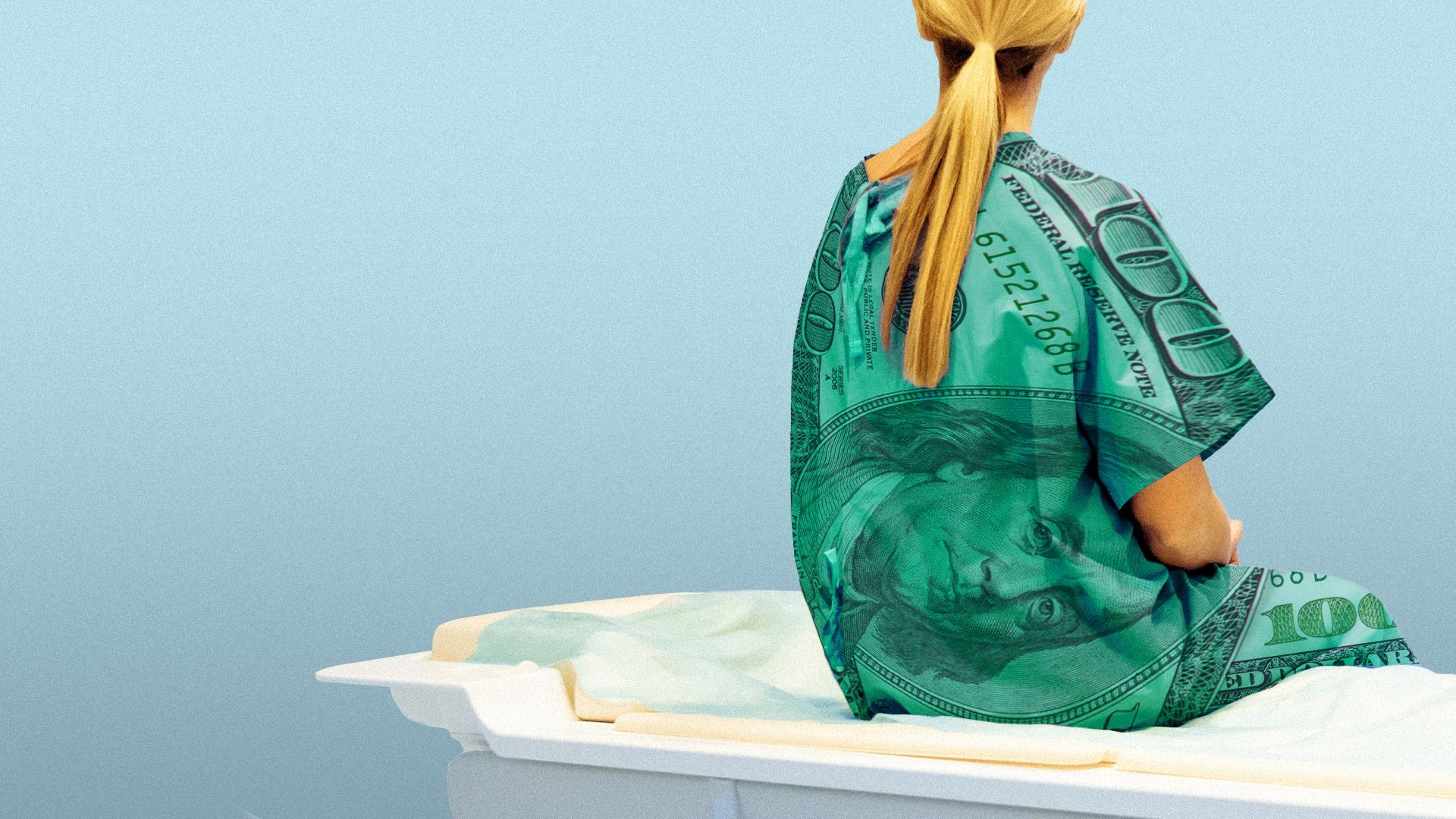 Nearly one year out from the reversal of Roe v. Wade, the women's health tech industry is at a critical inflection point.
Why it matters: Global venture investment in women's health held steady at roughly $1 billion last year despite the funding crunch — but with just a small portion of the overall digital funding pie, founders and investors worry the space could get quashed before it can blossom.
What's happening: Total funding for women's health tech dropped just 10% from 2021's peak, even as the digital health sector overall plunged nearly 50% during the same time period.
What they're saying: A groundswell of support for women's health in the wake of Roe's reversal — and starkly poor public performance of generalist health tech companies — has investors turning to women-focused startups.
"Buyers are recognizing the status quo isn't working," says 7wireVentures partner Alyssa Jaffee, "and digital health is emerging as a real answer. It's not a panacea, but it's a real answer for a lot of material [women's health] problems."
"Women's health has been siloed into being just about menstruation or reproduction, but the true breadth of it is: Women predominantly make health care decisions ... and women are the CEOs of the household," says Maveron partner Anarghya Vardhana.
"Women are more empowered in building companies and being emancipated in our thoughts," says Ruby Gadelrab Tudor, the CEO of digital health intelligence startup MDisrupt. "We can solve the problems because we understand the problems."
Context: The sector has failed to yield to macroeconomic headwinds as stark realities about women's health have risen to the forefront, including:
An uptick in maternal mortality driven in part by the reversal of Roe that is disproportionately affecting Black women, other women of color, and low-income women.
The other side: Still, the sector remains nascent, attaining just 6% of overall digital health funding in 2022 — and not all startups are benefiting equally from tailwinds.
For example, investors and founders say earlier-stage companies and those founded and focused on women of color are having a harder time than later-stage companies and those founded by and focused on white women.
The latter group tends to have more resources at their fingertips, including knowing what other founders and investors to talk to and when.
"I think there's a collective reckoning happening" in today's market, says Sheereen Brown, the CEO of women's reproductive health company Between. "When people are uncertain, they default to what they know and what is familiar to them — whether that's investing in people who look like you or went to a similar school as you."
Zoom in: Regional differences may also be affecting fundraising trends. Some founders describe a tougher time raising on the East and West Coast, due to a saturation of interested venture funds in those areas.
For example, the 2023 New York Healthcare Innovation report found that investment in women's health in the New York metro area plummeted from a high of $540 million in 2021 to a low of $78 million in 2022.
"I think there's a real interest from VCs based outside of [the East and West Coast] to back companies that are building outside of those places," says Meghan Doyle, the CEO of Chicago-based maternal startup Partum Health.
Just $1 billion
By the numbers: In 2021 at the sector's peak, digital health funding surged to an all-time high of $29.3 billion. But women's digital health only received $1 billion during the same time frame.
"We're getting more fuel on the fire, but the distribution of money has to go way wider and deeper," says MDisrupt's Gadelrab Tudor. "What we're getting now isn't nearly enough."
However, compared with digital health overall, women's digital health funding has declined significantly less in today's tight market, dropping 10% from 2021's levels to $950 million in 2022.
Digital health, by comparison, fell 48% in the same time period to $1.5 billion.
Founders reach across the aisle
Meanwhile, women investors and investors in women's health companies say the same trends are fueling a decrease in competitiveness among their peers and more collaboration on backing such businesses.
For example, 7wireVentures' Jaffee and Maveron's Vardhana formed a close virtual relationship while the two of them experienced pandemic pregnancies.
About a year later, the pair teamed up to invest in Caraway's $17 million Series A.
What they're saying: "We became fast and close friends," Vardhana says. "Part of that was talking about work, and part of it was pregnancy and COVID, and a year later we collaborated on Caraway. That's not historically what's happened in the VC world."
"The old guard of venture had very sharp elbows. The new guard knows it takes a lot of people around the table to build great health care companies," says 7wireVentures' Jaffee. "That siloed wall and cloak of secrecy is non-existent in our world."
Plus, Christie Pitts, a VP at maternal care startup Mahmee, in 2022 co-founded VCs for Repro, a coalition of more than 100 venture firms focused on preserving access to abortion care.
Pitts says part of the group's goal is to help fellow investors evaluate risk, including what happens when female employees travel to states where care is unavailable.
Representation matters
State of play: Builders of women's health companies say they are increasingly motivated to expand their offerings as demand for existing health care resources surges and current supply buckles.
"Women's health infrastructure is not well-established in the South or the heartland of the U.S.," says Between's Brown, who hopes to raise enough for her startup to expand geographically. "We want to be the go-to place for young women looking for mental health and OB-GYN services."
"Having access to abortion is life-saving, and furthermore, a fight for abortion is a fight for democracy," says Lori Evans Bernstein, the CEO of Gen Z-focused virtual care startup Caraway. "It's a major health and human rights issue."
Yes, but: Some women's health founders say fundraising has become increasingly difficult in an environment with limited resources, where there are only so many firms and investors dedicated to underfunded areas and underrepresented founders.
"In the femtech space and among VCs who invest in historically underrepresented founders, they are getting inundated with companies like us," says Brown.
She adds, "We're getting implicit signals that we can't go to them, so where do we go? The firms that are inundated with companies like us, or these others that have expressly said they wouldn't back companies like ours?"
"Investors like pattern recognition," says Gadelrab Tudor. "It's gotten more intense and it's more about pattern recognition when the market is tight."
The bottom line: Unprecedented health demands and a surge in awareness have underwritten continued investment in women's health — but it remains unclear whether a rising tide lifts all boats equally.
Raising money and building a company has "been a beast," says Doyle, adding, "The fundraising is a means to an end. It's not the milestone we celebrate."
Go deeper