Teladoc sees light at the end of the 2023 tunnel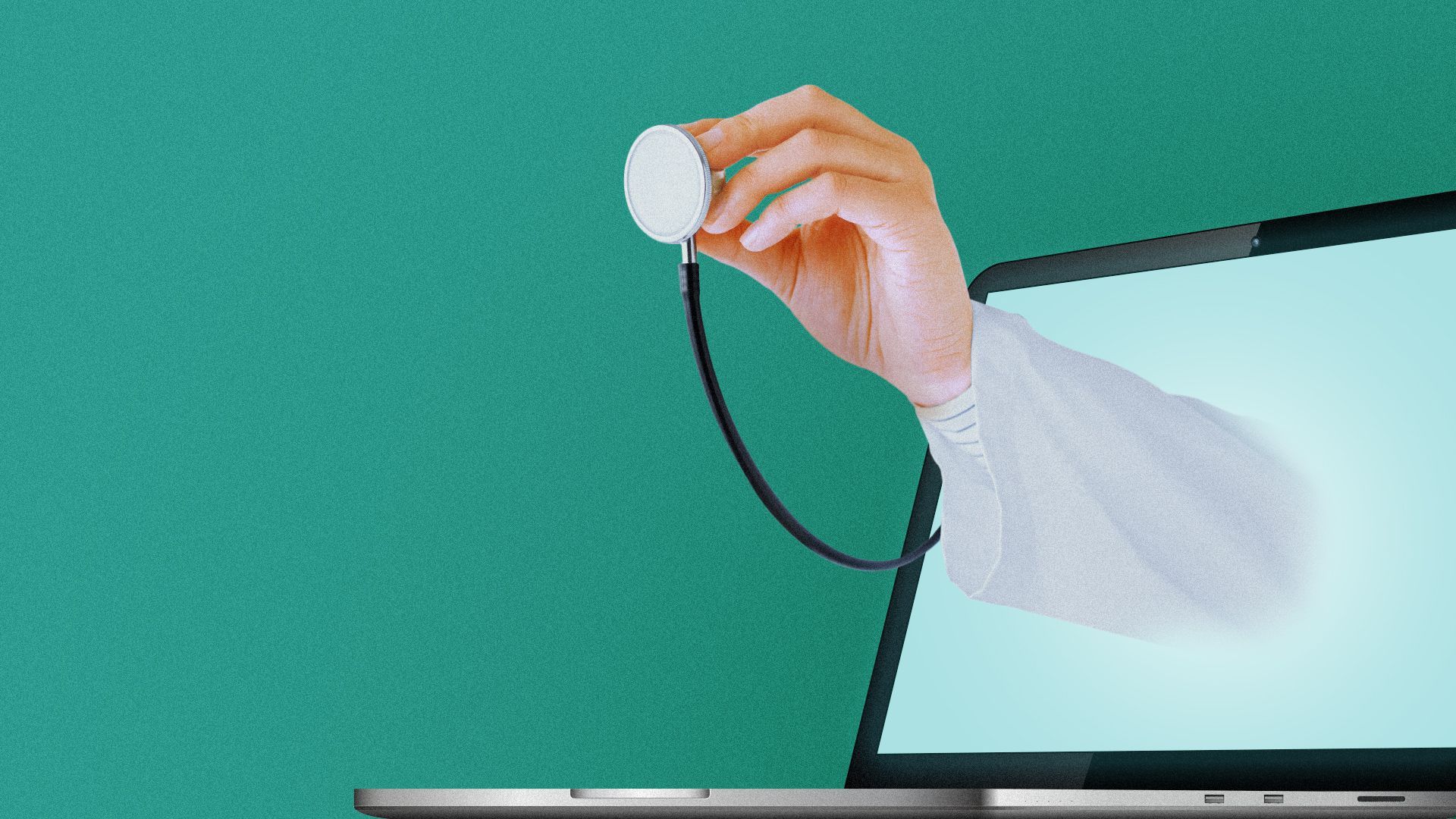 After a rocky 2022, NYSE-traded Teladoc is financially stable enough to put some cash into its weight management and pre-diabetes businesses, CEO Jason Gorevic tells Axios.
Why it matters: Teladoc is the dominant player in the telehealth room with a market cap of $4.42 billion — a sizable edge over competitors including Hims and Hers at $2.4 billion and Amwell at less than $567 million.
Catch up quick: Teladoc's $18.5-billion acquisition of Livongo was a blight on its balance sheet that pushed it to a record net loss of $13.7 billion in 2022, but after first-quarter earnings yesterday, Gorevic maintains the telehealth giant is now positioned to reclaim its status as market leader.
By the numbers: Teladoc reported revenues of $629 million, an estimate-beating figure that represents an 11% rise year over year.
The company has $900 million in cash and short-term investments.
In Q1 '23, more than 80% of sales were multiproduct.
Its enterprise business grew 5%.
What's next: Gorevic expects the company to generate $100 million in free cash flow by the end of the year.
What they're saying: Given the inherent challenges built into a merger of the size and complexity of its Livongo purchase, analysts view some aspects of Teladoc's recent performance in a positive light.
For example, Teladoc's recent cost-reduction efforts appear to be paying off as the company's integrated care EBITDA rose to $35 million.
That "growth is excellent, especially since revenue for the segment was behind our estimate," BTIG equity research analyst David Larsen wrote in a note, adding, "We believe cost-reduction measures drove the earnings."
"TDOC is becoming an all-inclusive 1-stop shop," Larson added.
"This relative over-performance is a good indication that they've begun to focus on those markets where they can have meaningful impact profitably," Health Advances partner Greg Chittim tells Axios.
Yes, but: BetterHelp, Teladoc's virtual mental health service, saw EBITDA decline 41% year-over-year to $17.6 million — far below BTIG's $21.7 million estimate.
Such a miss is "surprising given that the segment's revenue beat our estimate," writes Larsen.
In addition, margin compression declined from 13.1% in Q1 '22 to 6.3% in Q1 '23 — another change that Larsen characterized as surprising, given Teladoc's insistence that ad costs are stable.
Our thought bubble: With less-than-sunny results for BetterHelp, we're wondering what happened to Amwell's rumored Talkspace takeover.
The bottom line: Teladoc's forward focus on weight management and pre-diabetes — two tenets of Livongo's offering — will likely make that weighty deal more immediately accretive.
Editor's note: This story has been corrected to note Teladoc lists on NYSE, not Nasdaq.
Go deeper