Food is medicine, investors and execs say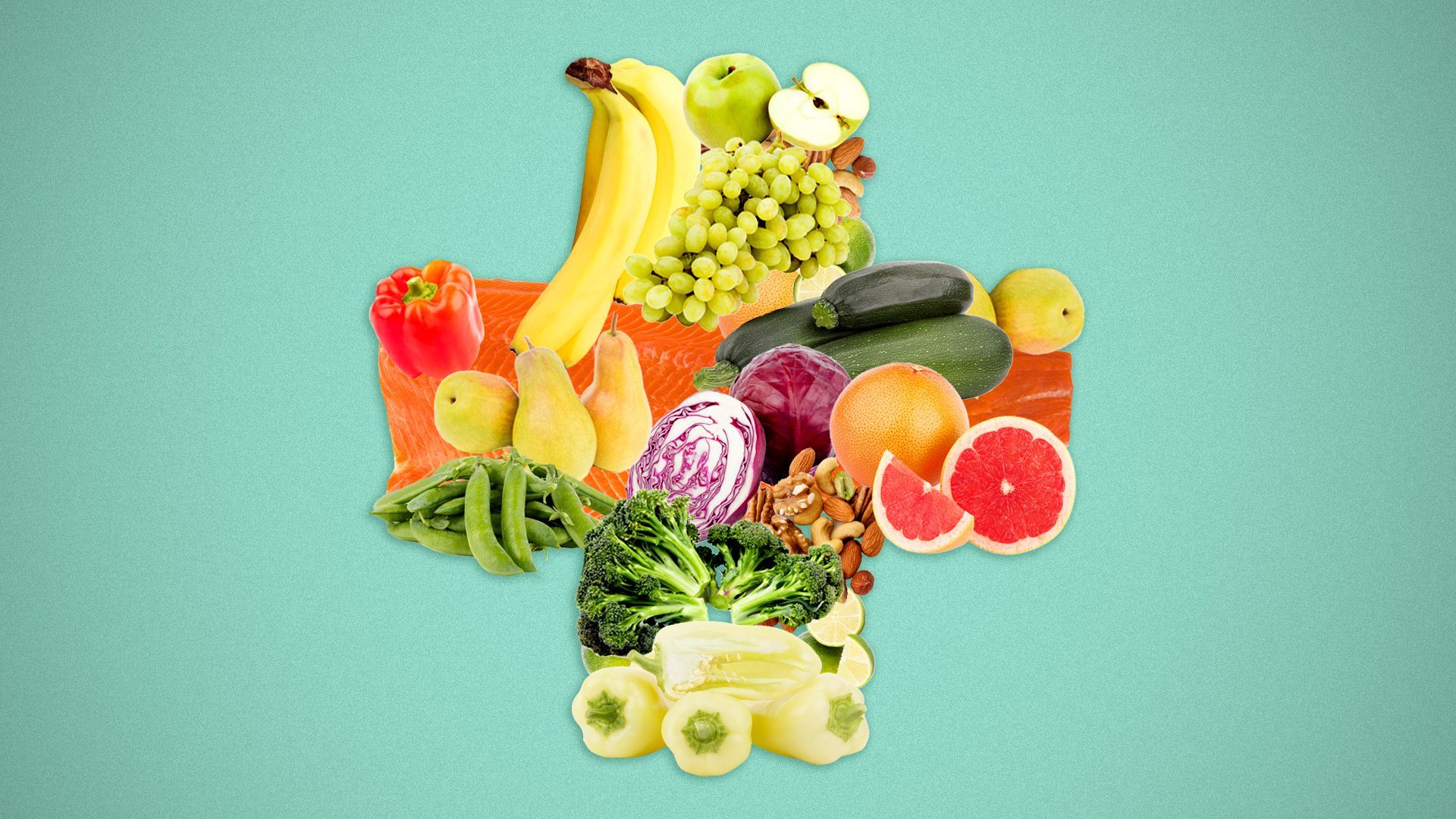 Food-as-medicine is being embraced as a new appetizer on the menu of holistic care, but investors and execs tell Axios hurdles remain before the concept can be served up as an entrée.
Why it matters: Although most agree that social factors like housing and food should be accounted for in health care, measuring data and getting insurers on board are the most immediate obstacles.
Driving the news: Six states — New Mexico, Washington, New York, New Jersey, Delaware and Maine — have pending waiver requests to tap Medicaid funds for food in pilot programs.
What they're saying: "Diabetics get admitted with hypoglycemia at the end of the month because they're taking the same dose of insulin, but their food stamps ran out," says Rajaie Batniji, CEO of public benefit company Waymark.
"It's an obvious yes that food is medicine."
State of play: Companies like Cityblock have already made social determinants of health central to their business strategies.
Cityblock, which provides a caregiving team for Medicaid populations specifically, has community care partners that help patients access fresh food, childcare and housing.
Meanwhile, new entrants like Andreessen Horowitz-backed Season Health are making food-as-medicine their primary focus. (Season is also backed by Cityblock CEO Toyin Ajayi.)
"What's making [food-as-medicine] stickier these days is codifying the payment rails, since payers were doing it discretionarily to attract members and it was sitting in supplemental benefits outside of medical rails," says Andreessen Horowitz general partner Julie Yoo.
Between the lines: Season's approach mitigates a scenario in which patients use benefits to buy unhealthful or non-nutritious food, codifying its network of food vendors.
Medicaid's food-as-medicine program, as it stands, doesn't have guardrails on what food can be bought with the money, several industry sources say.
Nor is data being collected on what people are buying, says LexisNexis risk solutions government group CEO Haywood Talcove.
Zoom in: Within digital health, Yoo sees food-as-medicine being executed in three ways currently:
Some companies are aggregating a network of nutritionists and dietitians, contracting with employers to get optimal rates, like NourishedRx.Not to be confused with NourishRx, focused on patients with eating disorders.
Others, like Soda Health, are tackling the issue via payments, which matches people with personalized benefits (including food) and provides them with a single prepaid debit card to use at participating retailers.
Finally, she notes retail has a role to play, citing Instacart's initiative to expand access to nutritious food for underserved communities.
"We need to take infrastructure like Instacart and make those compatible with health care payment rails," Yoo says.
Context: Retail's penetration into health care has been a long journey, with groceries, pharmacies and e-commerce all taking their respective shares of the pie.
Some grocers have already incorporated food-as-medicine, like Kroger's OptUp program that helps consumers make more healthful food choices.
Albertsons — set to be acquired by Kroger for $25 billion if regulators allow it — launched its digital health platform Sincerely Health in February, which helps users make choices about food, physical activity, sleep and mindfulness.
"This seems like an obvious place for consumer-facing retailers to be doing something," Yoo says, noting that food-as-medicine is an easy way for retailers to claim health market share when competing with pharmacies and Big Tech.
What's next: "The payer is the 900-pound gorilla in the room with power they can exert on policymakers," Yoo says. "We need to see commitment from insurers to see this work."
Go deeper