Health worker shortages curb private equity bets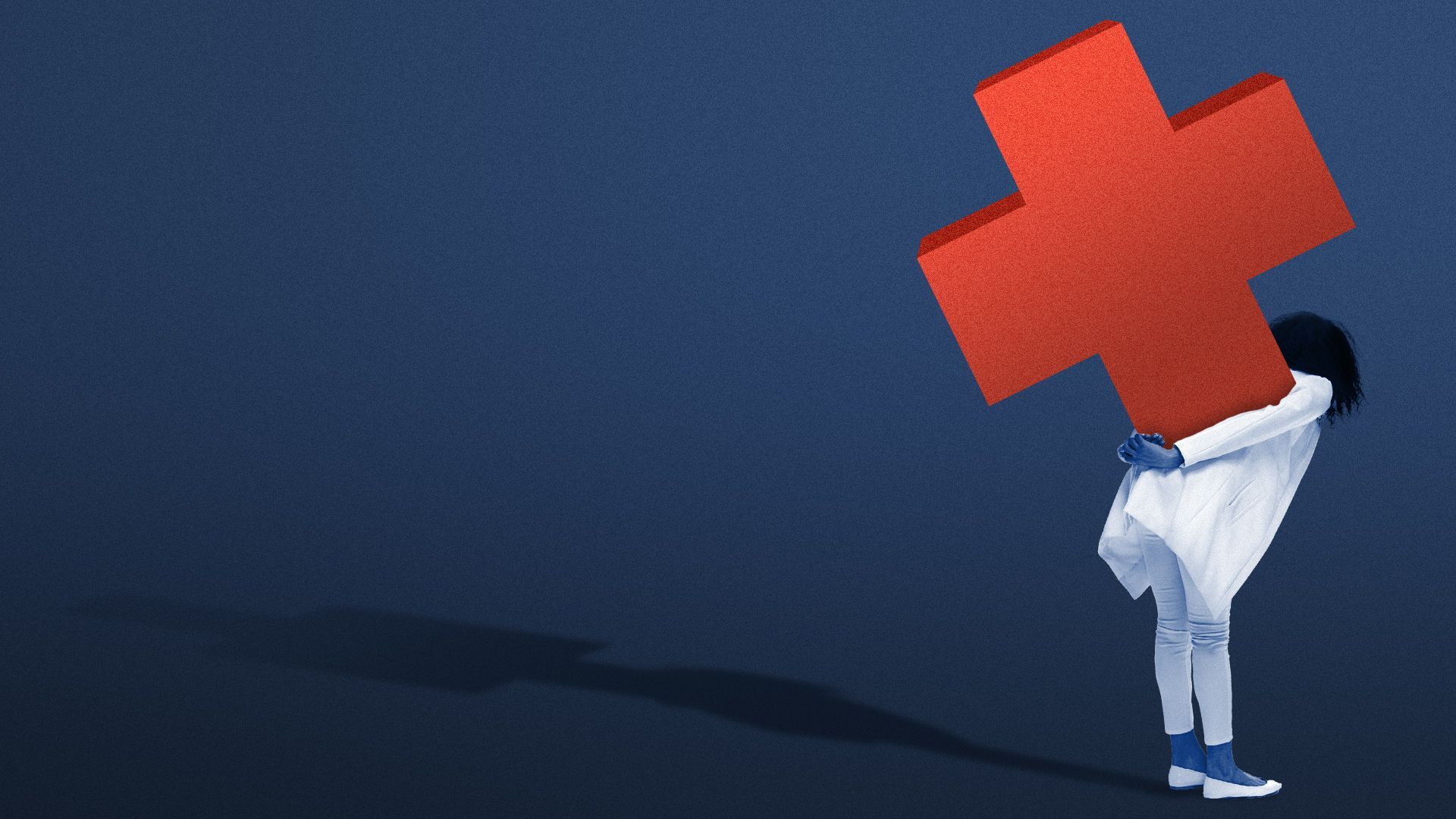 The ongoing deficit of health care workers is starting to curb private equity investment in the sector, per recent reports from PitchBook and KPMG.
Why it matters: Amid the slowdown, the sector's buyers and sellers are expected to be more focused on ROI, leading to potentially more creative dealmaking that goes beyond operational improvements.
Driving the news: Since the start of the pandemic, health workers have left the field in droves or avoided longer hours, injecting uncertainty and higher costs into the market.
"Several factors came together at the same time," KPMG managing director Jeff Whitcomb told Institutional Investor. "Within the industry, higher supply costs and [a lack of clarity] around COVID led to a lot of uncertainty."
By the numbers: PE health care service deal flow fell each quarter of last year, PitchBook notes, with a roughly 26% drop in deals from Q3 to Q4.
Details: Lower-skilled roles are being hit hardest, particularly among behavioral health entities and home health practices, per PitchBook.
Zoom in: Operating margins for home health can rise to 15% in optimal settings, but in the present circumstances, only the most efficient, scaled agencies are succeeding, PitchBook notes.
Of note: Although preventive and primary care have drawn significant interest from private equity and strategics alike, there's a bottleneck in med student recruitment as residents flock to higher-paying specialties.
What they're saying: "The job of a private equity firm in the space has gotten more difficult — or the bar to success has gotten higher," senior analyst and report author Rebecca Springer says. "It's not just a simple roll-up anymore."
"We're going to have to look for more than just the traditional synergy or operational improvements," Whitcomb says. "There's going to have to be more thought behind how to drive value through some of these deals, to really drive that ROI."
What's next: As the boomer generation continues to age, PE health care dealmaking will get more action in areas involving skilled care and mental health, with most bets focused on buy-and-build plans and minority investments, Springer says.
"At some point, we're going to revert back to the base case," Springer says. 'There's a need for these services to be expanded ... and delivered more efficiently."
The intrigue: As staff shortages persist, tech-enabled staffing solutions providers are raking in large chunks of investor money.
The other side: Private equity's deep reach into health care has been criticized as primarily profit-focused with little attention paid to outcomes and quality of care.
A Kaiser Health News investigation found that private equity-backed companies have agreed to pay fines of more than $500 million since 2014 to settle at least 34 lawsuits filed under the False Claims Act.
Go deeper