Frictions on HELP pose challenge to Sanders' agenda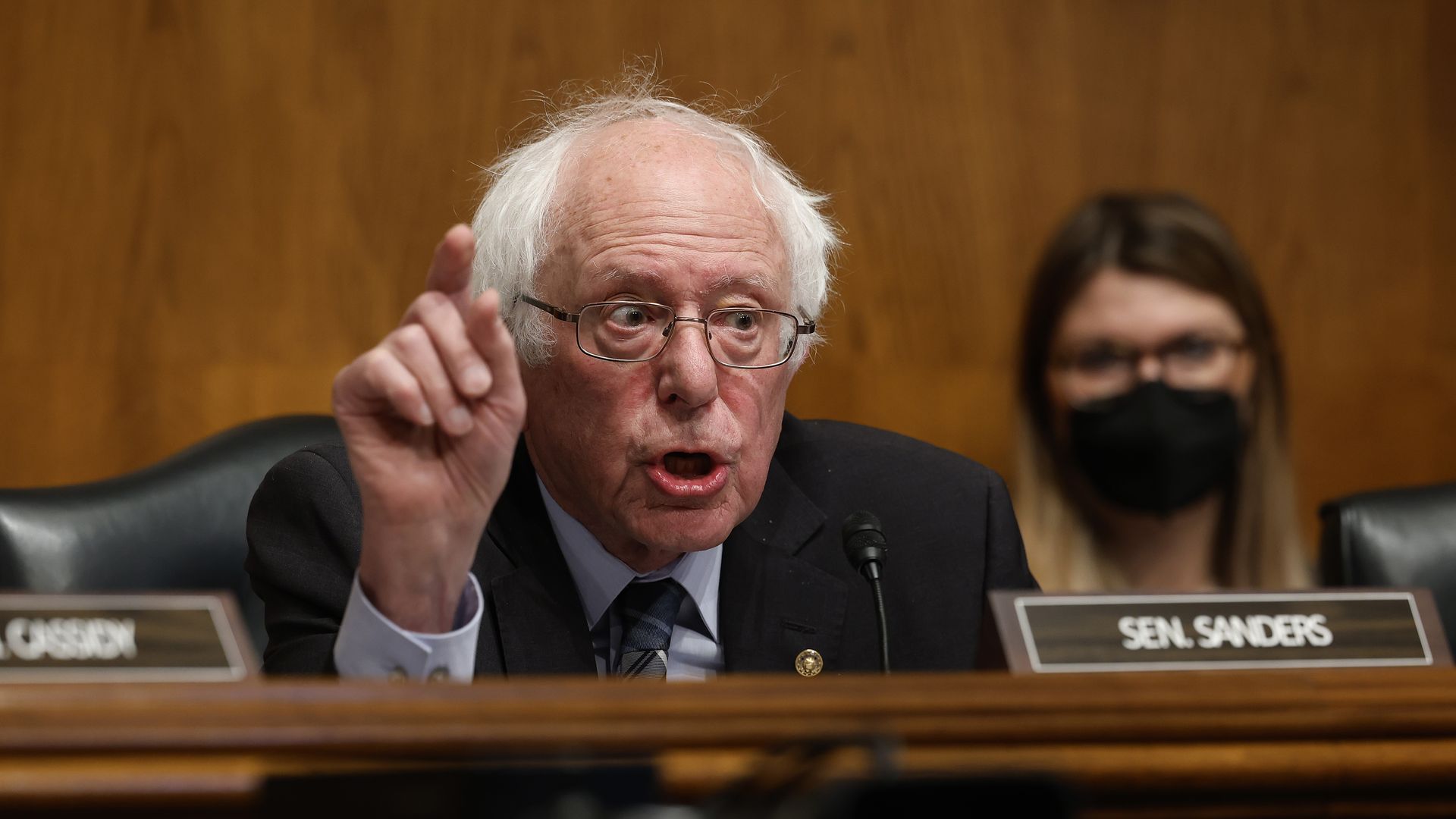 Tensions are escalating on the Senate HELP Committee as Chair Bernie Sanders pushes for sweeping legislation to address a shortage of primary care professionals, the opioid crisis and other issues.
Why it matters: The progressive firebrand is aiming high, and if he prevails, it will overshadow complaints about the way it got done. But the frustrations among HELP members raise bigger questions about how Sanders is using the chairmanship.
Driving the news: Senate aides and outside advocates say Democrats on the committee at times this year have complained that Sanders hasn't sufficiently communicated or sought input from them.
Sanders and the panel's top Republican, Bill Cassidy, have also clashed over the primary care legislation, the scheduling of opioid legislation and other issues, though they've collaborated on issues like drug costs and pharmacy benefit managers.
On the GOP side, aides say there is also some frustration among HELP panel Republicans with Sen. Roger Marshall for going around Cassidy to work with Sanders on the primary care bill.
Sanders and Cassidy are a new pairing this year, and Sanders' progressive priorities are a contrast to the more practical-minded bipartisanship that previous HELP chairs Patty Murray and Lamar Alexander were known for.
The big picture: Much of the debate centers on the Sanders-Marshall primary care bill, which includes significant new funding to expand community health centers and to address a shortage of doctors, dentists and mental health professionals.
The measure advanced out of the HELP Committee in September on a 14–7 vote, with three Republicans joining all of the panel's Democrats.
Sources say there was concern among Democrats in July when Sanders released an earlier version of the bill that they had not had enough time to review or provide input on. That contributed to a decision to delay the markup scheduled for July to September.
In May, a different markup around PBM legislation was postponed midway over confusion about the strategy for dealing with amendments. The legislation did end up passing despite the unusual procedural hiccup.
"He doesn't work with folks," an aide to a Democratic HELP Committee member said of Sanders. "Leadership is not doing whatever you want. It's talking to your members, figuring out what they want, and advocating on behalf of everyone."
Asked about the concerns and the postponed primary care markup, Sanders told Axios in a phone interview: "You're right, that markup was postponed, but what was the result of that effort? The result of the effort is the HELP Committee passed the most significant piece of health care legislation, in my view, in many, many years, with bipartisan support by a 14–7 vote."
Yes, but: It was significant for Sanders to win over Marshall and advance the measure out of committee with some GOP support. But crucially, the prospects for full Senate passage, let alone the House, are murky at best, especially with Cassidy not on board.
Cassidy has noted that the Sanders-Marshall bill is currently not fully paid for, and he has said he is open to more modest funding increases for community health centers. He complained in committee that the panel "wasted critical time" on an "aspirational" bill instead of one that could actually become law.
The most likely path for anything to become law is usually to be included in a year-end government funding package, which typically requires sign-off from the relevant chairs and ranking members in both chambers, as well as leadership. Without Cassidy's support, that becomes much more difficult.
Sanders said he is working with other committees on additional offsets and "talking every day, literally almost every day, with Republicans trying to gain their support." He thinks it is possible to eventually get 10 Republicans to pass the bill on the Senate floor.
Amid Republican divisions over the bill, ahead of the markup in September, sources say Marshall's staffer was at one point left out of a meeting of GOP committee staffers because they were going to be discussing legislative tactics. A GOP aide said Cassidy and Marshall discussed the issue ahead of time and agreed it made sense for Marshall's staffer not to attend.
What's next: Cassidy has also been pressuring Sanders to hold a markup to reauthorize the SUPPORT Act, legislation aimed at the opioid crisis. The authorization expired Sept. 30.
Sanders told Axios that he is working on strengthening the legislation to do more to fight the opioid crisis than the current programs do. "I intend to come forward with legislation that I hope has bipartisan support which significantly addresses [the opioid crisis]," he said.
The panel has also used its bully pulpit through hearings with insulin manufacturers, at which the CEO of Eli Lilly made a commitment not to raise prices.
What they're saying: Sen. John Hickenlooper, a moderate Democratic member of the panel, praised Sanders for his outreach to the GOP.
"Several people talked to me when he was coming in as the chair, saying 'My gosh, you're never going to get anything done,'" Hickenlooper said. "And to the contrary, he's worked pretty hard to build relationships with some of the Republicans, and we've made a lot of progress."
Go deeper