House Republicans' biggest appropriations landmines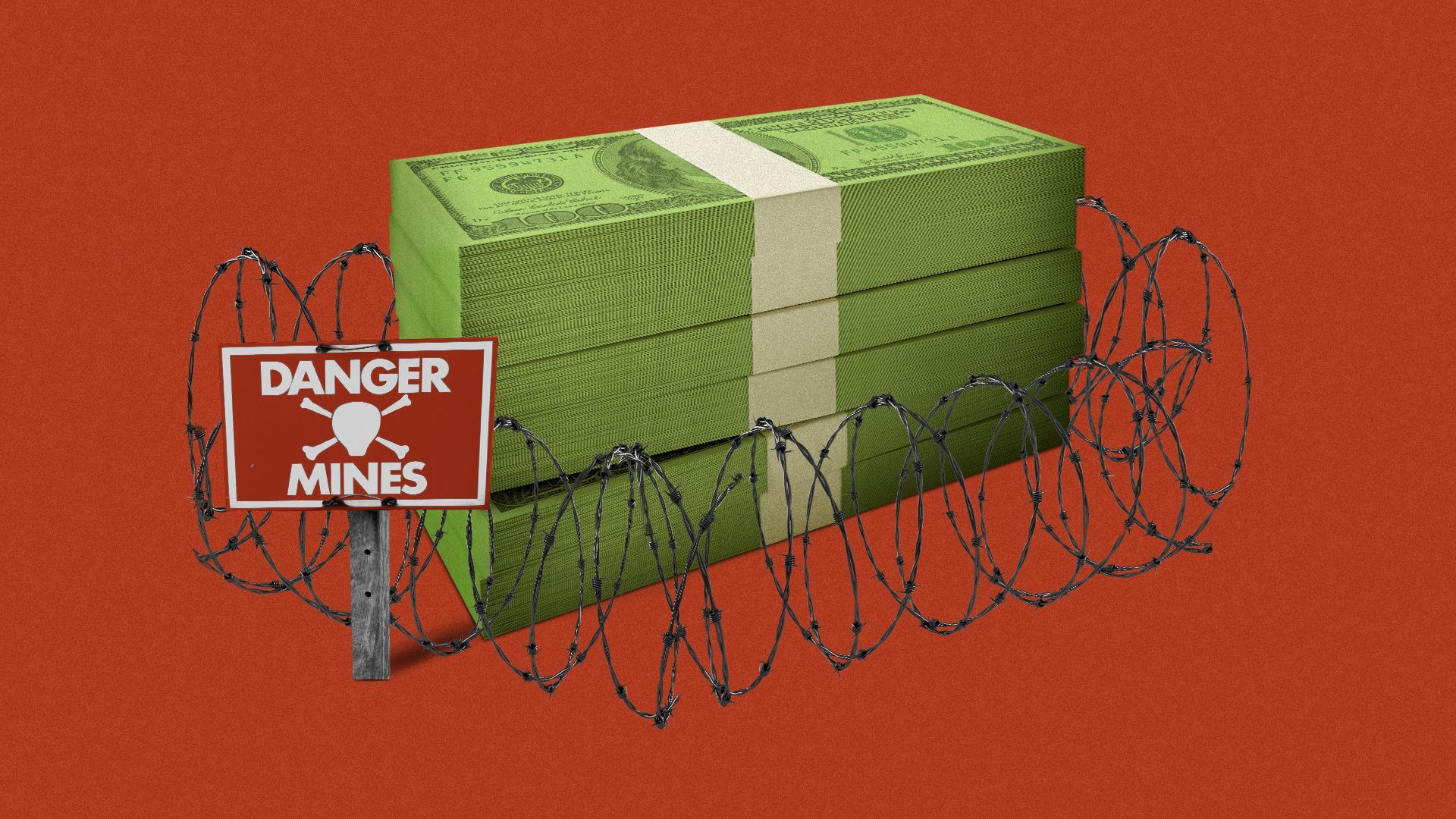 House Republicans' goal of passing all 12 appropriations bills this fall runs straight through internal rifts over spending levels and policy riders.
Why it matters: Few people seem optimistic that the House GOP will pass many more individual spending bills, let alone all remaining 11.
But the more they do pass, the thinking goes, the more leverage House Republicans will have later in negotiations with the White House and the Senate — and the more goodwill that leadership will have within the conference.
The big picture: Sources identified a handful of issues over spending levels and policy riders that are likely to become the most prominent among Republicans, and some have the potential to sink more than one bill.
"It's a balancing act on each bill that is unique to each bill. The trade-offs are different for every bill in terms of what conservatives want and what the moderates can live with," said Will Dunham, who was Speaker Kevin McCarthy's deputy chief of staff for policy until last year.
Many sources were skeptical that Republicans will be able to find that balance on more than a few spending bills. "I think we're going to hit a stopping point relatively soon," one GOP leadership aide told Axios.
And the fight over the White House's supplemental aid request for Ukraine could ultimately spill into the government funding process.
1. Donald Trump & the DOJ
As always, former President Trump is the elephant in the room, and some conservatives are pushing to address what they see as the weaponization of the Department of Justice through the appropriations process.
The bill funding DOJ is one of only two that have yet to pass the Appropriations Committee, although the subcommittee has approved a version that cuts FBI funding and "utilizes the power of the purse to address the weaponization of the" agency, according to a bill summary.
What they're saying: Some conservatives are itching for a fight following Trump's recent indictments.
"I will not vote to fund a weaponized government while it politically persecutes not only President Trump but all conservative Americans. The Biden Department of Justice has gone rogue, and the FBI are their henchmen," Rep. Marjorie Taylor Greene wrote in a statement this month.
Yes, but: Defending Trump could be politically toxic for more vulnerable members of the conference.
"That's a damned-if-you-do, damned-if-you-don't kind of one," said one former House GOP leadership aide — which is a reason to not even bring the bill to the floor, they added.
2. Abortion
Abortion riders are littered throughout the bills and became an issue even before recess.
Moderates raised concerns over a provision in the bill funding the Department of Agriculture reversing FDA guidance that allows the abortion pill mifepristone to be sent by mail and dispensed at retail pharmacies.
These concerns — combined with disputes over spending levels —ultimately prevented the Ag bill from coming to the floor before recess.
What we're watching: Bills funding the Departments of Defense, State, Health & Human Services, Veterans Affairs and Homeland Security all have provisions that would ban the use of federal funds for abortion.
"We know passing abortion bills is hard, and when you make every bill an abortion bill, your odds of success goes down," said Brendan Buck, a former aide to Speaker Paul Ryan.
3. Spending levels
The topline spending level has made headlines for weeks, but when it's time to consider individual bills, some will contain deeper or more politically problematic cuts than others.
The Interior-Environment spending bill, for example, cuts the EPA by nearly 40% compared with fiscal year 2023, and the chair of the subcommittee tasked with writing it even called it "ugly" but "necessary."
Another bill contains deep cuts to the Treasury Department. "They want to take so much out of Treasury, Treasury is not going to be able to serve small businesses, some of the moderates and senior Republicans feel," the former GOP leadership aide said.
"The level of cuts that conservatives are demanding to these bills, the IRS won't be able to process tax returns," the former aide added. "At some point you're cutting into muscle, not fat."
Between the lines: The conventional wisdom is that moderate members have always ended up being team players and voting for what leadership asks them to, but that's true only until it isn't.
"It's possible the mods start going, this is a bridge too far," the current GOP leadership aide said.
Conservatives have made clear that they're serious about wanting deep cuts.
4. Border security
Some members have already threatened to block the Homeland Security bill absent immigration-related reforms.
The intrigue: Some sources were optimistic that the conference would be able to strike an agreement on what those demands actually look like, given House Republicans have already passed an immigration bill this year.
Others said passing the DHS spending bill is a long shot.
"I think Homeland is going to be next to impossible to do, even though we passed an immigration bill. The immigration bill was ridiculously difficult to get across the floor," the current GOP leadership aide said.
The bottom line: Sources said that leadership still has plenty of incentive to pass as many appropriations bills as possible.
Doing so could both help avoid a government shutdown and arm House Republicans with a stronger hand heading into negotiations with the Senate and the White House. But failure could have the opposite effect.
"When at the end of this process, McCarthy has to throw up his hands and say we're not doing any more of these, I don't see how that leads to a more conservative outcome," Buck said.
"If you truly believe House leverage is a thing that can be created by passing bills, how are you advancing the cause by pushing the bills so far to the right that the House simply can't have a position?"
Go deeper