The policy fights to watch this fall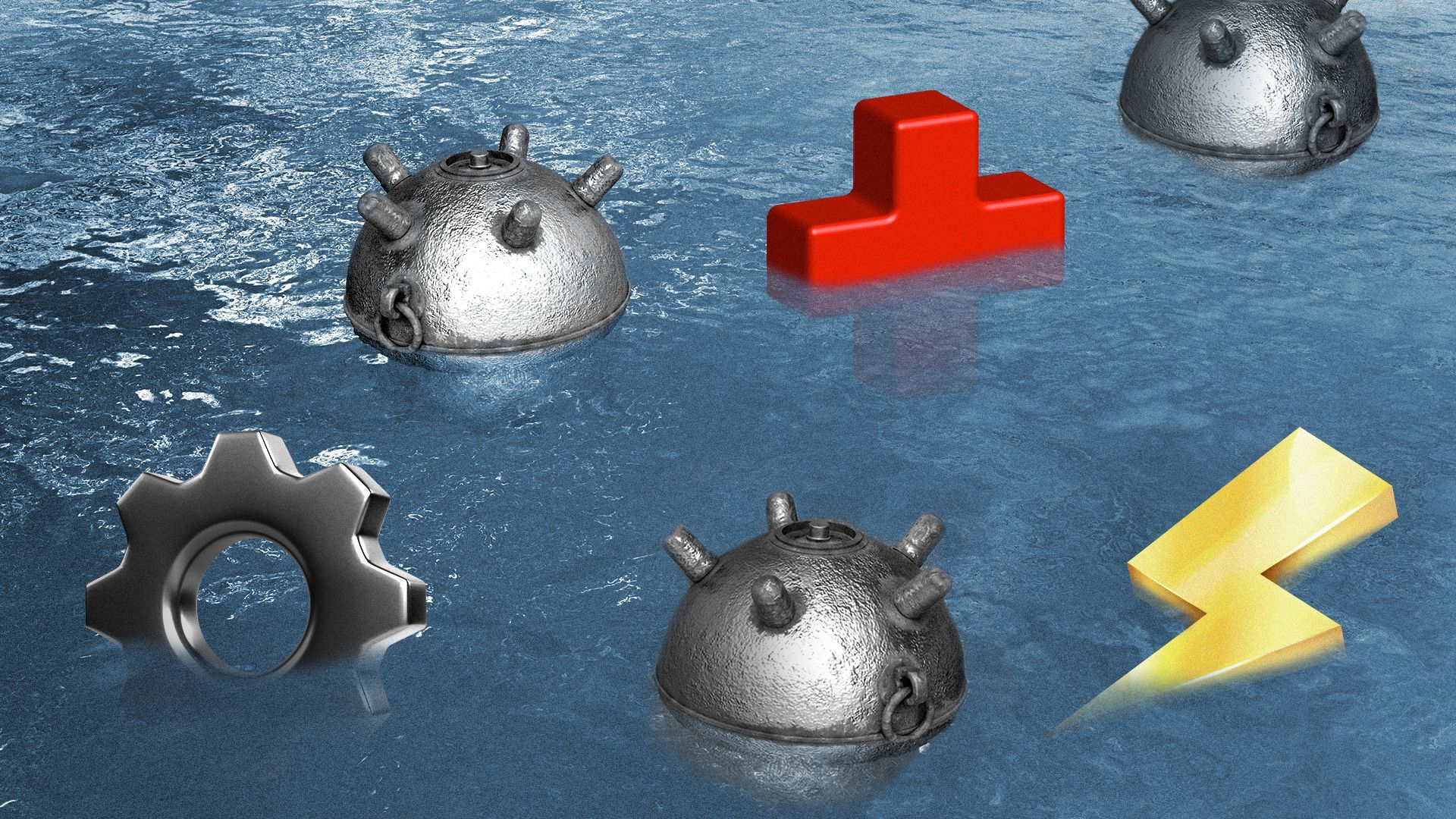 Some policy issues that are up in the air heading into the appropriations showdown this fall aren't going to shut down the government but could still create interesting political tensions and alliances.
What we're watching: Here are the key policy riders in health, tech and energy.
Health
Many of the abortion-related riders and deep spending cuts are nonstarters among Democrats, but one area to watch is NIH funding for "gain of function" research, Axios' Victoria Knight flags.
The topic has emerged during COVID select subcommittee hearings as a potential area for bipartisan reform.
The House GOP bill funding the Department of Health and Human Services contains deep cuts to the NIH and prohibits any funding for EcoHealth Alliance, labs in China, Cuba, Iran, North Korea, Russia or Venezuela, and gain of function research.
NIH funding overall is unlikely to get the bump it has in recent years, as President Biden's 2024 budget already proposed the smallest increase in years.
Tech
The Federal Trade Commission and the Justice Department are both seeking more funds for their respective competition and antitrust divisions at a time when the federal government is eager to reel in dominant companies across all industries, especially tech, Axios' Ashley Gold writes.
The FTC is requesting a budget increase of $160 million, bringing it to $590 million annually, with the ability to hire 310 more full-time staffers.
But House Republicans interrogating FTC chair Lina Khan in July accused her of making the agency politicized and overzealous in enforcement. Numerous Republicans in both the House and Senate have pushed back at the idea of giving the agency more funding.
The DOJ is asking for a total of $324.8 million and 656 more attorneys for its antitrust division in 2024, nearly $100 million more than the year prior.
Axios' Maria Curi points out that House Republicans want to prohibit funding various National Science Foundation programs aimed at boosting diversity in STEM and combating climate change.
Another provision in the House bill would prohibit funding to carry out an Office of Science and Technology Policy memorandum to ensure free, immediate and equitable access to federally funded research.
Democrats will oppose all of this, but it could still make it into the final deal because many lawmakers don't realize what exactly is in the Chips and Science Act, let alone what hasn't yet been funded.
Energy
A big item to watch is a restriction on DOE money going to companies that engage in commerce with "entities of concern," according to Axios' Jael Holzman and Nick Sobczyk.
This could amount to a de facto DOE funding ban to companies that do business with China — which could be a massive disruption to how the Biden administration funds an energy transition.
There's bipartisan support in theory for keeping Chinese companies away from DOE money, but this provision could both damage Dems' climate agenda and raise some red flags for lawmakers who have national labs or military ties in their districts.
Another rider to watch, per Nick: a provision in the House energy-water bill to stop DOE's gas stove efficiency rules.
Sen. Joe Manchin got a provision attached to the Senate bill preventing the Consumer Product Safety Commission from banning gas stoves.
That suggests something on gas stoves could end up in a final spending deal.
Go deeper