Congress takes its first crack at PBM reforms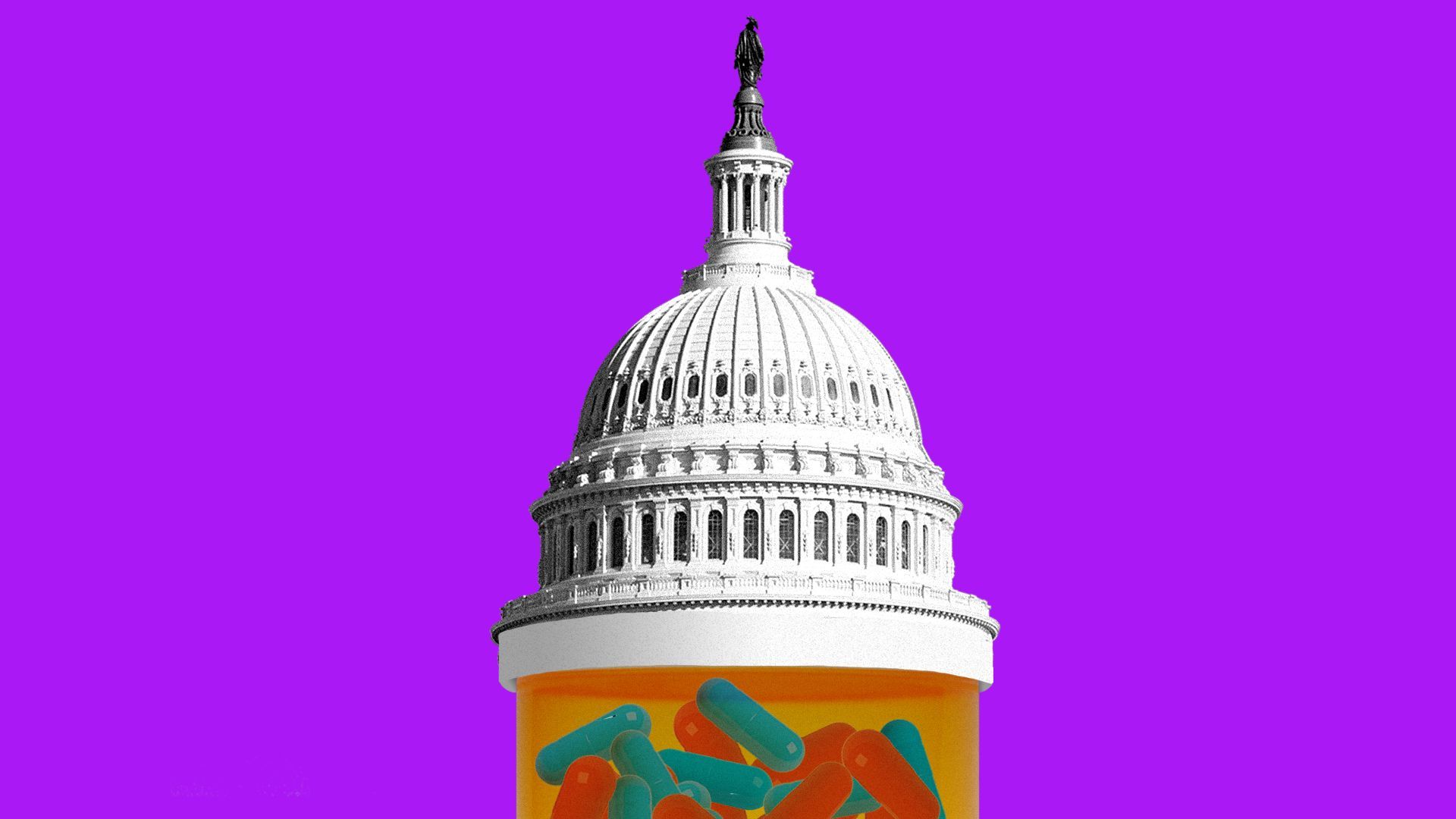 It feels as though about a million PBM-related bills are moving through Congress right now — so we decided to ask the experts whether patients would actually feel any impact if they pass.
The big picture: The measures would not have an earth-shattering effect on the (high) drug prices in the United States. But backers say they could remedy some misaligned incentives and make modest improvements.
"I think these PBM reforms are in many cases tinkering around the margins, but a really important place to start, and I hope Congress continues to do even more on the PBM front," said Sarah Kaminer Bourland, legislative director of Patients for Affordable Drugs Now.
Driving the news: She pointed to two areas in particular as benefiting patients:
The "delinking" provision in the Senate Finance bill, which would move PBMs' pay to a flat fee instead of being based on the price of a drug. The idea is to remove an incentive for PBMs to prefer higher-priced drugs — lowering costs for patients who have to pay coinsurance based on the list price.
Cracking down on PBMs steering patients to their own pharmacies. The House bills would impose transparency requirements on this practice, while the Finance bill would restrict the circumstances in which it can occur.
What they're saying: "If your only option is a CVS and not, you know, the mom-and-pop pharmacy you've gone to for decades ... that's something that really impacts patients and impacts kind of their trust in the system," Bourland said of the pharmacy provision.
Some provisions are more muddled in their potential effect on patients. The Senate HELP bill would ban "spread pricing," in which a PBM charges a health plan more than it pays a pharmacy for a drug, and the House E&C bill would ban the practice in Medicaid.
Ge Bai, a professor of health policy and management at Johns Hopkins, said the impact on patient costs would be "questionable" if spread pricing is banned, and that the policy could do more to benefit pharmacies than patients.
Between the lines: The Senate HELP bill would also require PBMs to pass on 100% of rebates to health plans (but not necessarily to patients).
"I think putting it into law that you must pass 100% of the rebate through to the plan is a good start," Bourland said. "But there is nothing in these bills that says the plan must then use that rebate cash to lower premiums for patients, and that's when some of these bills kind of fall short of what we would want."
Alex Brill, CEO of the economic consulting firm Matrix Global Advisors and a senior fellow at AEI, said it is "unnecessary" to require PBMs to pass the rebates along to plans.
"You have to have a theory of why you need the government to intervene between the PBMs and the employers and say like, 'We know better,'" said Brill, who has written papers sponsored by PCMA.
Yes, but: Although PBMs play a role in pricing, drug manufacturers are the ones that set list prices to begin with.
Greg Lopes, a PCMA spokesperson, warned in a statement that the legislation under consideration "clearly benefits Big Pharma by weakening pharmacy benefit companies' ability to lower drug costs."
He pointed to targeting drug companies' abuse of the patent system as a way to "actually lower drug costs."
And Sen. Sheldon Whitehouse says it would be a mistake for Congress to focus too narrowly on PBMs.
"I'll be the first to concede that there is work to be done to improve the behavior of pharmacy benefit managers," Whitehouse said at the Finance markup last month.
But he warned that Congress should not take its "eye off the ball" and become a "tool of the pharmaceutical industry" by diverting attention from drug companies themselves.
What to watch: It's a pretty tall order for any of these bills to get through a divided Congress, even with the bipartisan interest.
But if they fail, keep your eye on transparency measures — a lowest-common-denominator way of taking on health costs — to end up in a possible year-end package.
Go deeper