March 21, 2023
🌸 It's a sunny day on cherry blossom week here, and we've got solar on our minds.
Wait almost over: Get $200 off your subscription to Axios Pro Tech Policy and read our preview newsletters by using code POLICYLAUNCH at checkout.
Mark your calendars to join Axios Pro on March 30 at 6pm ET at Hawk 'n' Dove in D.C. for a happy hour celebrating the launch. Register here to attend.
⭕️ We've been asking sources for the last song they listened to, but today we have one from one of us. Nick's been jamming out to Phish's Feb. 28, 2003, performance of "Tweezer." Check it out.
1 big thing: Solar's CRA woes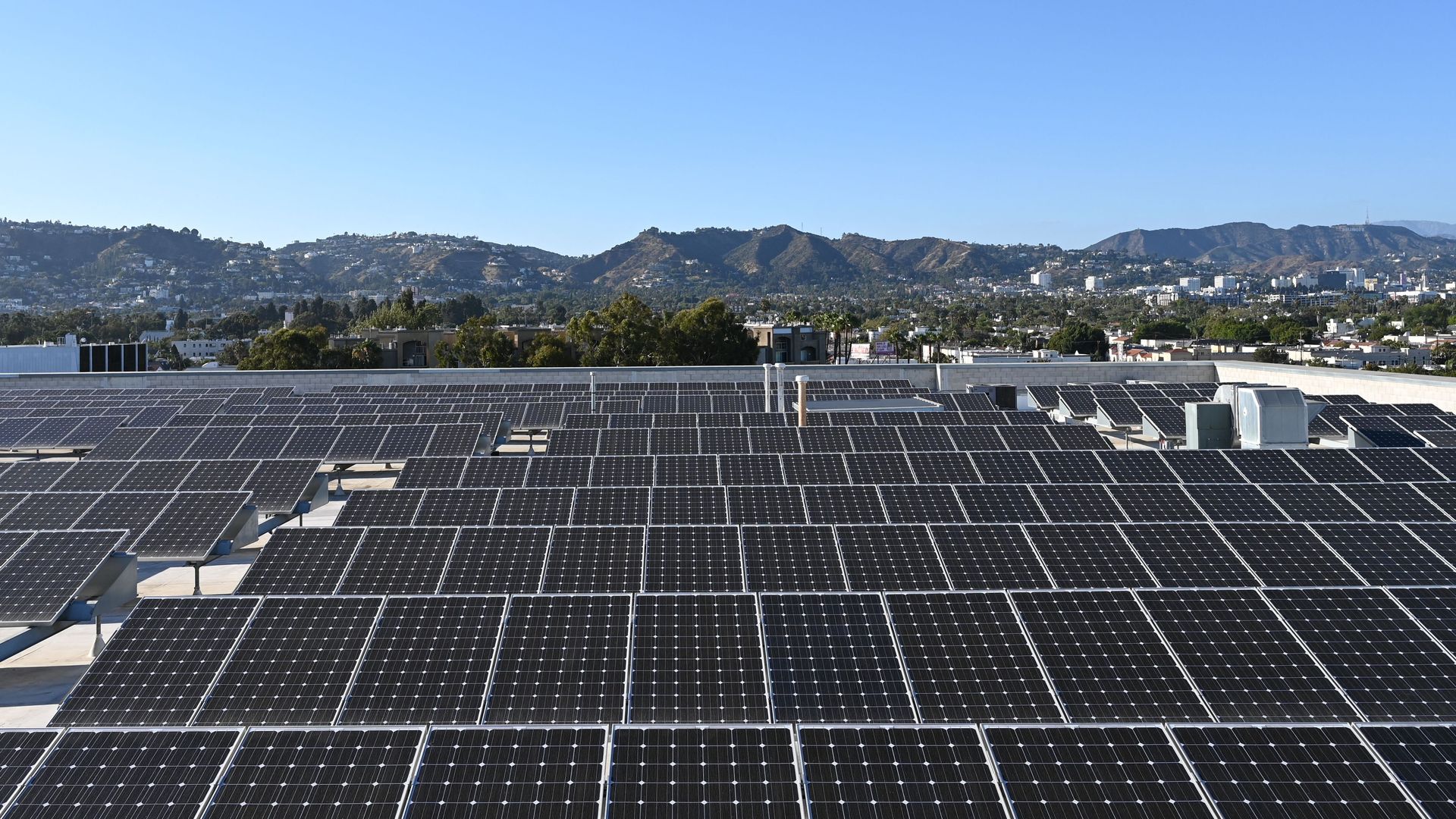 ⚔️ Unusual bipartisan battle lines are emerging in the coming Hill fight over solar tariffs, Nick writes.
Why it matters: Tossing out the tariff waiver would have massive financial implications for the U.S. solar industry, which currently relies on cheap imported panels.
Driving the news: A bipartisan group is pushing for a Congressional Review Act vote to overturn the Biden administration's pause on levies for solar panels imported from four Southeast Asian countries.
Because it doesn't cut neatly across partisan lines, this could be the most substantively important CRA resolution Congress takes up this year.
Details: The issue isn't quite ripe on the Hill yet. Several lawmakers Nick talked to either weren't familiar with the issue or weren't willing to discuss it publicly.
Context: The Commerce Department, after a petition from U.S. manufacturer Auxin Solar, launched an investigation last year into whether companies were using Cambodia, Malaysia, Thailand and Vietnam to circumvent tariffs on Chinese panels.
In a preliminary finding in December, Commerce said some companies had indeed funneled their products through those countries to skirt U.S. border fees.
But Biden preemptively issued the two-year waiver, allowing duty-free imports from those countries to continue through 2024.
The intrigue: The tariff waiver highlights the political tensions Biden is navigating, as he tries to build domestic solar manufacturing capacity and deploy huge amounts of new renewable power in the near term.
Solar projects in the U.S. rely so heavily on China because it controls more than 80% of the panel supply chain.
"If we're serious about addressing climate change, we have to allow time for that transition," ACORE CEO Greg Wetstone told Nick.
SEIA says ending the waiver would force companies to pay more than $1 billion in retroactive fees and undermine the climate policies Democrats enacted in the IRA.
What they're saying: "I don't think many people believe we ought to continue to buy solar panels from China," Rick Scott, the lead CRA sponsor in the Senate, told Nick.
Sherrod Brown and Bob Casey recently wrote Biden, arguing that "circumvention of U.S. trade law ... is harming American workers and industry."
"We can't have a loophole around this," said Ro Khanna, a House cosponsor.
Zoom in: The Michigan delegation offers some insight into how this dynamic might play out among Democrats.
In the House, Dan Kildee is a lead sponsor of the resolution.
Debbie Stabenow acknowledged the solar industry's concerns and said a two-year pause "makes sense to me."
"I haven't looked at all that closely, but in general, we need to transition so that we are doing the manufacturing here," she told Nick as she left the Capitol last week.
But she also pointed to Michigan's Hemlock Semiconductor, a major producer of polysilicon, as an example of a company that has been hit by "unfair trade" with China.
Yes, but: The industry's allies on the Hill are confident that the resolution won't get enough support to override a Biden veto.
"Not worried at all," Sen. Brian Schatz told Nick.
What we're watching: Finance Chair Ron Wyden is a key figure, since he leads the Senate committee of jurisdiction.
Wyden said last year he had "significant concerns about gifting Chinese producers — wherever they're located — a two-year delay in penalties."
"I've heard some discussion of various forms," he said this month when Nick asked him about the CRA resolution.
View archive