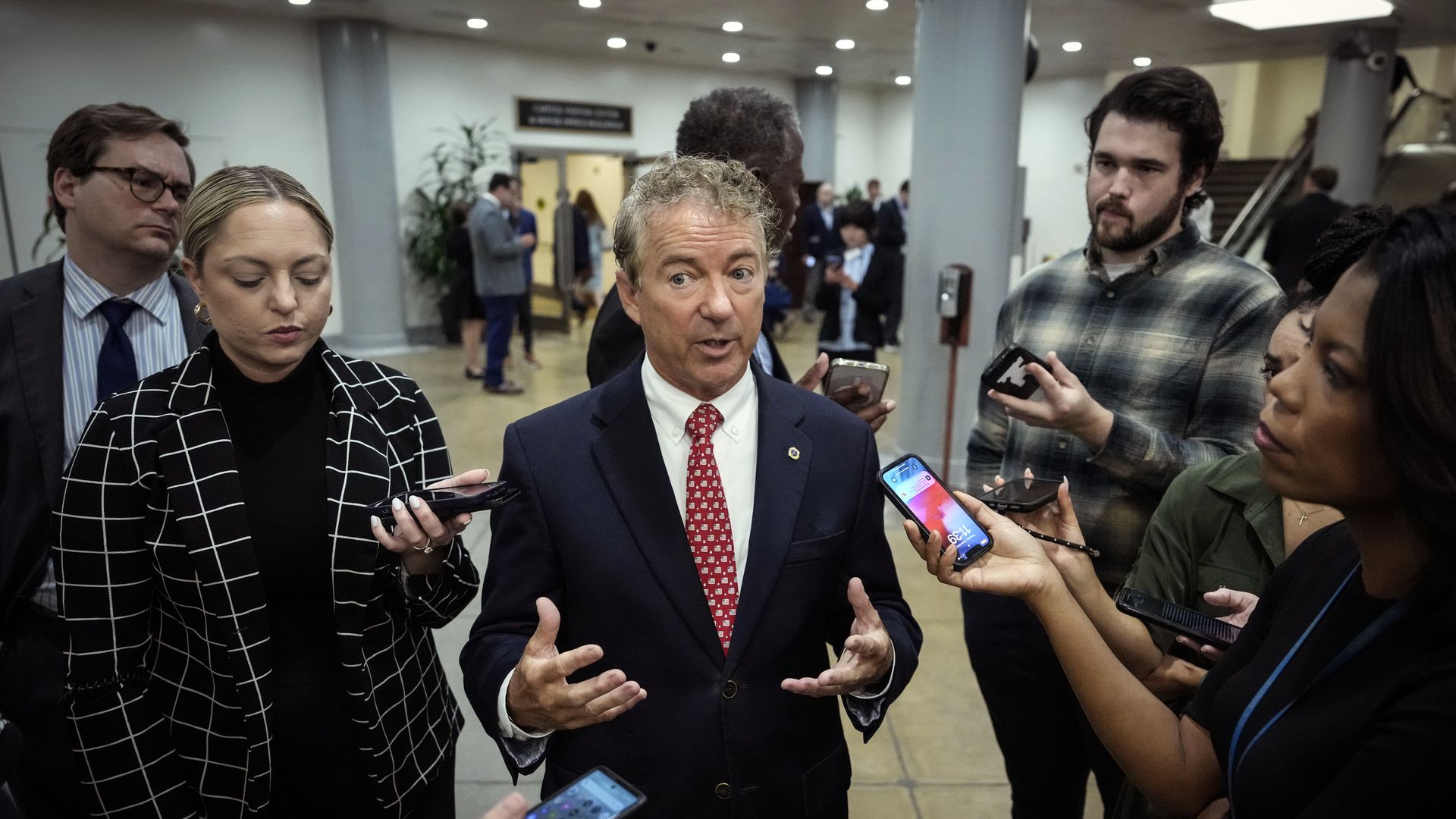 The Senate still has no real path to reauthorize the government's chemical facility anti-terrorism program, despite numerous warnings from top officials and industry.
Why it matters: Industry is increasingly on edge about the Chemical Facility Anti-Terrorism Standards program lapsing for more than three months. The Israel-Hamas war is only heightening concerns that U.S. chemical facilities are vulnerable.
"There's nothing out there from a private sector perspective that provides the in-depth review of the various terrorist screening databases that are through the federal government," said Eric Byer, CEO of the National Association of Chemical Distributors.
Companies are "concerned about the heightened state of security," Byer added.
Driving the news: When asked if there's been any progress, Senate Homeland Security Chair Gary Peters told Axios, "No, not yet."
"We're going to look at any route we can, but right now, we have significant opposition from [Sen. Rand Paul]."
So Axios asked Paul, who ticked off a list of demands for the Biden administration. He wants information on COVID origins and on "meetings that DHS and FBI have been having to discuss content on the internet with social media platforms."
"When we start getting some cooperation with the administration … perhaps we'll extend cooperation from ourselves," Paul said.
Zoom in: Hard-core conservatives have long argued that CFATS is unnecessary.
When Paul blocked quick passage of the reauthorization back in July, he argued that "every company has a self-incentive to protect hazardous chemicals."
At the time, he said he'd allow it to move if lawmakers added his legislation to prevent duplicative federal programs as an amendment.
Paul now appears to be the lone obstacle. The reauthorization passed the House 409-1, and Sen. Ron Johnson — another CFATS critic — told Axios he probably wouldn't join Paul's blockade.
What they're saying: Currently, the Cybersecurity and Infrastructure Security Agency, which oversees CFATS, cannot inspect more than 3,000 "high risk" chemical facilities, Homeland Security Secretary Alejandro Mayorkas told lawmakers this week.
"Historically, more than a third of inspections identify at least one gap in a facility's security," he said.
That can mean "improper storage or … the hoarding of particular chemicals without the appropriate safeguards," he said.
Between the lines: This is a rare regulatory program that industry loves, but there's also real discussion about modernizing CFATS.
House Homeland Security Chair Mark Green said earlier this year that a two-year reauthorization would give lawmakers time to "consider issues and challenges with CFATS and make the necessary reforms."
To that point, GAO issued a report in 2021 that found CFATS overlaps with other federal programs.
What to watch: GOP infighting over senators blocking national security measures over their policy preferences (see: Tuberville and military nominations).
Go deeper