Wyden's hydrogen credit "guardrails"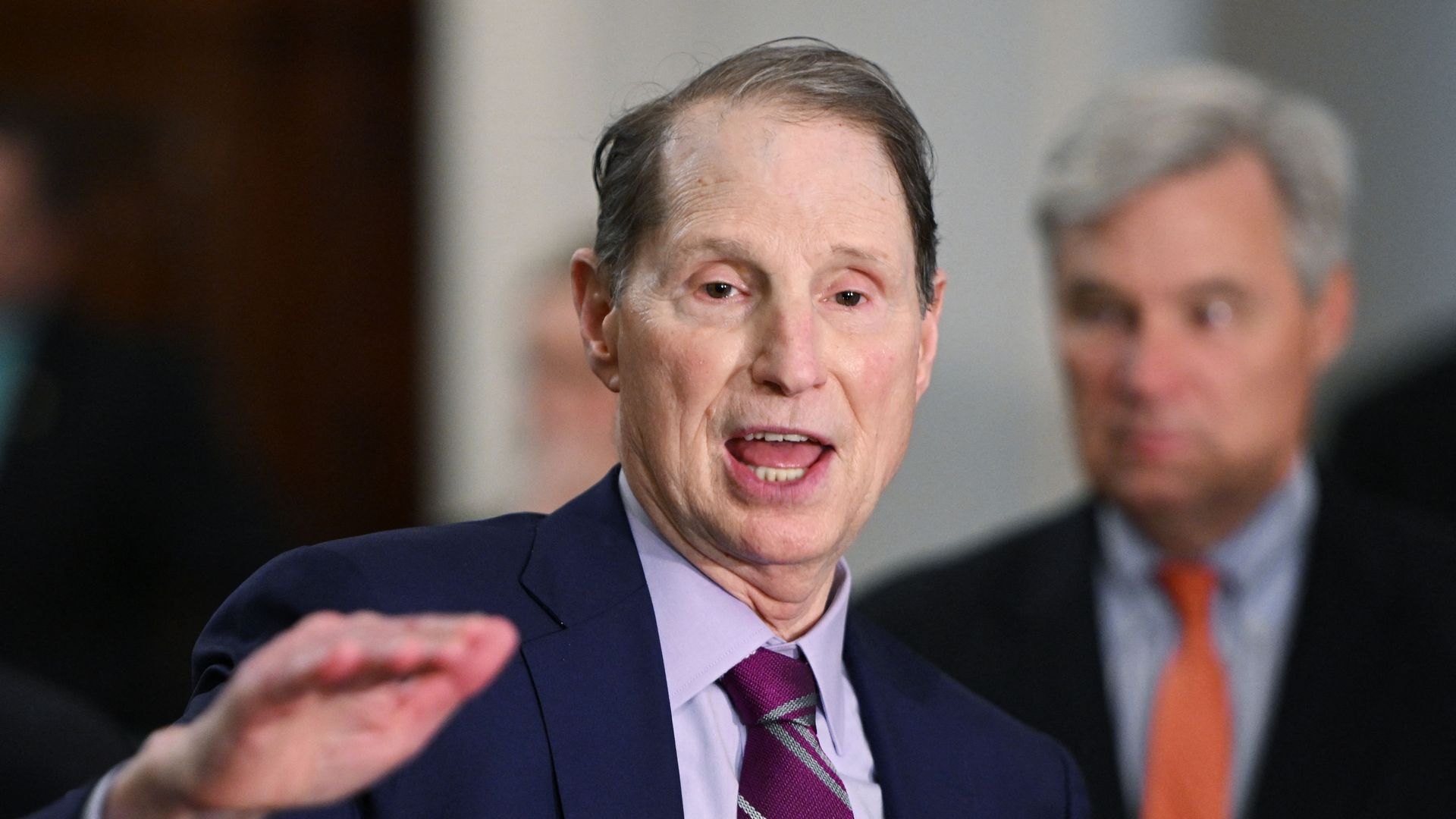 Sen. Ron Wyden, an architect of the Inflation Reduction Act, has urged the White House to set "guardrails" for a new hydrogen tax credit.
Why it matters: The Senate Finance chairman joins a chorus of renewables representatives and climate advocates seeking requirements for the credit's implementation to help skirt carbon emissions increases from a hydrogen boom.
The Biden administration and many congressional Democrats see hydrogen as a crucial plank in achieving broader climate goals.
Driving the news: Wyden told Axios in the Senate basement Tuesday night that he'd spoken with the White House about ensuring there are "straightforward guardrails" for the hydrogen tax credit.
"It's really important if you're going to be serious about decarbonizing," Wyden said, adding that he'd made a similar pitch to Biden climate czar John Podesta.
Without specifying his guardrail preferences, Wyden said he's seeking "a balanced package" that "will be appealing to both environmental folks and people in the industry, the innovators."
Catch up quick: The IRA included a tax credit for companies producing "clean hydrogen," a fuel that doesn't produce greenhouse gas emissions when burned.
But environmentalists fear industry growth left unchecked could create a spike in emissions from the energy needed to produce the fuel and any straining of the grid, similar to their concerns about a U.S. crypto boom.
Motivated by those worries, advocates are pushing the Treasury Department to use a three-pronged strategy to ensure the IRA hydrogen tax credit doesn't accidentally hinder climate progress.
Last week, the American Clean Power Association came out for at least two of advocates' prongs. One was a requirement that qualifying hydrogen facilities build new renewable energy to power their operations; the other was that the credit be "time-matched" more precisely to when facilities use lower-carbon power.
The hydrogen fuel cell sector, meanwhile, maintains that these would be potential speed bumps in front of its growth trajectory.
The intrigue: Other Senate Democrats told Axios they were similarly troubled about the potential emissions from a blossoming hydrogen business.
Sen. Martin Heinrich told Axios that hydrogen electrolyzers powered by fossil fuels on the existing grid are "not what we want to incentivize."
"We want to get to actual clean hydrogen," Heinrich said. "This administration has done a good job of figuring out how to set these rules in a way that recognizes that you have to walk before you can run. But you want to get to run."
Sen. John Hickenlooper told Axios in a Senate elevator: "Certainly, we should be looking at the full life cycle of everything we are incentivizing."
"If you're looking at unfettered hydrogen growth, what does that mean? Does that mean reduced emissions down the road? That's what [industry's] argument is. Is that real? I have not seen that data set."
To Sen. Sheldon Whitehouse, hydrogen brings to mind biofuels, a popular fossil fuel alternative with some negative climate trade-offs.
"Ethanol's a climate loser," he told Axios. "It was going to open up the pathway so that ... switchgrass and other green solutions could emerge. They haven't, so maybe that's a lesson."
What we're watching: We expect Treasury to speak on this later in the summer. The IRA gave a year from enactment to do "regulations or other guidance," and the law came into effect last August.
Go deeper