Progressives, permits and democracy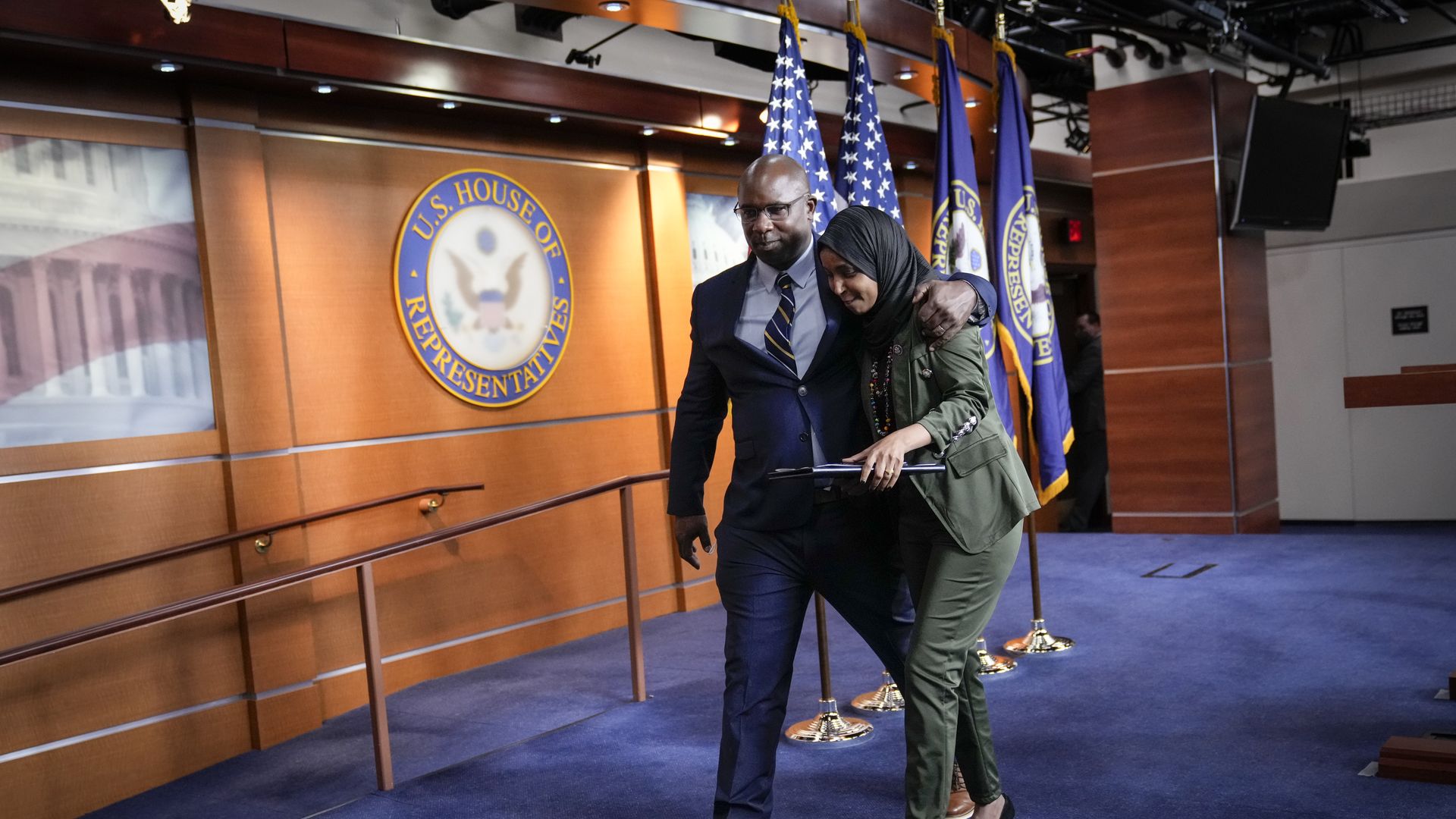 The congressional left is concerned that a potential permitting agreement could erode small-d democracy — a tension that any bipartisan deal will need to address.
Why it matters: Many Democrats want to strengthen — not streamline — bedrock conservation laws to bolster environmental justice. Some are concerned a deal would do the opposite.
There's plenty of hand-wringing right now around D.C. about some grand bargain on permits ungluing debt talks, appeasing Joe Manchin and maybe — just maybe — helping cut carbon emissions.
At least some votes on the left will be key to a permits deal unless there's a magic bill that unites the entire GOP and can get President Biden's signature 🤷🏼‍♀️.
House Republicans have tied permitting policy to a debt fix. So all eyes are now on permit bill negotiators to decide if a bipartisan deal can be struck in time to avoid a crisis — or that, maybe, this isn't the time for a deal.
Between the lines: The left's big complaint is that environmental laws are failing to protect marginalized communities disproportionately hit by all sorts of industrial pollution.
The Manchin permitting plan, which has public White House support, would put new guardrails on when people can sue to stop or invalidate project permits.
It would also put "shot clocks" on permits — a race to issue project decisions that critics charge is antithetical to boosting public input.
The Biden administration is taking some steps to address these concerns, including staffing up permit offices and plussing up their funding.
It also has punished certain polluting projects that activists say are symbols of environmental justice, like those along "Cancer Alley" in Louisiana.
What they're saying: Three key House progressives spoke with Axios about permitting, justice and democracy …
… and two cited crucial "no-gos": A deal can't help fossil fuel projects and/or erode community consent.
Take Jamaal Bowman, who would support a permits deal only if it "doesn't sacrifice our democracy" and "means [we] stop drilling for fossil fuels."
Bowman theoretically supports faster public input processes, noting that "in our world of the internet of things, we should be able to receive public input pretty quickly, pretty instantaneously."
But he's firmly opposed to "streamlining" permits. "We're not streamlining. That's not happening," Bowman said with a chuckle. "You can't streamline permitting. Are you kidding me right now?"
Ilhan Omar also said that members of the public should have more rights to oppose projects they don't want — not fewer opportunities to weigh in.
"I think communities should be given the authority not just to have their voice heard when rulemaking is happening, when things are happening, but also even after the projects are approved," she said.
Raul Grijalva, House Natural Resources' top Democrat, said he's worried the "limited protections" in place today could vanish with a permits deal.
"The incinerator communities in L.A., the uranium dump contamination on the Navajo nation … not only would it continue, but [the issues] would spread," he told Jael outside the House chamber.
"It's a public health issue, it's a fairness issue and it's a justice issue.… Every time we have these conversations about deregulation, about expediting, the communities that get hurt are the communities that have been hurt."
What they're doing: Jared Huffman is leading a Congressional Progressive Caucus task force on permitting policy geared toward greasing skids for climate policy without necessarily easing fossil fuel development.
Go deeper