Checking in with wireless EV charging startup WiTricity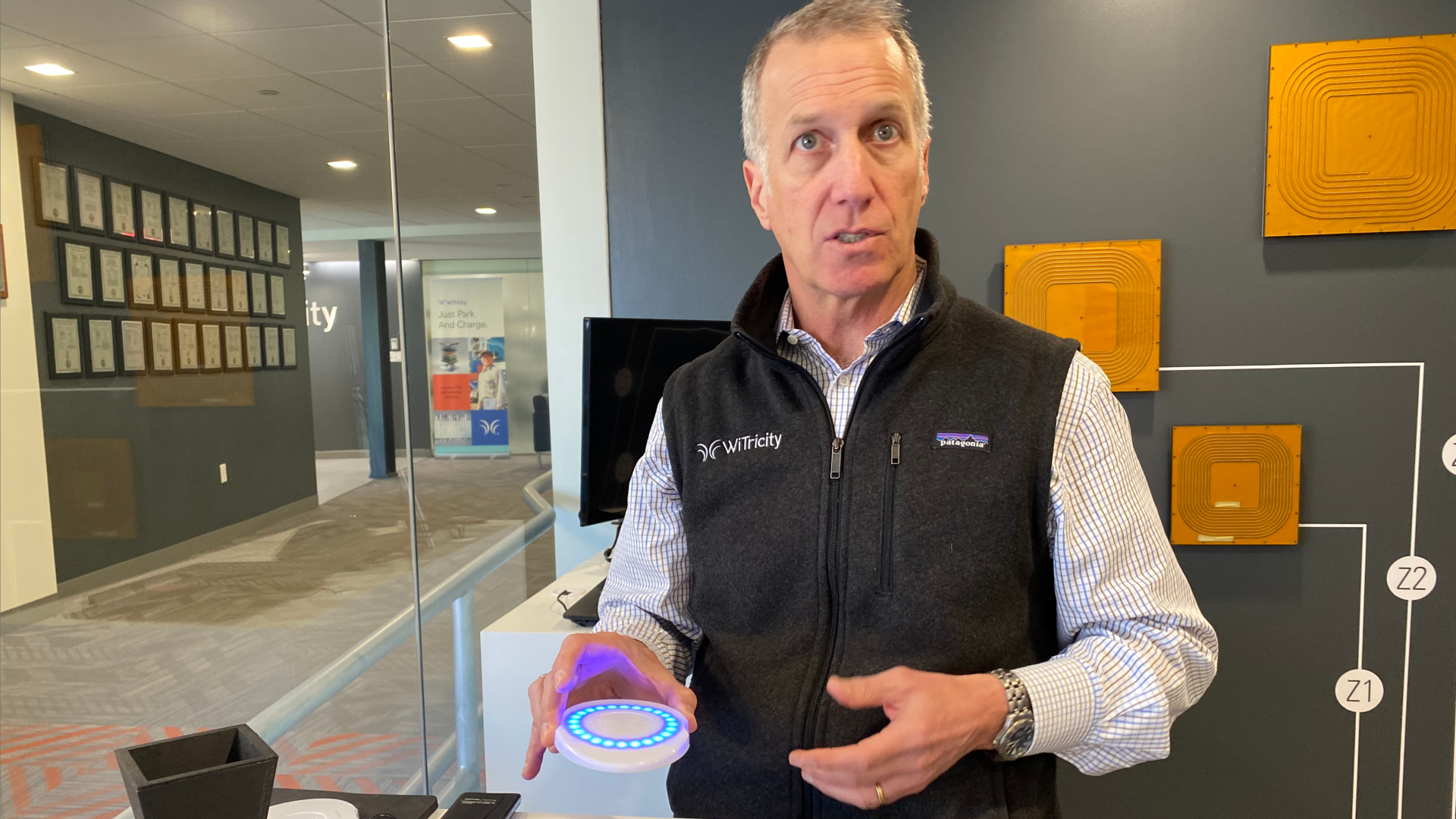 Park, walk away, return to a full charge — wireless charging might be the most sought-after and elusive capability for electric vehicles.
Why it matters: One such developer in the U.S., WiTricity, is entering commercial production this year.
I road my e-bike to the company's headquarters in Watertown, Mass., down the road from my apartment, to check out the latest.
What's happening: WiTricity is initially targeting passenger and light-duty commercial fleets.
The manufacturing ramp-up marks a transition from licensing.
Meanwhile, Hyundai has adopted the tech for some of its vehicles in South Korea.
At 11 kw, the charger adds 30-35 miles per hour. That's faster than most Level 2 chargers, which tend to be 7 kw.
By the numbers: The company raised $63 million last August, anchored by $25 million from Siemens AG.
It anticipates another funding round next year. It's raised more than $200 million to date.
How it works: WiTricity boxes are installed in a car's undercarriage.
A driver steers into a normal-seeming parking spot. A charging pad either on the ground or beneath the surface then tops up the car.
Zoom out: Investment in EV charging of all types is on track to crest $100 billion this year, much of it driven by China.
Manufacturers have meanwhile coalesced around a set of standards for wireless charging, removing a major roadblock to adoption.
What we're watching: "When a market is all EVs, you shift from, 'Should I buy an EV' to 'Which EV should I buy?' feature-differentiation becomes really important," Gruzen says.
Plus: Keep an eye on futuristic-seeming autonomous valet services, which enable garages to pack cars like sardines.
"Anyplace there's autonomy you need autonomous chargers," Gruzen says.
Go deeper