Early greetings from New York City, where I'm heading over to the DealBook conference to watch the first public interview with new Uber CEO Dara Khosrowshahi. Plus a particularly timely one with AT&T boss Randall Stephenson. Full coverage over at http://axios.com. Okay, here we go...
Top of the Morning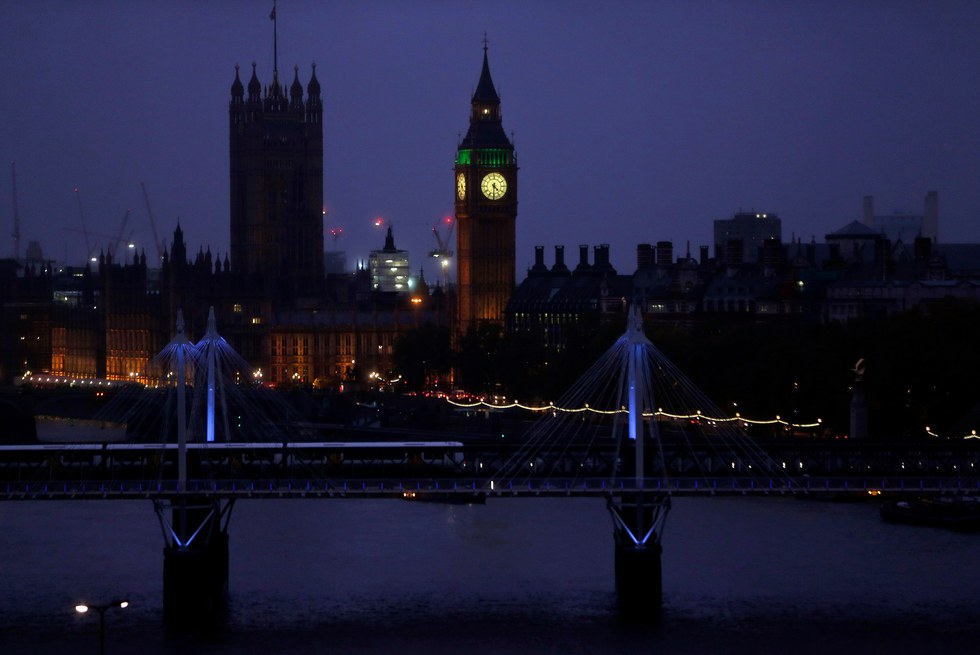 AP Photo/Lefteris Pitarakis
Shervin Pishevar, a Silicon Valley venture capitalist who has backed such companies as Uber and Hyperloop One, this past May was arrested at a luxury London hotel for sexual assault. He denied the allegation and, following an investigation, police declined to press charges. It was not publicly reported at the time — partially because Pishevar went to court to keep his name out of the local papers, and partially because British police neither disclose nor confirm such information in the absence of formal charges.
But Pishevar began breaking his silence earlier this week via a lawsuit filed against a U.S. political opposition research firm that he believes spread misinformation about both the London incident and other alleged transgressions. You can read more here, including Pishevar's statement about the arrest.
• Up and to the right: The U.S. IPO market has generated $32.1 billion in proceeds so far in 2017, which tops the annual totals for either 2015 or 2016, per Renaissance Capital. It still remains a fraction of annual totals for either 2013 or 2014.
• ICYMI: Carl Icahn has been subpoenaed the the U.S. Attorney for the Southern District of New York over his role as an unpaid advisor to President Trump on deregulation. At issue is Icahn's advocacy for changes to a federal biofuels program that would have benefited CVR Energy, in which he holds an 82% ownership stake. More here.

• Getting ready: Josh Harris, a senior Apollo Global Management exec who "trusts the process," gave the following market analysis during his firm's Q3 earnings call:

"Anything in the public market today is overvalued because of the quantitative easing that's going on, central bank wise. So, we have got to get off to run. And so, we are trying to stay ahead of the wave of money that hits the market and really develop arbitrage opportunities in credit."
The BFD
Source: Giphy
The U.S. Department of Justice has told AT&T (NYSE: T) that it may be required to sell either Turner (parent company of CNN) or DirecTV as a condition of approval for its proposed $85 billion acquisition of Time Warner (NYSE: TWX), per sources and other reports. AT&T said in a statement that it has neither offered to sell CNN, nor would it.
Why it's the BFD: Because this would mark a major philosophical – and possibly legal – shift for federal antitrust regulators, who historically have allowed vertical mergers so long as the buyer agrees to certain operating conditions. DoJ's possible argument is that AT&T can have either the hammer (video streaming via DirectTV) or the nail (content via CNN, etc), but the combination is just too powerful. More on that from Axios' David McCabe.
Camera ready: I discussed the merger earlier this morning on CNBC. Video here.
Bottom line: The leaks suggest that the regulatory process is heading for a final turn, and that participants are seeking some public leverage. Already, some on the left have found themselves in the unexpected position of defending this massive media consolidation play, under a thesis that DoJ is reflecting the wishes of President Trump, who opposed this deal on the campaign trail and who has been a vocal critic of CNN.
Venture Capital Deals
• Nio, a Chinese electric vehicle maker, has raised more than $1 billion in new funding at around a $5 billion valuation, according to Reuters. The round was led by insider Tencent Holdings. http://axios.link/zDKV
🚑 Tricida, a South San Francisco-based based developer of non-absorbed oral drug therapies, has raised $57.3 million in Series D funding. Wellington Management and Venrock and Cormorant Asset Management were joined by return backers OrbiMed, Longitude Capital, Sibling Capital Ventures, Limulus Venture Partners and Vivo Capital. www.tricida.com
🚑 Exonics, a Cambridge, Mass.-based developer of CRISPR technology to repair mutations causing Duchenne muscular dystrophy and other neuromuscular diseases, has raised $40 million in Series A funding from The Column Group. http://axios.link/U0SJ
• Natural Cycles, a Swedish provider of fertility software, has raised $30 million in Series B funding. EQT Ventures led the round, and was joined by Sunstone Technology Ventures, E-ventures and Bonnier. http://axios.link/fAT4
• Qubole, a Santa Clara, Calif.-based big data-as-a-service startup, has raised $25 million in new VC funding. Singtel Innov8 and Harmony Partners co-led the round, and were joined by return backers CRV, Lightspeed Venture Partners, Norwest Venture Partners and IVP. http://axios.link/IDC9
🚑 Fortuna Fix, a regenerative medicine startup focused on Parkinson's disease and spinal cord injuries, has raised $25 million in Series B funding from firms like Amgen Ventures, Salamander Invest and Rajah Blue Holdings. http://axios.link/7m6N

• Panorama Education, a Boston-based provider of survey and analysis programs for K-12 education, has raised $16 million in Series A funding. Emerson Collective led the round, and was joined by Spark Capital, Owl Ventures, SoftTechVC and the Chan Zuckerberg Initiative. http://axios.link/qYXG
• Broker Genius, a New York-based provider of dynamic pricing technology for the secondary ticket market, has raised $15 million in Series A funding from Volition Capital. www.brokergenius.com
• Hostmaker, a London-based Airbnb management service, has raised $15 million in Series B funding. Thai real estate developer Sansiri and Hong Kong-based Gaw Capital co-led the round, and were joined by return backers DN Capital, Ventech and DSGCP. http://axios.link/ymeR
• EclecticIQ, a Dutch cybersecurity startup, has raised €14 million in Series B funding led by Keen Ventures Partners. http://axios.link/89er
• Treasury Intelligence Solutions, a German cloud platform for managing corporate payments and cash flows, has raised $12 million in new funding from 83North. Existing backers include Target Partners and Zobito. www.tis.biz
• MyMusicTaste, a Seoul-based platform that "lets fans campaign to bring their favorite artists to their city," has raised $11 million in Series C funding. KTB Network led the round, and was joined by Stonebridge, Yellow Dog, Softbank Ventures Korea, Samsung Venture Investment Corporation, Formation 8, Bokwang Investment and Golden Gate Ventures. http://axios.link/oQLZ
• Crux Informatics, a San Francisco-based provider of data processing for big banks, has raised $10 million in new funding led by Goldman Sachs. http://axios.link/RdpG
• Enview, a San Francisco-based geospatial imaging startup, has raised $6 million in new VC funding led by Crosslink Capital. http://axios.link/o3AC
• Rollick Outdoor, an Austin, Texas-based marketing platform for retailers and manufacturers, has raised $5 million in seed funding. Silverton Partners led the round, and was joined by Autotech Ventures, Troy Capital Partners, Capital Factory and Brett Hurt. www.rollick.io
• Fisdom, an Indian personal finance management app, has raised $4 million in Series B funding. Accion Frontier Inclusion Fund led the round, and was joined by Saama Capital. http://axios.link/xbBL
• Sourceress, an HR recruitment platform focused on candidate attributes, has raised $3.5 million from Lightspeed Venture Partners, Y Combinator and individuals like Drew Houston. http://axios.link/cH9k
Private Equity Deals
• Thoma Bravo has agreed to acquire ABC Financial Services, a Little Rock, Ark.-based provider of payment processing software for health clubs. www.abcfinancial.com
Public Offerings
• Flynas, a Saudi budget airline, has picked Morgan Stanley to lead its upcoming IPO, according to Reuters. http://axios.link/an3Q
• Sogou, a Chinese mobile search engine being spun out of Sohu.com (Nasdaq: SOHU), raised $585 million in its IPO. The company priced 45 million shares at $13 (top of range), which gives it a fully-diluted market value north of $4.8 billion. The company will trade on the NYSE under ticker symbol SOGO, while J.P. Morgan was listed as left lead underwriter. http://axios.link/sHRD
Liquidity Events
• Encore Consumer Partners is seeking a buyer for the maker of Brownie Brittle, based in West Palm Beach, Fla., according to Dow Jones. www.browniebrittle.com
• Panera Bread has agreed to buy fast-casual bakery rival Au Bon Pain from LNK Partners. http://axios.link/10MC
More M&A
• B. Riley Financial (Nasdaq: RILY) has agreed to acquire VocalTel (Nasdaq: CALL), the maker of MagicJack voice-over-IP solutions, for $143 million, or $8.71 per share.
Fundraising
⛽ Ridgemont Equity Partners has raised $320 million for an energy-focused private equity fund. www.ridgemontep.com
It's Personnel
• Mike Glenn, former president and CEO of FedEx Corporate Services, has been named an operating consultant and senior advisor to Oak Hill Capital Partners. www.oakhillcapital.com
Final Numbers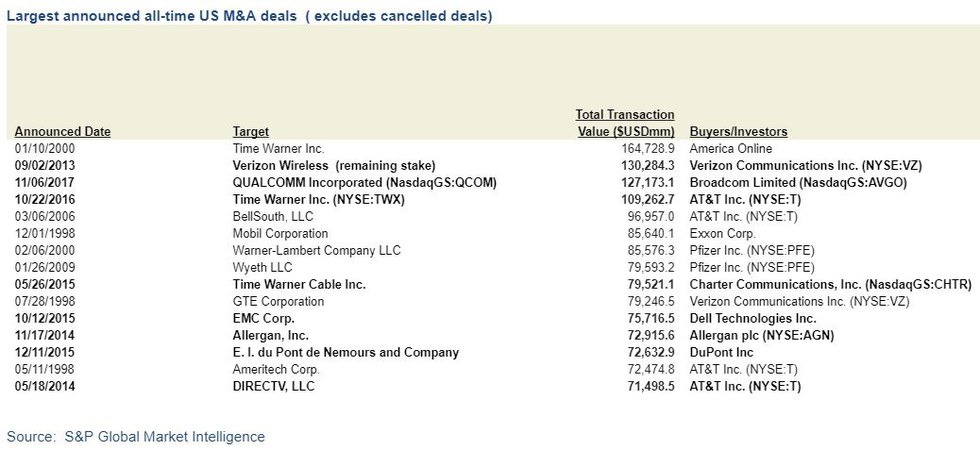 Watch the bolds: Over half of the largest-ever announced/attempted mergers have come after the 2008-2009 credit crisis.