Top of the Morning
Source: Giphy
Michael Goguen is best known to Silicon Valley as a disgraced venture capitalist, having been fired by Sequoia Capital after being sued for breach of contract by a former mistress who also claimed sexual assault (allegations he continues to fight in court). To Las Vegas, however, he's now a hero for his actions during last week's massacre:

On the scene: Goguen, who has some medical training, and his wife were at the country music festival when the shooting began.
Per an NBC affiliate: At least three people died in his arms, and he and his wife carried at least another dozen to nearby ambulances. "You didn't know if there were shooters or not, but you just had to focus on the victims. There were so many victims."
Photos: Jamie Goguen snapped shots before and after the shooting.
Addendum: Michael Goguen also is a major investor in Proof Research, a Montana-based maker of high-powered rifles, per multiple press reports.
• Just asking: Haven't we arrived at the point where all corporate boards should demand regular information on any financial settlements made by the company in relation to alleged inappropriate behavior by top execs? I get how "see no evil / hear no evil" enables director deniability, but not how it ultimately served the fiduciary duty those directors owe to the company and its shareholders. Let alone how it comports with basic decency.
• New firm alert: M33 Growth has launched as a Boston-based growth equity firm focused on bootstrapped businesses with at least $5 million in revenue. It also has raised $180 million for its debut fund.
Target sectors: Software, healthcare and services.
Team: Brian Shortsleeve, a longtime General Catalyst Partner who left a couple years back to run the MBTA for Mass Gov. Charlie Baker (also a GC alum); Gabriel Ling (ex-GC) and Michael Anello (ex-VP of Valor Equity's operations group).
Per Shortsleeve: "One of the areas I really focused on at the [MBTA] was leveraging technology and industry. For example, we launched a big partnership with Uber and Lyft... And while public service was a great thing to do, my real passion is helping to build companies and I always expected to return to the business world."
• Recommended reading: Outcome Health, a Chicago-based company valued north of $5 billion by investors like Google and Goldman Sachs, allegedly "misled pharma companies by charging them for ad placements on more video screens than the startup had installed," per WSJ's Rolfe WInkler.

• VC promo: Yesterday there was some Twitter talk about the lack of tech media attention paid to the CarGurus IPO, particularly as the Boston-based company's shared soared more than 60% on their first day of trading, giving it a market cap that at one point approached $3 billion. TechCrunch and Recode, for example, didn't write a story about either its initial filing nor its pricing (although both did market close posts).
Part of this may be basic geographic bias (i.e., CarGurus isn't based in SV or NYC).
A bigger part is probably that CarGurus never raised traditional venture funding, so it didn't have VCs constantly singing its praises to reporters.
Go deeper: Axios Q&A with CarGurus CFO Jason Trevisan
• Have a great weekend... Go Pats!
The BFD
Source: Giphy
Bayer has agreed to sell its seeds and herbicides business to BASF for approximately $7 billion in cash. The businesses had around €1.3 billion of 2016 sales and €385 million in 2016 EBITDA.
Why it's the BFD: Because this represents a major step toward Bayer receiving regulatory approval for its $66 billion purchase of Monsanto, as Bayer's LibertyLink is a major rival to Monsanto's Roundup products. The sale price also is a bit higher than some had expected Bayer would get, meaning it may be able to decrease the size of a planned share sale to help finance its Monsanto buy. For BASF, it's a course reversal on seeds and an announcement that it will be in the market for future sector acquisitions.
Bottom line: "The EU in August opened an in-depth investigation into the Bayer-Monsanto deal, saying it had 'serious doubts' because it could add pressure on farmers already struggling against low crop prices. Brazil's competition authority in early October also said it would scrutinize the transaction. The U.S. is also carrying out a review. Bayer's deal with BASF is contingent on the successful completion of the Monsanto deal." — WSJ
Venture Capital Deals
• Magic Leap is raising upwards of $1 billion in new venture capital funding, according to a Delaware share authorization filing. Sources tell Axios that the augmented reality company's round is closed, although likely closer to the $500 million on $5.5 billion valuation reported last month by Bloomberg. http://axios.link/u0vm
XL Hybrids, a Boston-based developer of connected fleet electrification solutions, has raised $22 million in Series D funding from backers like Constellation Technology Ventures and IKEA Group. http://axios.link/A0tg
• CoverWallet, a New York-based provider of insurance buying and managing solutions for small businesses, has raised $18.5 million in Series B funding. Foundation Capital led the round, and was joined by return backers Union Square Ventures, Index Ventures, CV Starr, and Two Sigma Ventures. http://axios.link/X7OP
• HappyOrNot, a Finnish provider of feedback data analytics, has raised $14.5 million in Series A funding. Northzone led the round, and was joined by Australia's AirTree. http://axios.link/nOW5
• ICX Media, Washington, D.C.-based video data intelligence platform, has raised $6.6 million in Series A funding. Grotech Ventures led the round, and was joined by NRV, Point Judith Capital and Avonlea Capital. http://axios.link/Lam4
• Tooshlights, maker of a smart restroom traffic management system, has raised $3 million from Texas convenience store chain Buc-ee's. http://axios.link/Vc5R
• 250ok, an Indianapolis-based email analytics and deliverability startup, has raised $2.6 million in Series A funding led by Arthur Ventures. http://axios.link/4BY1
• VY Esports, a Santa Monica, Calif.-based matchmaking platform for esports and brands, has raised an undisclosed amount of seed funding. Raine Ventures led the round, and was joined by Courtside Ventures and Elysian Park Ventures. http://axios.link/R3pc
• HomeToGo, a Berlin-based metasearch engine for vacation rentals, has raised an undisclosed amount of Series C funding. Insight Venture Partners led the round, and was joined by fellow insiders Acton Capital Partners and DN Capital, plus new investor Global Founders Capital. http://axios.link/JerY
Private Equity Deals
• Goldman Sachs has agreed to acquire Los Angeles-based mortgage lender Genesis Capital from Oaktree Capital Management for an undisclosed amount. http://axios.link/zgfd
• Hyperion, a British insurer minority-owned by General Atlantic, has hired Morgan Stanley to find financial buyers interested in around a 25% stake that would value the business north of £1 billion, according to Reuters. http://axios.link/4T3x
• Research Now of Plano, Texas is merging with Shelton, Conn.-based Survey Sampling International, to form a single market research company. Court Square Capital Partners and HGGC, current majority owners of each respective company, will remain joint owners of the combined company. www.researchnow.com
Public Offerings
Liquidity Events
🚑 Ardian has hired Jefferies and Rothschild to help it find a buyer for German specialty pharma company Riemser Pharma, which could be valued at around €500 million, according to Bloomberg. http://axios.link/Cqav
• TPG Capital has sold its 50% stake in spirits maker Myanmar Distillery Co. to Thai Beverage for between $100 million and $200 million. http://axios.link/HTal

• Wind Point Partners has hired Houlihan Lokey to find a buyer for Nonni's Foods, a Tulsa, Okla.-based biscotti-maker that is expected to generate around $21 million in 2018 EBITDA, per the WSJ. http://axios.link/45z1
More M&A
• Baker Hughes (NYSE: BHGE) recently held talks about buying -based oilfield services company Subsea 7 (Oslo: SUBC), but negotiations broke down over price, per the WSJ. http://axios.link/htfV
• Koerber, a German industrial holding group, is considering a sale or IPO for its machine tools business, which is valued at around €700 million, according to Reuters. http://axios.link/uWjJ
Fundraising
• Precursor Ventures, a San Francisco-based seed and early-stage VC firm led by Charles Hudson, is raising up to $25 million for its second fund, per an SEC filing. www.precursorvc.com
• Wavemaker Partners has closed its second southeast Asia-focused VC fund with $66 million in capital commitments. http://axios.link/8UM3
• WRB Serra Partners has closed its debut fund with $46.5 million in capital commitments. The Florida-based private equity firm will focus on renewable energy, energy efficiency and water infrastructure in Latin America and the Caribbean. www.wrbserra.com
It's Personnel
• Bryan Taylor is stepping down as a partner and co-head of tech dealmaking at TPG Capital, as first reported by Bloomberg. He has been with the firm since 2004. TPG's tech deals group – which is distinct from its Internet/digital media deals group – will be led solo by Nehal Raj. http://axios.link/qacT
• Eric Woo has left his principal position with Top Tier Capital Partners, where he focused on early-stage fund-of-funds efforts. No word yet on his future plans.
Final Numbers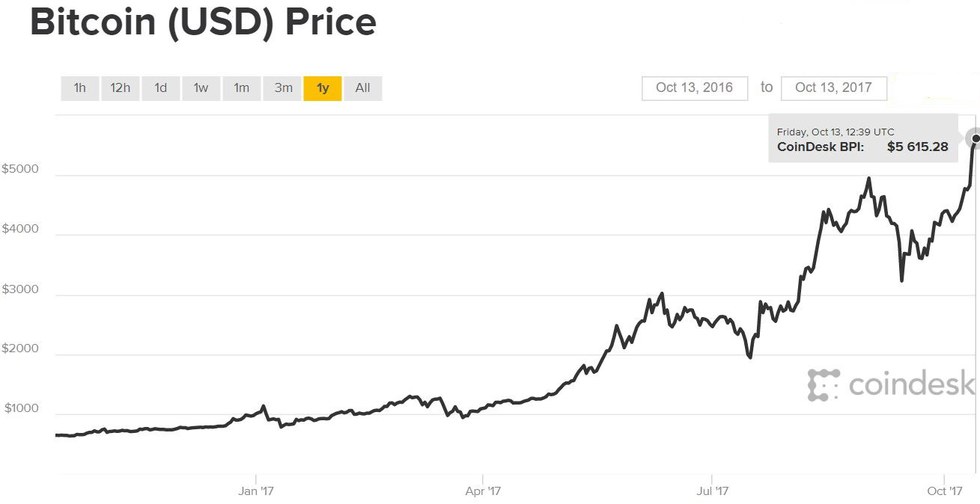 Via CoinDesk