Greetings from Washington, D.C., where I'm in town for an Axios all-hands. So this would be a particularly good time for you to send over any feedback about the newsletter or the site. Good, bad, constructive or trollish. We'll take it all. Just hit reply (which sends email to dan@axios.com). Okay, here we go...
Top of the Morning
President Trump and Congressional Republicans plan to front-stab private equity later this morning, by unveiling a tax plan that multiple sources say will include a partial cut to corporate interest deductibility. But don't expect to hear any specific percentages, as it hasn't actually been worked out yet.
Why it matters: Private equity returns arguably are driven more by debt than by equity, given that buyout firms often finance the majority of an acquisition with bank loans. Those loans are put onto the books of the purchased company, which currently gets to deduct 100% of the interest. Or, put another way, 100% deductibility cheapens debt capital for private equity and lowers financial sponsor risk.
Why is this happening? Because Republicans need to come up with some big revenue generators in the absence of the Border Adjustment Tax and the collapse of ACA repeal/replace.
Wait, no numbers? Nope. What's coming out today is more detailed than that one-pager back in April, but not by too much. Ways and Means will need to hammer out the specifics on this piece, as the Big Six is now effectively defunct. One source says that talk is either for a 20-30% reduction in the deductibility, or perhaps a play on debt-to-EBITDA caps that are employed in several European countries. Expectations also are that interest on existing loans would be grandfathered in.
Bigger picture: I'm focusing on private equity here, but the issue is obviously much broader as it affects any company that takes out loans to do such things as buy equipment or build new facilities. It also would have a major impact on the commercial real estate sector.
The BUILD coalition, a pro-biz lobbying group organized around this issue, analyzed corporate earnings calls between July 2016 and February 2017. It found that interest deductibility was mentioned in 16.6% of calls, whereas tax repatriation — an issue that gets a lot more political and media attention — was mentioned in just 14.9% of calls.
Caveats: To be sure, there are going to be plenty of tax carrots today for private equity, including a lowering of the statutory rate to 20% and the likely lack of broad-based carried interest reform. There also will be intense lobbying to minimize the reduction as much as possible, and skepticism remains over tax reform actually getting done in 2017 ("needing a win" doesn't necessarily mean much... just ask Cleveland Browns fans).
• Canary concerns: The World Economic Forum is warning that global banks are weaker now than they were prior to the 2008 financial crisis, due to both continued assert concentration and a proliferation of lousy loans. From the WEF's new Global Competitiveness Report, which listed Switzerland as tops and the U.S. second:

"There is still too much debt in parts of the private sector, and top global banks are still 'too big to fail.' The largest 30 banks hold almost US$43 trillion in assets, compared to less than US$30 trillion in 2006, and concentration is continuing to increase in the United States, China, and some European countries... Amid a private-sector credit boom in India, the proportion of loans classed as non-performing went from 4 percent to 9 percent in two years; in China, business credit is building up similarly to the United States pre-crisis, and could be a new source of vulnerability.
• Chip chat: A source familiar with the Toshiba memory chip negotiations emailed to dispute a Bloomberg report that Apple is being wooed by KKR to switch allegiances. As you'll recall, Apple is part of the $18 billion bid led by Bain Capital that was recently accepted by Toshiba, but the iPhone maker has not yet signed on the dotted line (something South Korea's SK Hynix has now done).
The BFD
Source: Giphy
The U.S. Justice Department has filed an antitrust challenge to Parker Hannifin's (NYSE: PH) $4.4 billion purchase of Clarcor, which was completed back in February. At issue is DoJ's belief that the merger eliminated all competition in the market for airplane fuel filtration products. The Trump Administration isn't asking for the entire merger to be unwound, but does want the court to force Parker Hannifin to sell off either its own airplane filtration business or Clarcor's.
Why it's the BFD: This is the first antitrust action brought by Trump's DoJ, although his FTC earlier sought to block the DraftKings-Fanduel merger (which was subsequently canceled).
Bottom line: The antitrust "waiting period" for this deal expired on Jan. 18, and Parker Hannifin formally closed the deal one month later. But DoJ now says that its lack of objection at the time wasn't reflective of de facto approval after review, but rather was the result of Parker Hannifin's failure to provide requested documents and data.
Venture Capital Deals
• Royole Corp., a Chinese rollable display company, has raised $240 million in Series D equity funding from Hanfor Capital Management, Warmsun Holding Group, Shanghai Pudong Development Bank, Zhonghai Shengrong and Tanshi Capital.The company also secured $560 million in new debt financing. http://axios.link/NCZG

🚑 Autolus, a London-based developer of CART-T therapies, has raised $80 million in third-round funding. Cormorant Asset Management and Nextech Invest were joined by return backers Syncona, Woodford Investment Management and Arix Bioscience. http://axios.link/42Ap
• Kyriba, a San Diego-based provider of cloud treasury and financial management software, has raised $45 million in new VC funding. Sumeru Equity Partners led the round, and was joined by return backers Bpifrance, Iris Capital, Daher Capital and HSBC. www.kyriba.com
• Playbuzz, a New York-based storytelling platform for interactive content, has raised $35 million in Series C funding. Viola Growth led the round, and was joined by return backers Disney, Saban Ventures, 83North, Carmel Ventures, Firstime and Oded Vardi. www.playbuzz.com
• Drift, a Boston-based "conversation-driven marketing and sales platform," has raised $32 million in Series B funding. General Catalyst led the round, and was joined by Sequoia Capital, CRV and HubSpot. http://axios.link/vQE1
• Banana Culture, a Shanghai-based e-sports company, has raised $30 million in Series B funding. Matrix Partners China and eSport Capital co-led the round, and were joined by IDG Capital and Seeinfront Capital.
• Distrii, a Chinese co-working space operator, has raised $30 million in Series A funding from Junzi Capital and CDL China.
🚑 Engage Therapeutics, a Summit, N.J.-based developer of a rescue therapy for people who experience uncontrolled epileptic seizures, has raised $23 million in Series A funding. TPG Biotech led round, and was joined by Adage Capital Management and Lumira Capital. www.engagetherapeutics.com
• Cloud9, a Santa Monica, Calif.-based esports startup, has secured $19.7 million of what could be a $25 million funding round, per an SEC filing. Backers include Founders Fund. www.cloud9.gg
• Legion Technologies, a Menlo Park, Calif.-based workforce engagement platform, has raised $10.5 million in Series A funding led by Norwest Venture Partners. http://tcrn.ch/2xwe7G1
• Efinix, a Santa Clara, Calif.-based provider of programmable product platforms, has raised $9.5 million in VC funding. Xilinx and Hong Kong X Technology Fund co-led the round, and were joined by Samsung Ventures, Hong Kong Inno Capital and Brizan Investments. http://axios.link/LXrp
• Nanoport, a Sunnyvale, Calif.-based R&D lab for mobile technologies, has raised $7 million in new VC funding led by Horizons Ventures. www.nanoport.io
🚑 Tia, a women's health information app, has raised $2.5 million in seed funding from Homebrew, Combine and Compound Ventures. www.asktia.com
• Hoop, a London-based family activity discovery and planning app, has raised £2.4 million in VC funding led by BGF Ventures. http://tcrn.ch/2hxVqHX
• Picniic, a Vancouver-based family activity-tracking app, has raised $2 million from Telenor. http://axios.link/wace
• The Inside, a New York-based fast furniture startup, has raised $1.5 million in VC funding from Forerunner Ventures. http://tcrn.ch/2xExooa
• Doorman, a San Francisco-based package delivery startup, is shutting down. The company had raised more than $3 million in VC funding from firms like 500 Startups, Motus Ventures, Structure Capital and Matrix Partners. http://tcrn.ch/2y4HyzZ
Private Equity Deals
• Salt Creek Capital has acquired Corporate Caterers, a Miami-based national franchisor catering company. No financial terms were disclosed. www.corpcaterers.com
Public Offerings
• Bawag, an Austrian bank owned by Cerberus Capital Management, announced plans for a Vienna listing that reportedly could value the company at around $6 billion. http://reut.rs/2fxMmGq
• RYB Education, a Chinese provider of early childhood education services, raised $102 million in its IPO. The company priced 5.5 million shares at $18.50 per share (above $16-$18 range). It will trade on the NYSE under ticker symbol RYB, while Credit Suisse and Morgan Stanley served as lead underwriters. The company reports nearly $5 million in net income on $64 million in revenue for the first half of 2017.
• Varta, a German battery maker, is restarting its Frankfurt IPO process, with plans to float around 40% of its total shares (including those currently held by Switzerland's Montana Tech Components). http://reut.rs/2frQMuK
Liquidity Events
• CVC Capital Partners and Leonard Green & Partners are seeking a buyer for Westborough, Mass.-based warehouse retailer BJ's Wholesale Club, according to the NY Post. A deal could be valued at between $4 billion and $4.5 billion. http://nyp.st/2wk14DS
• Francisco Partners has sold Lumata, a London-based provider of real-time loyalty and customer lifecycle management software, to Evolving Systems (Nasdaq: EVOL) for an undisclosed amount. www.lumata.com
• Google has agreed to acquire Bitium, a Santa Monica, Calif.-based provider of cloud software for identity and access management. No financial terms were disclosed. Bitium has raised around $15 million in VC funding from firms like Polaris Partners. http://axios.link/PFsQ
• Nippon Life Insurance Co. is in talks to acquire between a 20% and 30% stake in Los Angeles-based investment firm TCW Group from The Carlyle Group (which holds a 60% stake), according to Reuters. TCW has around $197 billion in assets under management. http://reut.rs/2wjzVAX
• TPG Capital and Northstar Group are seeking a buyer for their combined 43% stake in Indonesian finance company PT BFI Finance Indonesia, which could value the entire company at around $1 billion, according to the WSJ. http://on.wsj.com/2xzMvgX
More M&A
• Guggenheim Partners is expected to sell its ETF business to Invesco for between $1.1 billion and $1.3 billion, according to the FT. http://axios.link/Jfnc
• Personify of Vienna, Va. has acquired Wild Apricot, a Toronto-based provider of membership management software. No financial terms were disclosed. Personify backers include Rubicon Technology Partners and Farol Asset Management. www.wildapricot.com
• Vimeo, a unit of IAC, has acquired Livestream, a Brooklyn-based live video streaming platform. No financial terms were disclosed. http://tcrn.ch/2fognok
Fundraising
• CommonView Capital has secured $32 million for its debut fund ($52m target), per an SEC filing. The New York-based lower middle-market private equity firm was launched last year by Scott Budoff (ex-Saw Mill Capital) and Tom Perlmutter (ex-Behrman Capital). www.commonviewcapital.com
• Lexington Partners has closed its fourth mid-market private equity secondaries fund with $2.66 billion in capital commitments. www.lexingtonpartners.com
• Partners for Growth, a San Francisco-based venture debt firm, has closed its fifth fund with $276 million in capital commitments. www.pfgrowth.com
• Pi Labs, a London-based seed investment firm focused on property tech, has raised $10 million for its second fund. http://tcrn.ch/2frBPJ8
It's Personnel
• Leah Busque, founder and executive chairwoman of TaskRabbit, has joined seed investment firm Fuel Capital as a general partner. http://axios.link/8BQE
• Daniel Dubé has joined WhiteHorse Capital, the direct lending affiliate of H.I.G. Capital, as a principal. He previously was a director with THL Credit. www.whitehorsecapital.com
• Michael Lucas has joined Bridgepoint Capital to work on the British buyout firm's forthcoming private credit fund, according to PE News. He previously was a managing director with ING Bank. http://axios.link/hcgv
• Alex Stirling has joined Centerbridge Partners as a London-based managing director. He previously was with The Carlyle Group. www.centerbridge.com
🚑 Carrie Williams and Irem Mertol have joined McKesson Ventures as a principal and director, respectively. Williams was previously VP of strategy and biz dev with Omada Health, while Mertol was director of client services and partnerships with Burd Health. www.ventures.mckesson.com
Final Numbers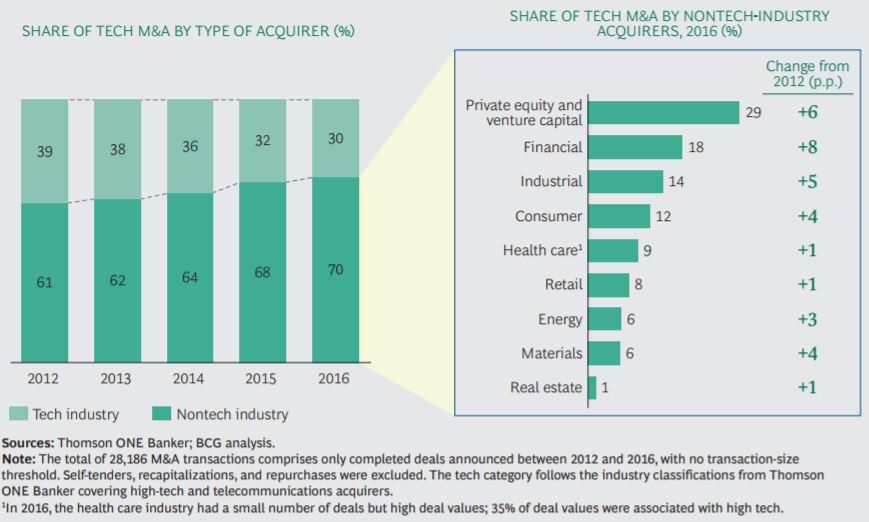 More from Boston Consulting Group report: "Every industry in our database showed a significant increase in the shares of tech targets since 2012, as companies increasingly turned to M&A to acquire new capabilities and close innovation gaps."