Greetings from the home office. Please remember that you can always send me news or scoop via email (
dan@axios.com
), anonymous tip (
http://axios.com/tips
) or confidential apps like Signal, Telegram and Confide (Dan Primack /
857-472-3072
). Here we go...
Top of the Morning
Source: Giphy
• SWF sadness: Invesco recently conducted an asset management study of sovereign wealth funds, and found a massive gap between target returns (6.1%) and actual returns for last year (4.1%), as a percentage of assets under management. The sample excluded central banks, and the averages were not weighted by AUM.
What it means: Expect SWFs to keep pushing deeper and deeper into alternatives, in an effort to shrink that gap – particularly as economic volatility causes some governments to tap sovereign reserves.
Catch-22: Massive inflows into alternatives also can depress long-term returns, thus making it harder for SWFs to meet their targets.
• IPO buzz: Ken Lerer, BuzzFeed's executive chairman and co-founder of (Axios investor) Lerer Hippeau Ventures, was asked during a Recode podcast about reports that the media juggernaut will IPO next year. He didn't exactly say no:
"I think it's a combination of the macro markets and then the digital markets and then the BuzzFeed market. So it's too early to predict what happens next year."
• Teo talks: Binary Capital's Jonathan Teo took to Facebook yesterday afternoon, acknowledging that he had "heard rumors about [Justin Caldbeck] from the past... [but] he promised me that he had changed." Read the rest here.
• One to watch: Pantera Capital, known for its crypto-currency investment activities, is now raising an ICO fund, per an SEC filing.
• Update: Last month we reported that Xuezhao Lan had stepped down as Dropbox's head of corp dev to launch a VC firm. Now there's an SEC filing showing that her shop is called Basis Set Ventures and is raising $136 million for its debut fund. One of her partners is Richard Peng, founding partner at Genesis Captial and former M&A head for Tencent. Word is that Peng will work part-time with Basis Set portfolio companies seeking to expand into Asia.
The BFD
Source: Giphy
Bain Capital and Cinven failed to gain enough shareholder approval for their €5.32 billion takeover agreement for German generic drugmaker Stada. The private equity firms needed investors representing 67.5% of Stada shares to support the agreement, but they only could garner 65.52%.
Why it's the BFD: This was no cut-rate offer. Bain and Cinven had overcome a rival bidder, and their final per-share price represented a 49% premium. But it seems that some of Stada's shareholders – which include an unusually high percentage of retail investors – believe private equity's pockets are a bit deeper. So far, the reporting suggests they are wrong.
What next? Reuters reports that Bain and Cinven are considering a new offer, likely at the same price but with a lower shareholder approval threshold (which would be the second such decrease, having begun at 75%).
Easier said than done: German rules require at least 75% ownership to full access a target company's cash, which would be used to secure debt financing. The lower you go, the more complicated things become.
Bottom line: "We are perplexed as to why investors didn't take the deal. We did not anticipate an interloper, or counter-bid, and believe it will take time for fundamentals to command the same kind of premium." – James Vane-Tempest, Jefferies (via Bloomberg)
Venture Capital Deals
• Sumo Logic, a Redwood City, Calif.-based machine data analytics platform, has raised $75 million in funding. Sapphire Ventures led the round, and was joined by Accel, DFJ Growth, Greylock Partners, Institutional Venture Partners, Sequoia Capital and Sutter Hill Ventures. http://bit.ly/2sWIlNQ
• Drive.ai, a self-driving car startup founded by former Stanford artificial intelligence researchers, has raised $50 million in Series B funding. NEA led the round, and was joined by GGV Capital and return backers like Northern Light Venture Capital. http://bit.ly/2sMSoXm
• CloudHealth Technologies, a Boston-based cloud service management company, has raised $46 million in Series D funding. Kleiner Perkins Caufield & Byers led the round, and was joined by Meritech Capital Partners and return backers .406 Ventures, Sapphire Ventures and Scale Venture Partners. www.cloudhealthtech.com
• Catalant Technologies (f.k.a. HouryNerd), a Boston-based online marketplace for freelance business talent, has raised $41 million in Series D equity and debt funding. Highland Capital Partners and General Catalyst co-led the equity tranche, and were joined by Greylock Partners, GE Ventures, Mark Cuban, Scott Cook, Mark Nunnelly, the Kraft family and Bob Doris. Existing lender Square 1 Bank provided the expanded debt facility.

• Autotalks, an Israel-based provider of "vehicle-to-everything" communication chipsets, has raised $40 million in Series D funding from backers like Mirai Creation Investment Fund. http://reut.rs/2u9xdww
• Auth0, a Bellevue, Wash.-based provider of online identity verification and protections solutions, has raised $30 million in Series C funding. Meritech Capital Partners led the round, and was joined by return backers Bessemer Venture Partners, Trinity Ventures, and K9 Ventures. NTT DOCOMO Ventures and Telstra Ventures. http://bit.ly/2tfhkr6
• Fintonic, a Spanish personal finance management app, has raised €25 million in Series B funding from backers like ING Group and PSN. http://tcrn.ch/2u8w5ZZ
• Diffblue, an Oxford University spinout that applies AI to software development, has raised $22 million in Series A funding. Goldman Sachs Principal Strategic Investments led the round, and was joined by Oxford Sciences Innovations and the Oxford Tech and Innovations Fund. http://tcrn.ch/2sh4JPT
🚑 DayTwo, an Israeli microbiome-health management startup, has raised $12 million in Series A funding from Johnson & Johnson Innovation, Seventure Partners and the Mayo Clinic. http://bit.ly/2sMdyos
• Homer Logistics, a New York-based provider of last-mile delivery technologies, has raised $8.5 million in Series A funding. Two Sigma Ventures led the round, and was joined by Lerer Hippeau Ventures, RSE Ventures and Laconia Capital Group. http://on.wsj.com/2sU7Ter
• Upstream, an Israeli cybersecurity platform for connected and autonomous vehicles, has raised $2 million in new VC funding. Glilot Capital Partners led the round, and was joined by Maniv Mobility. www.upstreamsecurity.com
• Stayawhile, a New York-based platform for "medium-term housing" rentals, has raised $1.5 million in seed funding. NEA led the round, and was joined by Founders Fund and Global Founders Capital. http://tcrn.ch/2tcI63m
• Oars & Alps, a Chicago-based e-commerce company focused on men's grooming and skincare products, has raised $1.3 million in seed funding from backers like Breakout Capital. http://tcrn.ch/2tNsZLB

• PromoRepublic, a provider of AI for small business social media, has raised $1.2 million in seed funding from backers like Howzat Partners, Digital Future and Spring Capital. http://tcrn.ch/2sLKhtT
• OMG Digital, a Ghana-based media startup referred to as the "buzzFeed of Africa," has raised $1.1 million in seed funding from backers like Kima Ventures, Soma Capital, Comcast Ventures Catalyst Fund, Social Capital, M&Y Growth Partners and Macro Ventures. http://tcrn.ch/2sSpqnl
Private Equity Deals
• Alliant Insurance Services, a California brokerage backed owned by Stone Point Capital, is the "frontrunner" to buy the insurance business of Wells Fargo (NYSE: WFC), according to Bloomberg. KKR portfolio company USI Insurance Services also remains in the process, which could fetch around $2 billion. https://bloom.bg/2tdhcsl
⛽ Intervale Capital has sponsored a recapitalization of Pro Oil & Gas Services, a Houston-based multi-basin completion and drilling services company. No financial terms were disclosed. www.proosllc.com
• Kellstrom Aerospace Group, a Miami Lakes, Fla.-based portfolio company of AE Industrial Partners, has acquired Vortex Aviation, a provider of AOG on-wing engine maintenance services and quick-turn engine repairs for commercial aircraft. No financial terms were disclosed. www.kellstromaerospace.com

⛽ TPG Growth has agreed to acquire Discovery Midstream, a Dallas-based provider of oil and natural gas gathering and processing services in the Denver-Julesburg Basin. No financial terms were disclosed. www.discoverymidstream.com
Public Offerings
• NetLink NBN Trust, the broadband unit of Singapore Telecom (SingTel), has launched an IPO process that could raise nearly US$2 billion. http://reut.rs/2sWlnGJ
Liquidity Events
• AKC Pet Care, a wholly-owned subsidiary of the American Kennel Club, has acquired SPOT Canine Club, a provider of pet care services in Manhattan, from shareholders like Drayton Park Capital for an undisclosed amount. www.spotcanineclub.com
More M&A
Apple (Nasdaq: AAPL) reportedly has acquired SensoMotoric Instruments, a German provider of eye-tracking solutions, according to MacRumors. No financial terms were disclosed. http://read.bi/2tdjuHG

• Bankia (Madrid: BKIA) is in talks to merge with fellow Spanish lender BMN, according to Reuters. The tie-up could create a bank with combined assets of around €230 billion. http://reut.rs/2tibndZ
• Comcast (Nasdaq: CMCS) and Charter (Nasdaq: CHTR) are talking about partnering with, or potentially buying, Sprint (NYSE: S), according to the WSJ. http://bit.ly/2tglS0L
• P. Schoenfeld Asset Management (PSAM) has acquired a minority stake in CdR Capital, a private investment office with offices in the UK and Geneva. No financial terms were disclosed. www.psam.com
Fundraising
• Capnamic Ventures, a German VC firm focused on early-stage tech startups, has raised €115 million for its latest fund. http://tcrn.ch/2thrCHV
• Cloudflare has raised a new $100 million fund to back startups building on the Internet performance and security company's apps platform. www.cloudflare.com
• Ludlow Ventures has closed its third seed fund with around $45 million in capital commitments. That's a big step up over Ludlow's $15.5 million second fund, with firm co-founder Jonathan Triest saying that the extra size will be used to write larger checks so as to secure adequate ownership up-front (particularly in an era of over-sized Series A rounds for promising companies). So far, Ludlow's third fund already has backed over a dozen companies, including Hooked and Notarize.
• Trend Micro (Tokyo: 4704), a Japanese cybersecurity company, has launched a $100 million corporate VC fund. http://tcrn.ch/2ucAvyS
It's Personnel
🚑 Ryan Daws, former CFO of Concert Pharmaceuticals (Nasdaq: CNCE), has joined Baird as a healthcare-focused managing director of investment banking. www.rwbaird.com
• Peter Higgins has joined Ares Management as a London-based partner and portfolio manager in the firm's credit group. He previously was with BlueBay Asset Management. www.aresmgmt.com
🚑 Pharos Capital Group has promoted Anna Kovalkova to partner. She currently serves on the boards of Pharos portfolio companies Back Yard Burgers, Beacon Specialized Living Services, Sona Dermatology & Medspa, Seaside Healthcare and TotalTrax. www.pharosfunds.com
• Timm Schipporeit, a former tech investment banker with Morgan Stanley and principal with Index Ventures, has joined investment bank FT Partners as a London-based managing director. www.ftpartners.com
• Robert Soros is stepping down as deputy chairman and president of Soros Fund Management, where he will instead create a unit called Soros Capital to focus on more illiquid investments like venture capital. https://bloom.bg/2rT6SlC
Final Numbers: Private equity alignment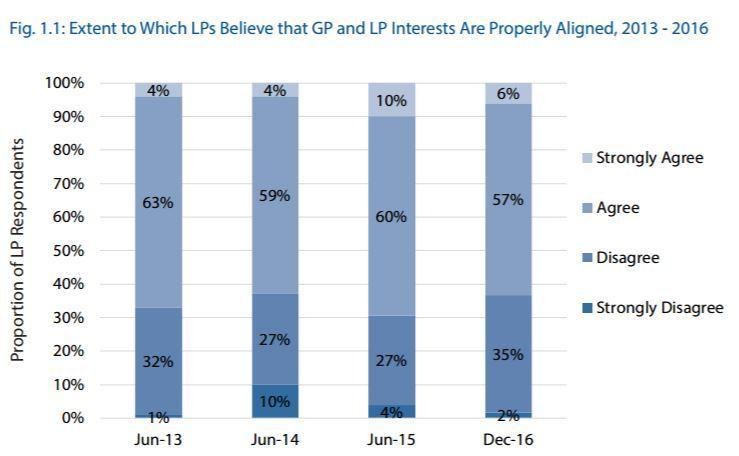 Source: Preqin