Greetings from the home office. A reminder that you can send feedback or share scoop via email at dan@axios.com or by using our anonymous tip box at www.axios.com/tips. Plus all sorts of messaging apps, like Signal, Confide, Messenger, Twitter DM, Telegram, etc. (Dan Primack / 857-472-3072). Here we go...
Top of the Morning
Source: Giphy
Some takeaways from my on-stage conversation yesterday with Mark Cuban, from yesterday's Lerer Hippeau CEO Summit in New York (yes, LH is an Axios investor).
Cuban is a major believer in the earthquake power of artificial intelligence and machine learning, arguing that massive labor disruptions are coming sooner than later. His proposed solution isn't universal basic income, but rather twofold: (1) A lot of low-skilled jobs can be replaced by what will be an increased demand for data tagging and labeling. Not intellectually fulfilling work, but the 21st century version of an assembly line. (2) A broad expansion of programs like Americorps, believing that macro economic benefits from automation can be reallocated to places school classrooms and domestic infrastructure projects.
He does not like to be referred to as a "venture capitalist," because he "helps his companies." Yes, Cuban said this as a VC-hosted event.
Yes, he bakes in a "TV exposure" premium when thinking about valuations on Shark Tank.
Cuban does not agree with my CEO President Theory, which posits that American voters will view future CEO candidates through a Trump prism (if successful, then we'll get more; if failed, then that's it for a while): "There's nobody like Donald Trump. He's just an idiot."
If Cuban does run for president in a few years (something he won't rule out), he believes it's more likely to be against President Pence than President Trump.
Cuban believes that Zaza Pachulia ― who once played for the Dallas Mavericks ― is "clumsy," not "dirty."
• The interview: Also at the event yesterday was Michael Lynton, the current Snap chairman best known for running Sony Entertainment at the time of its infamous hack.
Key to a crisis: Lynton says it is essential that a CEO not delegate decisions during a crisis, and also that he or she project confidence to employees that they will all get through the danger together. Privately, however, Lynton had serious fears that Sony Entertainment would not survive.
Communication: One major challenge in the immediate aftermath was figuring out how to communicate with global employees, given that many of Sony's servers were down and it was unclear if corporate emails were still at risk. The make-shift solution was what Lynton called a "text messaging tree."
Lesson learned: Lynton says that he no longer keeps emails online for more than 10 days, either deleting them or moving them to a non-networked hard drive. He believes that such strategies are important for companies to somehow mirror, even if it causes minor revolt among factions like sales.
• Eating the world: Amazon may be moving into the pharmacy market, per a CNBC report. Leaving aside the ecommerce/retail angle here ―does this scare a startup like PillPack as competition, or thrill it as a potential buyer? ― there also is a substantive marketing data component. Unlike traditional pharmacies, Amazon could eventually connect your food consumption preferences to your health information to the last time you bought running shoes.

The BFD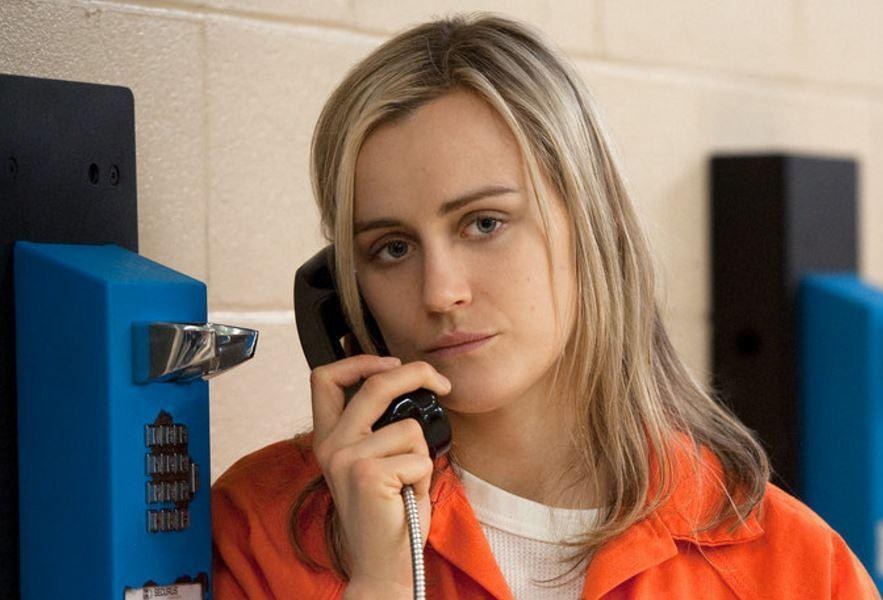 Platinum Equity is in advanced talks to acquire Securus Technologies, a Dallas-based provider of phone services to U.S. prisoners, from ABRY Partners for nearly $1.5 billion (including debt), according to Reuters.
Why it's the BFD: This is a heady return for ABRY, which reportedly paid just $640 million to buy Securus four years ago from Castle Harlan. And it's particularly impressive, given that ABRY's tenure included a massive hack in late 2015 that one person told the NY Post "could be the nail in the coffin" for Securus.
Bottom line: "The deal illustrates private equity firms' strong appetite for investments in prison phone service operators because of the strong cash flow they generate from facilitating phone calls, even as they attract criticism over the rates they charge." ― Greg Roumeliotis, Reuters
Venture Capital Deals
• CrowdStrike, an Irvine, Calif.-based provider of endpoint security solutions, has raised $100 million in Series D funding at a valuation north of $1 billion. Accel led the round, and was joined by fellow return backers CapitalG and Warburg Pincus. http://on.ft.com/2qrzxQh
• Fetchr, a Dubai-based courier app that does not require traditional addresses, has raised $41 million in Series B funding led by NEA. http://bit.ly/2qn0oxa
• Neighborly, a San Francisco-based online platform and marketplace aimed at "modernizing" the municipal bond market, has raised $25 million in Series A funding. 8VC and Emerson Collective co-led the round, and were joined by Sound Ventures, Maven Ventures, Bee Partners and Stanford University. http://bit.ly/2qrk0QC

• Tile, a San Mateo, Calif.-based maker of small Bluetooth tracking devices for lost items, has raised $25 million in Series B-1 funding led by Bessemer Venture Partners. http://bit.ly/2pW9FbX
• China Great Wall Environment Improving Co., a Chinese provider of energy saving and environmental protection services, has raised $17 million in Series B funding led by CITIC Capital. http://bit.ly/2pKJmdw
• Cue, a San Diego-based developer of molecular-level, self-tracking health devices, has raised around $15.5 million in new VC funding. Rohan Oza (CAVU Venture Partners) is listed as a new board member, although he tells Axios that it is a personal investment originally made before the formation of CAVU. Existing shareholders include Sherpa Ventures. www.cueinc.com
• Nymi, a Toronto-based maker of a wearable, multi-factor authenticator, has raised US$15 million in Series B funding. GII Tech (Dubai) led the round, and was joined by return backers Relay Ventures and Ignition Partners. http://bit.ly/2pW1jRr

• Karamba Security, an Ann Arbor, Mich.-based provider of cybersecurity solutions for connected cars, has raised $12 million in Series B funding. Fontinalis Partners and YL Ventures co-led the round, and were joined by Paladin Capital Group, Liberty Mutual Strategic Ventures, Presidio Ventures and Asgent. http://tcrn.ch/2qnPesg

• Mocana Corp., a San Francisco-based provider of IoT security solutions, has raised $11 million in new VC funding from Sway Ventures, Shasta Ventures, Trident Capital Fund and GE Ventures. http://ubm.io/2qr3v7j
• CloudIn, a Beijing-based provider of enterprise cloud services, has raised $10 million in Series A funding from Fortune Capital and seed backer Yunqi Partners. http://bit.ly/2pTwgGH
• Conversa, a San Rafael, Calif.-based provider of patient relationship management software, has raised $8 million in Series A funding. Northwell Health led the round, and was joined by Epic Ventures and Healthgrades. www.conversahealth.com
• Airy3D, a Montreal-based 3D computer vision startup, has raised US$3.5 million in seed funding. CRCM Ventures and R7 Partners co-led the round, and were joined by WI Harper Group, Robert Bosch Venture Capital and Nautilus Venture Partners. http://bit.ly/2qtDhPX
• Nexla, a San Francisco-based data operations platform, has raised $3.5 million in seed funding. Blumberg Capital led the round, and was joined by Storm Ventures, Engineering Capital and Correlation Ventures. http://tcrn.ch/2qoDEfY
Private Equity Deals
• Alpha Private Equity has agreed to acquire Europart Group, a German provider of spare parts for commercial vehicles, from Triton Private Equity and Paragon Partners. No financial terms were disclosed. http://bit.ly/2pVAmNO
• KKR has won the auction for European parking lot operator Q-Park, in a deal that will be valued at around €2 billion, according to Reuters. Other bidders had included EQT Partners, Cheung Kong Infrastructure, China Oceanwide, Shougang Group and Fosun International. http://reut.rs/2pKxZ5t
• Palm Beach Capital has invested in Neptune Research, a Riviera Beach, Fla.-based developer of pipe repair and restoration solutions. No financial terms were disclosed. www.neptuneresearch.com
• Rue21, a teen apparel retailer owned by Apax Partners, has filed for Chapter 11 bankruptcy protection. https://bloom.bg/2qR3jj9

• TAS Environmental Services, a Fort Worth, Texas-based portfolio company of Team Partners, has acquired Water Kleen Services, an Ennis, Texas-based provider of environmental and industrial services like hydroblasting. No financial terms were disclosed. www.taslp.com
• Temasek has acquired a majority stake in Global Healthcare Exchange, a Louisville, Colo.-based provider of connected healthcare supply chains, from Thoma Bravo (which will retain a minority position). No financial terms were disclosed. www.ghx.com
• Vesta Energy, a Calgary-based company focused on light oil properties in the shallow Joffre Duvernay Shale oil play, has agreed to raise C$295 million in equity funding led by Riverstone Holdings and JOG Capital. www.vestaenergy.com
• Vista Equity Partners has acquired a majority stake in Zapproved, a Portland, Ore.-based provider of e-discovery software for corporate legal departments. No financial terms were disclosed, except that Vista did the deal out of its "Endeavour" fund, which focuses on businesses with less than $30 million in annual revenue. http://bit.ly/2reOo1R
Public Offerings
• Argenx, a Dutch developer of antibody-based therapies for the treatment of severe autoimmune diseases and cancer, has increased the number of shares being offered in its IPO from 3.6 million to 5 million. The company plans to trade on the Nasdaq under ticker symbol ARGX, with Cowen & Co. listed as left lead underwriter. Shareholders include Forbion Capital (10.56% pre-IPO stake), Life Sciences Partners (8.52%), Federated Investors (7.36%), Shire (7.01%) and Percentive Advisors (5.59%). www.argen-x.com
Liquidity Events
• La Quinta (NYSE: LQ), an Irving, Texas-based budget hotel operator with a market cap of around $1.6 billion, said that it is exploring a sale of the company as it seeks to spin off its real estate assets. The Blackstone Group still holds nearly a 30% stake in the company, which it took public in 2014. http://cnb.cx/2pW1vAa
More M&A
• Addepar, a Mountain View, Calif.-based financial technology platform for the investment management market, has acquired AltX, an intelligence platform for the alternative investments market. No financial terms were disclosed. Addepar has raised over $60 million in VC funding from firms like Valor Equity Partners and Formation8. www.addepar.com
• Delek Drilling and Avner Oil, a pair of publicly-traded Israeli energy companies controlled by conglomerate Delek Group, have completed their previously-announced merger and will begin trading next week as a single company with an initial market value of around $4.4 billion. http://reut.rs/2pTB13b
• Euskaltel of Spain has agreed to acquire Spanish telecom company Telecable from Zegona (LSE: ZEG) for around €700 million. http://bit.ly/2qQH2BM
• TrailStone Group is no longer in talks to acquire Cargill's U.S. power and gas trading book, according to Reuters. http://reut.rs/2qvCn59

Fundraising
• ACON Investments has closed its fourth mid-market buyout fund with $1.07 billion in capital commitments. www.aconinvestments.com
• Honeywell (NYSE: HON) has launched a $100 million corporate VC fund focused on early-stage companies "that are strategically aligned to the company's portfolio and software capabilities." www.honeywell.com
It's Personnel
• Sanjay Thapar has joined Kramer Levin Naftalis & Frankel as a partner in the law firm's leveraged finance group. He previously was a counsel at Shearman & Sterling. www.kramerlevin.com
Final Numbers: North American leveraged loans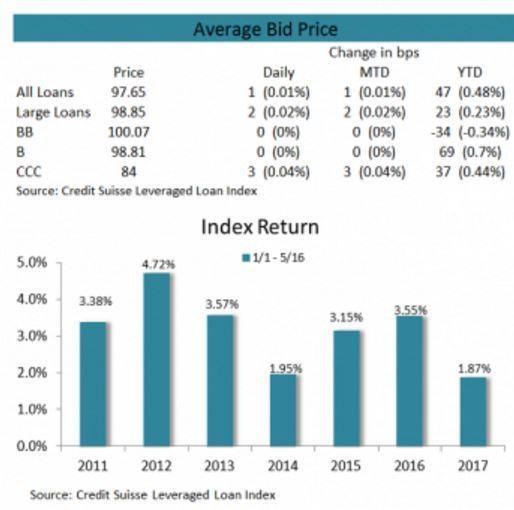 Source: LevFinInsights